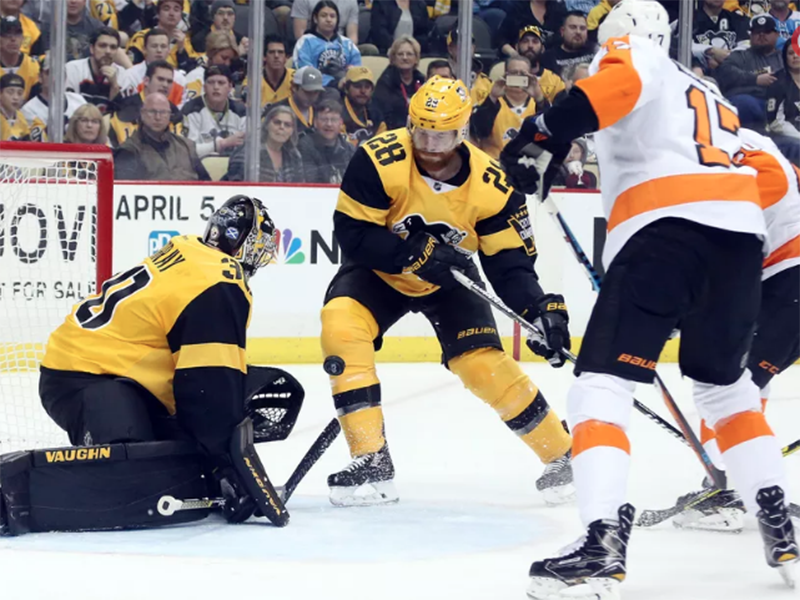 (Photo by: Charles LeClaire/USA TODAY Sports)
The Pittsburgh Penguins may have gotten on the board first Sunday night, but, after that, it was almost entirely the Philadelphia Flyers' show.
The Flyers, who are desperately trying to make a last-second push for a playoff berth, played like they had everything on the line (which they do), and Philadelphia's four goals in the third period made it an easy "W" with a 6-2 final score on the scoreboard.
It was the Penguins' third loss in a row (the previous two were shutout losses to the New York Islanders and the Ottawa Senators.)
Pittsburgh's first goal came on the powerplay, when Matt Cullen just found a way to put the puck in the back of the net.
Send 'er home, Matt Cullen!
1-0 @penguins.
Watch #StarSunday on @NBCSN or online → https://t.co/PjfcoSwfab pic.twitter.com/0AlREPJJGH

— NBCSN (@NBCSN) March 26, 2017
The game's turning points appeared to be after Philadelphia scored its second goal of the night in the second period when Valtteri Filppula tapped one past Pittsburgh netminder Matt Murray in a scramble in front of the net. Penguins head coach Mike Sullivan challenged the call for goaltender interference, and despite it looking like a very close call, the goal stood. It gave the Flyers a lead they'd never relinquish.
Valtteri Filppula gives the @NHLFlyers a 2-1 lead!
Watch #StarSunday on @NBCSN or online → https://t.co/PjfcoSwfab pic.twitter.com/f1iEmDZaHX

— NBCSN (@NBCSN) March 27, 2017
Pittsburgh didn't respond to Philadelphia's offensive onslaught until deep in the third period when Patric Hornqvist just nailed a shot to get it past Flyers goaltender Steve Mason.
👀 Patric Hornqvist makin' it look easy!https://t.co/PjfcoSwfab pic.twitter.com/8kEWueiQTA

— NBCSN (@NBCSN) March 27, 2017
As a whole, it was just a dominant performance from the Penguins' cross-state rival. Thirteen Flyers picked up at least one point, and Pittsburgh netminder Matt Murray was forced to make several spectacular saves — he made 27 saves on 32 attempts (a .844 save percentage).
Playoff positioning
With the loss, the Penguins are three points behind the division-leading Washington Capitals for the top seed in the NHL playoffs. Now, Pittsburgh (with 103 points) is tied with the Columbus Blue Jackets for second place.
"We've solidified a playoff spot, but we'd like to be in the best possible situation," said Penguins head coach Mike Sullivan. "Given the players we have available to us, we're trying to put the best lineup together that we think is going to win on a given night."
Injuries catching up to Pittsburgh?
Speaking of injuries, Conor Sheary, who is fourth on Pittsburgh in goals scored this season with 21, left the game in the first period and didn't return with a lower-body injury. Sheary is expected to be day-to-day. Now with both Sheary and Jake Guentzel (concussion) injured, Sidney Crosby is missing his two top-line teammates.
(Sunday night, defenseman Brian Dumoulin had to briefly leave the game in the third period after being elbowed in the side of the head, but he returned.)
Right now, the Penguins' absurdly long injury list reads as such: forwards Sheary (lower body), Guentzel (concussion), Evgeni Malkin (upper body), Carl Hagelin (lower body injury, out for the remainder of the regular season) and Tom Sestito (upper body); and defensemen Kris Letang (upper body), Trevor Daley (lower body, knee surgery), Olli Maatta (broken hand) and Ron Hainsey (upper body). Maatta has missed 19 games, while Letang and Daley have each missed 16.
The good news is that Bryan Rust, who missed six weeks with a hand injury, looked good in his second game back off the injury list (he returned in Friday's lineup) and that Scott Wilson looked solid in 11:10 on the ice after missing a game with a lower-body injury.
Almost miraculously, however, even with an injury list almost Tolstoy-ian in length, Pittsburgh has gone 8-1-4 in the team's last 13 games (and three of those losses came in a shootout.) Not bad.