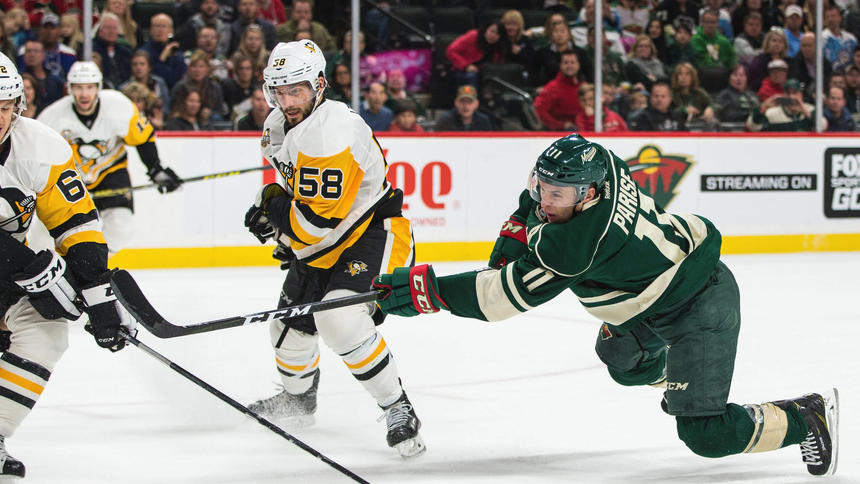 After yet another lopsided game — this one not turning out to be in the Pittsburgh Penguins' (12-6-3) favor — it appears consistency has become one of the Penguins' biggest issues. From the first drop of the puck, the Minnesota Wild (10-7-2) clearly outplayed Pittsburgh.
Following a game where Pittsburgh put up a season high six goals, it allowed just as many from the Wild. Bad turnovers and slow reactions by netminder Marc-Andre Fleury certainly didn't help anything. Fleury had yet another tough night in goal, something to make note of because of Matt Murray's return to the team.
Although Fleury was last year's biggest regular season factor, the netminder has clearly had a rough last stretch of games and doesn't have a win since October 29th, when the Penguins faced the Philadelphia Flyers. Including the game against Philadelphia, Fleury has allowed a staggering 23 goals in six games, which averages out to just under four goals a game.
Murray may not have completely solidified himself as Pittsburgh's No. 1 goalie, but with Fluery's performance, Murray's road to that spot may be easier.
Friday night's game is yet another indicator that the team also doesn't play the same in front of Fleury as they do in front of Murray. In the Penguins' last game, the entire team looked different. Granted, it was against a different team, but there have been major differences in the way Pittsburgh plays based on who's in net.
Inconsistency
The Penguins have struggled recently to get the job done in back-to-back-to-back games. Pittsburgh hasn't won more than two games in a row since November 5th and 8th when the Penguins beat San Jose and Edmonton.
Pittsburgh's offense is clearly the stronger side of the ice, but it has had a very inconsistent month so far. Including tonight's game, this month, the Penguins haven't scored more than two goals in six games.
In order for the Penguins to remain the league's champions and keep their crown, Pittsburgh's offense must find that consistency. Of course it varies from team to team, but this offense should be scoring — at the very least — two or three goals a game.
Adding in the fact that the defense has been just as inconsistent with protecting the puck, it's fair to say this team isn't playing to its expectations.
Sloppy Defense
The Wild had several waves of offense where Fleury faced an onslaught of shots. Minnesota was able to find itself in so many good positions because of Pittsburgh's sloppiness and lack of urgency.
This was almost a polar opposite performance from Wednesday, when the Penguins held one of the league's most elite offenses to just 17 shots and a single goal. Whether there really is a different mindset with whoever is in net or the way the Penguins practice, something must be said to the team to get back on track.
Pittsburgh is by no means out of anything, but the way in which it's playing now is unsustainable. For the Penguins to stay competitive, their lack of consistency will need to be addressed.
Looking Ahead
The Penguins won't have time to waste, as they are set to play back home tomorrow at the PPG Paints Arena at 7:00 p.m. EST against the New Jersey Devils.
Image credit: Brace Hemmelgarn/USA TODAY Sports