The Pittsburgh Penguins still have some decisions to make in regards to the makeup of their forward corps for the 2015-16 season. They have a few internal options that they may turn to if need be, but with the free agency period fast approaching, it will soon be time to make a decision on the impending free agents.
As of now, the only player whose future is clear is right-winger Craig Adams, as the Penguins already informed him that <a href="http://www.pittsburghsportingnews.com/craig-adams-will-not-be-re-signed-by-penguins/22015″>he will not be back next season</a>. As a player the writing was on the wall, but as a quality human being it will be sad to see him go. Perhaps the team can find an off-ice role for him in the front office; he demonstrated his ability through hard work and dedication as part of the NHLPA negotiating committee during the recent lockout.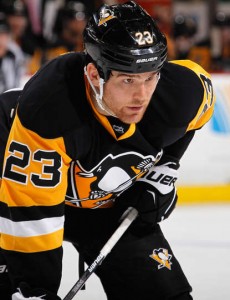 Steve Downie: When the Penguins signed Downie last summer it was considered a controversial move as some felt his hot-headedness would be a liability and others felt he could rekindle his former offensive talents playing under his former Tampa Bay Lightning coach. It turns out both sides were right.
Downie led the entire NHL with 238 penalty minutes and "2 minutes for being Downie" became the new running gag amongst fans as the referees seemed to key in on every little transgression. However, he also managed to provide the Penguins with quality depth scoring with 0.19 goals per game;  his most productive performance since being traded by the Lightning in 2011-12.
Looking at 5-on-5 production, Downie was not the most offensively talented forward, although he did fall comfortably in the top nine and the team managed to outshoot their opponents when he was on the ice. Where he really stands out though is his defensive contributions: he was the Pens' fourth best forward with 1.68 goals against per 60 minutes of ice time as well as being sixth best by limiting their opponents to 35.7 unblocked shot attempts per 60.
Daniel Winnik: Winnik was a more recent addition to the team having been acquired from the Toronto Maple Leafs in exchange for Zach Sill and two draft picks. He wasn't with the Penguins long enough to leave a lasting impression, but he did have an impressive year.
Winnik may not have stood out in Pittsburgh, but for the season on the whole he set new career highs in both points and plus/minus. At 0.43 points per game he quietly ensconced himself as one of the Penguins top 9 forwards. Like Downie, he also performed well in 5-on-5 situations, outshooting their opponents at an impressive 56.0% unblocked shot attempt differential and was the fifth best forward with just 35.1 unblocked shot attempts against per 60 minutes of ice time.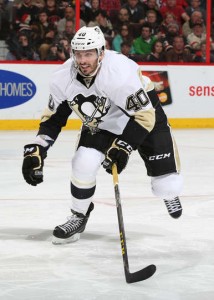 Maxim Lapierre: Perhaps one of the less popular trades, Lapierre was acquired from the St. Louis Blues in exchange for Marcel Goc.
Statistically this was not a good year for Lapierre; he posted new career lows in goals, points and plus/minus while performing even worse after the move to Pittsburgh. He was easily one of the Penguins' worst forwards. At 5-on-5 he had a team low 0.85 goals for per 60 minutes of ice time and a team high 3.22 goals against per 60.
In addition, the team was outshot by a massive margin with him on the ice, posting a 45.5% unblocked shot attempt differential as he was one of the worst at both generating offensive chances and preventing opponents' chances.
Decisions: At first glance it appears that it would be in the team's best interest to let Lapierre walk. Sure, he stepped up in the playoffs and showed that he could be an effective grinder and pest, hitting opponents and drawing penalties. That isn't exactly a unique talent though, and certainly not worth his previous price tag, especially considering his poor performance in all other categories.
Winnik, on the other hand, is a player the team should certainly be trying hard to re-sign. He had the best season of his career and flew under the radar enough that he might not cost an arm and a leg.
Downie is a hard sell. On one hand he has the skill, so if the price is right he could be a solid depth option. The issue lies in his penalty woes, which can and often did cost the team. The Penguins have to decide: does the good outweigh the bad?
Photo credit: NHLI/Getty Images