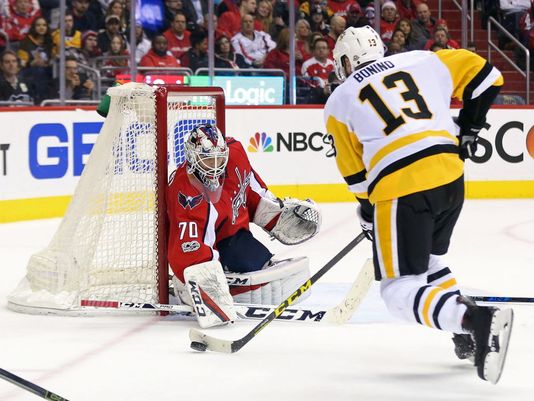 (Photo by: Geoff Burke/ USA TODAY Sports)
This season, the Pittsburgh Penguins and the Washington Capitals have easily been two of the best teams in the NHL. And now, the two are set to meet in the second round of the Stanley Cup playoffs — meaning, unfortunately for viewers and hockey fans, only one of these teams will make it to the Eastern Conference Finals.
The Penguins and Capitals aren't strangers; they met four times this season, splitting the series. And the games weren't exactly low-scoring, either, with Pittsburgh winning one game 8-7 and Washington winning one 7-1.
The two teams also have quite the playoff history. Pittsburgh has won eight of nine playoff series against Washington — including last season when the Penguins beat the Presidents' Trophy-winning Capitals in six games in the second round en route to hoisting the Stanley Cup.
When Pittsburgh and Washington take to the ice Thursday in the nation's capital for Game 1, get ready for another phenomenal matchup.
Sid…
This season, Sidney Crosby has been playing some of the best hockey of his career. He finished first in the league in goals scored (44) despite missing time early on with a concussion, and he tied for second in points (89).
But what Crosby has done this season goes beyond the numbers. Last season was admittedly rocky for the Penguins' captain. But this season, he's looked invigorated and deadly. And he's been one of the few constants on a Pittsburgh team that has had to deal with so many injuries.
This series is setting viewers up for what feels like Crosby vs. Ovechkin: Round 10,000. So much has already been said about these two superstars that it's hard to write more. They're absolutely two of the best hockey players in the game right now and are an absolute blast to watch on the ice.
They've both got their share of hardware; Crosby has won the Hart Trophy (for league MVP) twice (2006-07, 2013-14), while Ovechkin has won it three times (2007-08, 2008-09, 2012-13). But when it comes to team accolades, Crosby's accomplishments dwarf Ovechkin's. Crosby has two Stanley Cups to Ovechkin's zero, and the Candian has two Olympic gold medals (2010, 2014), while the Russian has no medals.
Thus far in the playoffs, in five games, Crosby has seven points (2G, 5A) and has been the crux of Pittsburgh's stellar first line. Ovechkin, in Washington's six-game series against the Toronto Maple Leafs, had three goals and no assists.
But these two rarely spend much time against each other on the ice. Still, it's fun to talk about the "battle" between the two superstars.
"The battle between me and him, it's great," Ovechkin said. "I think him and me enjoy it, (members of the media) enjoy it, fans enjoy it. But right now, it's not about me and him. It's about Caps and Penguins."
…and the Kids
Skating alongside Crosby on that first line are the "kids": 22-year-old Jake Guentzel and 24-year-old Conor Sheary, who have both been utterly spectacular in the postseason. In those five games against Columbus, Guentzel has six points (5G, 1A), most of which came in Game 3, when he recorded a hat-trick. Sheary has two points (2A) but has been responsible for several other opportunities. And Sheary's speed wreaks havoc on opposing defenses.
And while not skating on that same first line, the 24-year-old Bryan Rust has been sensational in the postseason, too. He has four points (4G) on Pittsburgh's second line.
These three have injected the Penguins' offense with a youthful energy that caused all kinds of problems in the first round of the playoffs. Teams facing Pittsburgh already know they have to worry about Crosby, Evgeni Malkin and Phil Kessel, so these three young guys playing so well just adds another dimension to an already terrifying offense.
Who has the edge between the pipes?
In the first round of the playoffs, Penguins netminder Marc-Andre Fleury did a fantastic job filling in for scheduled starter Matt Murray, who injured himself in warmups before Game 1. In the five games against the Columbus Blue Jackets, Fleury had 181 saves on 194 shots, a 0.933 save percentage. He especially excelled in Game 2, where he had 39 saves on 40 shots in Pittsburgh's 4-1 win.
But that performance doesn't mean Pittsburgh fans should feel too comfortable; Fleury seems to like to keep things exciting, and he isn't always the most consistent.
On the other side of the ice is Capitals goaltender Braden Holtby, who, last season, won the Vezina Trophy for the NHL's best goalie, and he's one of three finalists for the award again this year. In the 2016-17 regular season, he tied for first for the most wins, posting a 42-13-6 record with a .925 save percentage and a 2.07 goals allowed average
But against Toronto, Holtby showed some weakness. In the six-game series, he made 197 saves on 213 shots — a .925 save percentage — but he allowed four goals in Games 2 and 3, both of which the Maple Leafs won. He also gave up four goals in Game 4, but his offense bailed him out to pull off the 5-4 win.
Right now, Holtby is the better netminder of the two — but don't count Fleury out for some more postseason heroics.
Can Pittsburgh really pull this thing off without Kris Letang?
When Kris Letang went out for the season with a neck injury, it was a huge blow to Pittsburgh's hopes of repeating as Stanley Cup champions. The star defenseman was big in the Penguins' 2009 Stanley Cup win and was even more crucial when Pittsburgh won the Cup in 2016 (Letang easily could have won the Conn Smythe Trophy for postseason MVP.)
This year in the first round of the playoffs, Pittsburgh allowed an average of a little less than 39 shots a game, including 51 shots in Game 5 and 40 shots in Game 2.
The Penguins' defenseman — Ian Cole, Justin Schultz, Olli Maata Trevor Daley, Brian Dumolin and Ron Hainsey — are going to have to do much, much better against a potent Capitals offense led by Ovechkin, Nicklas Backstrom and T.J. Oshie.
Injury Report:
Washington is expected to have Lars Eller, Nate Schmidt and Tom Wilson all available for the series. It looks like only Karl Alzner (upper body) will sit.
Pittsburgh, on the other hand, is still missing key players. Letang is out for the year, Matt Murray (upper body) is doubtful, and Carl Hagelin and Chris Kunitz are questionable but could be available.
Prediction
On paper, the Capitals are probably the better team. But Washington hasn't made it past the second round of the playoffs with Ovechkin, and Crosby's Penguins have beaten Ovechkin's Capitals twice in the playoffs.
And, right now, Crosby, Malkin, Kessel and Guentzel are playing out of their minds. If Kunitz and Hagelin really come back for the series, Pittsburgh's offense just gets even more deadly weapons. Plus, Mike Sullivan is a better head coach than Barry Trotz, which could make a world of difference all on its own.
This Pittsburgh team knows what it takes to win.
And it will.
Penguins in seven.