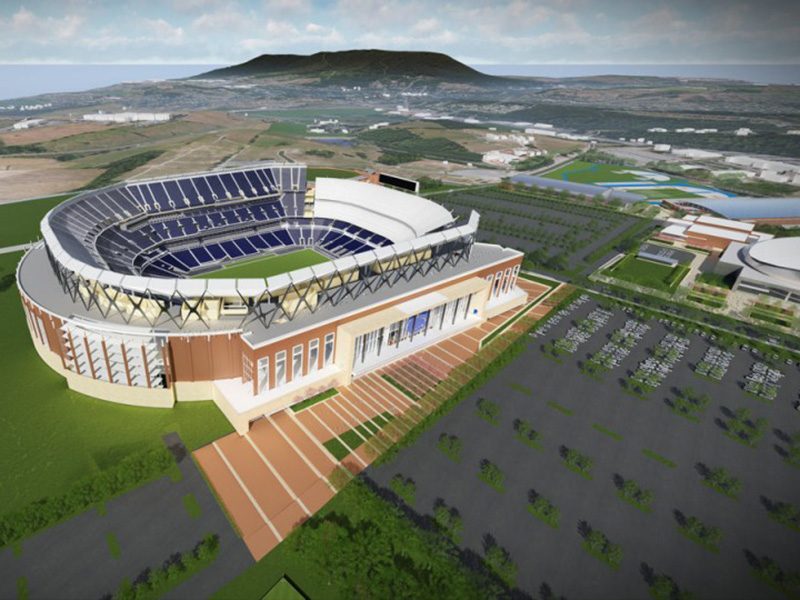 The Penn State Intercollegiate Athletics department has devised a 20-year master plan to upgrade and address the needs of its athletic facilities. (Image credit: Penn State Athletics)
The Penn State Intercollegiate Athletics department has devised a 20-year master plan to upgrade and address the needs of its athletic facilities. Included in the plans are upgrades to Penn State's football stadium, Beaver Stadium, as well as the Bryce Jordan Center, the school's basketball arena.
While upgrades to Beaver Stadium and the Bryce Jordan Center will happen down the road, Penn State has identified five priority projects to be completed within the next five years. They include:
Center of Excellence
Indoor practice facility
10-lane, 50-meter Natatorium
10-court indoor tennis facility
Renovation and upgrades to Jeffrey Field (men's and women's soccer facility)
In a statement released by the university, Penn State athletic director Sandy Barbour said, "These facility resources will greatly assist in our vision of creating conditions for success for our student-athletes as we prepare them for a lifetime of impact."
Penn State, along with architectural and sport facility firm Populous, came up with the master plan that will address 23 of Penn State's 31 venues where its teams practice, play or are housed — as well as the needs of the fans in each venue.
Center of Excellence
The Center of Excellence will be a 450,000-square foot facility constructed to serve all of Penn State's 800 student-athletes, staff and coaches. The facility will provide services and resources such as performance enhancement, sports performance and sports science facilities, as well as a nutrition center for student-athletes. It will also house locker rooms and coaches' offices for the field hockey and men's and women's lacrosse, soccer and tennis programs. Along with the facility, a 500-space parking facility will be included under the center.
Indoor Practice Facility
Attached to the Center of Excellence will be a new 108,000-square foot indoor practice facility that will house individual workout space for all 31 teams, as well as practice space for baseball, softball, men's and women's golf, lacrosse and soccer programs.
Natatorium
The new Natatorium will provide Penn State the opportunity to use the facility for a multitude of events and campus programming. A 10-lane, 50-meter competition pool, a separate lap pool with campus recreation programming capability as well as a diving well that will permit diving competitions from up to 10-meters will be housed in the new 130,000-square foot facility. It will house the both the men's and women's swimming and diving teams while also holding the ability to host up to 2,500 spectators.
Indoor Tennis Facility
The new indoor tennis facility will house the men's and women's tennis teams as well as campus recreation space, seating for approximately 500 people and a pro shop. The 100,000-square foot facility will have 10 courts — up from the four the current tennis facility has.
Jeffrey Field
Jeffrey Field is slated to go through the most extensive renovation process within the next five years, according to the master plan. Upgrades to Jeffrey Field will enhance the game-day experience for the men's and women's soccer teams. Jeffrey Field will be getting new home and visiting team locker rooms as well as chairback seats for fans with covered seating. New lighting, concessions and restrooms will also be included in the upgrade. A new videoboard and new media facilities will help take the game-day experience to the next level for the soccer programs.
Artists renderings for the five priority projects can be found in this Twitter thread:
All the info you need on the #PSUFacilities Master Plan presentation ➡️ https://t.co/LDTHkJW004
Follow along as we unveil select facilities. pic.twitter.com/fGKDsKk8Rp

— Penn State Athletics (@GoPSUsports) March 13, 2017
Along with the priority projects coming within the next five years, the university also released plans to add more new facilities and upgrade other stadiums within the next 20 years.
All-Sports Museum (located at intersection of University Drive and Curtin Road)
Basketball practice facility
Cross Country team house
Golf clubhouse
Golf indoor practice facility
Olympic sport training facility
Outdoor track and facility
Parking structure west of Beaver Stadium
Along with Jeffrey Field, the following practice facilities and stadiums will also be getting upgrades within the next 20 years.
Beard Field at Nittany Lion Softball Park
Beaver Stadium
Bryce Jordan Center
Penn State Field Hockey Complex
Lasch Football Building
Multi-Sport Complex
Penn State Lacrosse Field
Sarni Tennis Center
The extensive plans for the renovation of Beaver Stadium are the stadium's first major upgrade since 2001. The upgrades for the stadium, built in 1960, include more chairback seating, new concessions locations and food options, new restrooms, wider concourses and additional premium seating options. The upgrades will improve the game-day experience immensely for the 107,000-plus fans who make the trek to Happy Valley for each home game.