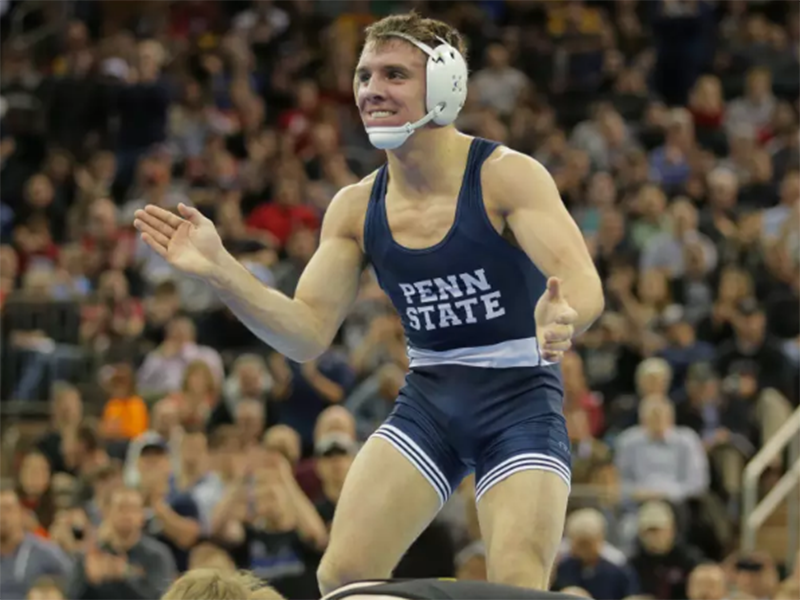 At 149, No. 1 Zain Retherford PSU pinned Maryland's Adam Whitesell. (Photo by: Hunter Martin/Getty Images)
Cael Sanderson's Penn State Nittany Lions rode five straight pins to a 45-6 victory over Maryland on Sunday afternoon in Rec Hall to capture their fourth Big Ten regular season (dual meet) championship. The victory over the Terrapins vaulted the No. 1 ranked Nittany Lions to 13-0 on the season and 9-0 in the Big Ten.
Penn State got off on the right foot with a technical fall decision at 125 pounds as Nick Suriano took down Maryland's Michael Beck. But, at 133 pounds, things got rocky for the Nittany Lions. In what would eventually be the Terrapins' lone victory, Billy Rappo pinned the Nittany Lions' Triston Law to get Maryland on the board with six points.
After that, however, the match belonged to the Nittany Lions in what would be considered complete and total domination. Following Jimmy Gullibon's 9-4 decision over Ryan Diehl at 141 pounds, Penn State rattled off five straight pins from Zain Retherford at 149, Jason Nolf at 157, Vincenzo Joseph at 165, Mark Hall at 174 and Bo Nickal at 184.
The pins helped take the Nittany Lions from up eight through four matches to up 32 points after eight matches. Matt McCutcheon and Nick Nevills rounded out the Nittany Lions' afternoon with wins at 197 and 285, respectively.
It was the 30th dual meet victory in a row for the defending national champion Nittany Lions who are well on their way to the NCAA tournament. Penn State has destroyed its competition thus far, winning by 15 points or more in each dual meet. The Nittany Lions went through a brutal dual meet schedule, beating the likes of nationally ranked teams Iowa, Ohio State, Nebraska, Minnesota, Rutgers, Lehigh, Wisconsin, Stanford and Illinois.
With their win, Penn State will now face No. 2 Oklahoma State on Sunday, February 19th in Stillwater, Okla. for the 2017 NWCA Dual Meet Championship crown. The NWCA championship pits the top-ranked Big Ten team against the top-ranked non-Big Ten team with the winner being named 2017 NWCA Dual Meet Champion. The match will mark the second year in a row the Cowboys and Nittany Lions have squared off for the NWCA Dual Meet Championship as Penn State defeated Oklahoma State last season 29-18 at Rec Hall.
How they fared:
125: #2 Nick Suriano PSU tech fall Michael Beck MD, 23-8 (TF; 6:41) / 5-0
133: Billy Rappo MD pinned Triston Law PSU, WBF (4:45) / 5-6
141: #11 Jimmy Gulibon PSU dec. Ryan Diehl MD, 9-4 / 8-6
149: #1 Zain Retherford PSU pinned Adam Whitesell MD, WBF (3:17) / 14-6
157: #1 Jason Nolf PSU pinned Justin Alexander MD, WBF (1:27) / 20-6
165: #4 Vincenzo Joseph PSU pinned Patrick Gerish MD, WBF (3:58) / 26-6
174: #7 Mark Hall PSU pinned Josh Ugalde MD, WBF (1:14) / 32-6
184: #2 Bo Nickal PSU pinned Idris White MD, WBF (2:08) / 38-6
197: #9 Matt McCutcheon PSU dec. David-Brian Whisler MD, 5-3 / 41-6
285: #3 Nick Nevills PSU maj. dec. Youssif Hemida MD, 10-1 / 45-6