The Pittsburgh Penguins have gone 2-1 so far on this western road trip, and they'll try to finish it on a winning note as they take on the San Jose Sharks tonight at 10:00 p.m.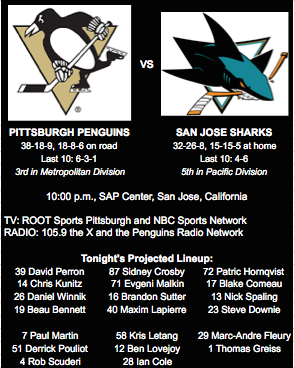 TONIGHT'S OPPONENT: Tonight will be the first of two meetings between the Sharks and Penguins this season. The Sharks will visit Consol Energy Center at the end of the month.
The Sharks are on the outside of the Western Conference playoff picture, six points behind the Winnipeg Jets for the second wild card spot.
"I don't have any way to explain it," he said to NHL.com. "I don't think anybody could if they tried. We'll see what happens. You got to give yourself a chance here and just make sure you weather the storm early. They usually come out pretty hard here."
SHARK TANK: The Sharks' arena may as well be nicknamed "House of Horrors" for the Pittsburgh Penguins. Since the building opened as the San Jose Arena in 1993, the Penguins are 3-10-2-1, including an 11-game winless streak dating back to October of 1997.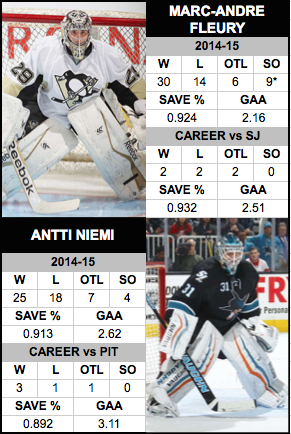 The building has been especially unkind to Penguins captain Sidney Crosby. Since entering the league in 2005, Crosby has played four games in San Jose, recording just one assist and a minus-9 rating. Crosby has never scored against the Sharks, home or away.
"I don't have any way to explain it," he said to NHL.com's Eric Gillmore. "I don't think anybody could if they tried. We'll see what happens. You got to give yourself a chance here and just make sure you weather the storm early. They usually come out pretty hard here."
HAPPY RETURNS: Two Penguins are returning to their old stomping grounds in San Jose, but it seems unlikely either will see the ice in the SAP Center tonight.
Goaltender Thomas Greiss played for the Sharks from 2007, when he made his NHL debut, until 2013. Over four seasons, he played 44 games with San Jose, winning 17 and earning one shutout.
The other Penguins player with a past in the Bay Area is defenseman Christian Ehrhoff, who also made his NHL debut with the Sharks in 2003. He played five seasons in San Jose, playing 341 games, with 25 goals and 107 assists.
THE 4077: Ehrhoff still hasn't recovered enough from the concussion-related symptoms that have been bothering him to suit up for the Penguins. He did practice with the team today.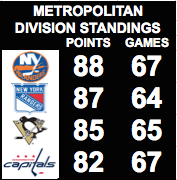 SCOREBOARD WATCHING: The New York Rangers got an overtime goal from Derrick Brassard to beat the Chicago Blackhawks on Sunday. The Rangers are now just one point behind the New York Islanders and have three games in hand on their cross-town rivals. The Islanders are in Toronto tonight for a 7:30 p.m. faceoff with the Maple Leafs.
MINOR MATTERS: The Wilkes-Barre/Scranton Penguins (34-19-6, 2nd in AHL East) beat Springfield 4-1 on Sunday, and the big story was rookie goaltender Matt Murray. Murray won his seventh consecutive start, and set a new American Hockey League record with a 304:11 shutout streak.
The streak spanned parts of six games and included stopping 130 shots. The previous AHL record was 268:17, which was set by Barry Brust of the Abbotsford Heat in 2012-13. Murray was named AHL goaltender of the week today.
Murray's hot play of late has led the AHL Penguins on a 14-2-2 stretch. They remain five points behind the equally hot Hershey Bears for first place in the East Division. The Penguins added defenseman Danny Syvret in advance of today's AHL trade deadline. The veteran offensive defenseman was most recently with the Iowa Wild, where he had four goals and 14 assists in 58 games.
The Wheeling Nailers (27-27-1, 6th in ECHL North) continued their up-and-down season, dropping the second game of their three-game road trip 2-1 in Evansville, Indiana on Sunday. Franky Palazzese made his fourth straight start and made 26 saves in the loss. Despite firing 41 shots on goal, the Nailers could only get one goal past Ice Men goaltender Branden Komm, a Derek Army shot with five seconds remaining to break the shutout bid.
#CAWLIDGEHAWKEY: No. 20 Robert Morris (22-7-5, AHC #1 seed) has finally found the identity of their second-round playoff opponent, and it will be a familiar face. The 11th-seeded Niagara Purple Eagles, who were the Colonials final regular season opponent, upset 6th-seeded Holy Cross to advance to the second round of the Atlantic Hockey tournament.
The three-game series will begin at 84 Lumber Arena on Friday night at 7:05 p.m., with game two taking place Saturday at 7:05 p.m. Game three, if necessary, will be played on Sunday, also at 7:05 p.m.
Penn State (18-12-4, 4th in Big Ten) kept their hopes for a first-round bye alive and sent their seniors off with a 4-3 victory and a weekend sweep of Michigan on Saturday. The Nittany Lions are still two points behind Michigan and Minnesota, who are tied for second place and the final first-round bye in the Big Ten tournament. The Nittany Lions will wrap up their regular season with at two-game series at Minnesota next weekend. Michigan, meanwhile, will wrap up their regular season with a home-and-home series against top-ranked Michigan State.
YOUNG GUNS: Four Penguins prospects saw their collegiate seasons end over the weekend.
In the ECAC, Clarkson lost in three games to RPI. Sophomore center/left wing Troy Josephs (7th Rd, 2013) finished the season with three goals, 14 assists, 14 penalty minutes and a plus-7 rating in 36 games.
The Brown Bears were also eliminated over the weekend, falling in two games to Ivy League rivals Harvard. Hollidaysburg, Pennsylvania-native and Bears right-winger Sam Lafferty (4th Rd, 2014) wrapped up his freshman campaign with four goals, eight assists, 16 penalty minutes and a minus-9 rating in 31 games.
In Hockey East, Connecticut was eliminated in two games by New Hampshire. Sophomore defenseman Ryan Segalla (4th Rd, 2013) finished the year with two goals, three assists, 54 penalty minutes and a minus-4 rating in 31 games.
Sophomore center Blaine Byron (6th Rd, 2013) and the Maine Black Bears lost a heartbreaker in overtime on Sunday and were eliminated by Vermont. Byron finished his season as the most productive of the Pens' collegiate players with 12 goals, 15 assists, six penalty minutes, and a minus-2 rating in 39 games.
Photo credit: NHL