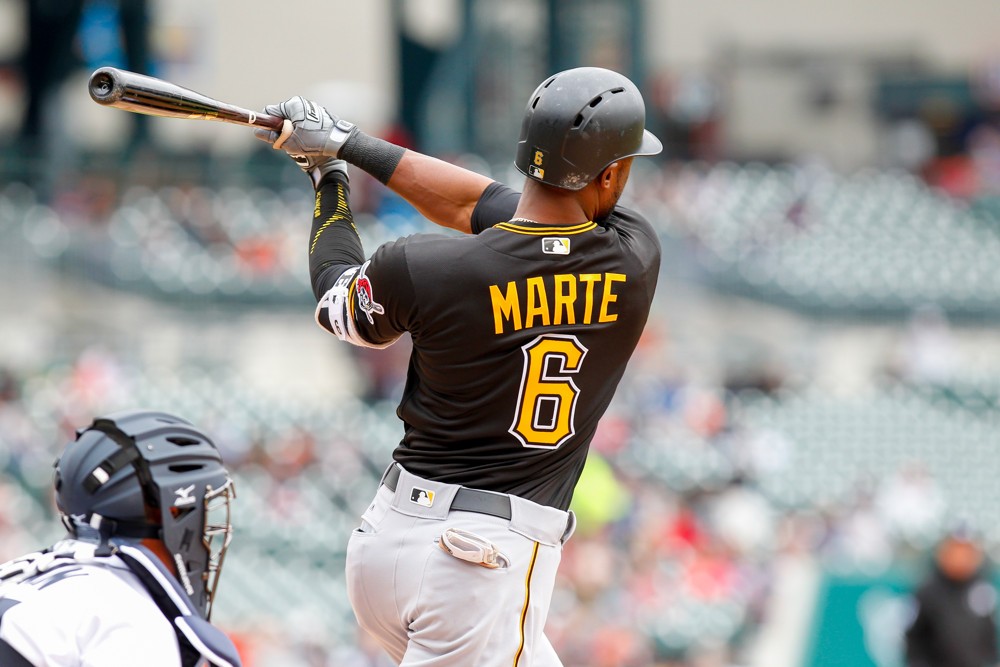 In a bit of news straight out of center field, Pittsburgh Pirates outfielder Starling Marte has been suspended by MLB for 80 games after testing positive for PEDs (nandrolone) and violating the league's drug policy. He will begin serving his suspension immediately.
In a statement, Marte called the suspension a "difficult moment."
His full statement reads:
"I have been informed that I have tested in one of the tests that are regularly done in my job. In this very difficult moment, I apologize to my teammates, my fans and baseball in general. Neglect and lack of knowledge have led me to this mistake with the high price to pay of being away from the field that I enjoy and love so much. With much embarrassment and helplessness, I ask for forgiveness for unintentionally disrespecting so many people who have trusted in my work and have supported me so much, I promise to learn the lesson that this ordeal has left me. God bless you."
Pirates president Frank Coonelly said, in a statement:
"The Pittsburgh Pirates fully support MLB's Joint Drug Agreement, including the very tough penalties for violations of its prohibitions. We are disappointed that Starling put himself, his teammates and the organization in this position. We will continue to fight for the division title with the men who are here and will look forward to getting Starling back after the All-Star break."
This news comes as a huge shock, especially because many Pirates players wear "PED Free" shirts around the clubhouse.
This season, Marte was batting .241 and had seven RBIs and two homers in 13 games. Last season, he batted .311 with a .362 OBP and had 47 stolen bases. Marte has also been a huge key in Pittsburgh's defense — he won a Gold Glove in left field in 2016 and 2015 and was trusted so much that the Pirates made the decision to move him to center field
This news means Marte will be ineligible for the postseason — if the Pirates even make it that far with the blow they've been dealt. It's the second big hit Pittsburgh has taken this season with third baseman Jung Ho Kang still awaiting a visa and an appeals court ruling for a drunk driving conviction in South Korea.
It's unclear what moves the Pirates will make to replace Marte, but it's likely either top prospect Austin Meadows or Jose Osuna will get the call up. It's also possible there will be some shuffling in the outfield to put Adam Frazier in one of the outfield corners and move either Andrew McCutchen or Gregory Polanco to center field. Will Josh Bell perhaps play some outfield? Josh Harrison?
Maybe we'll see some inkling of what Pittsburgh has in mind when the Pirates take to the field tonight in Game 2 of the series against the St. Louis Cardinals.