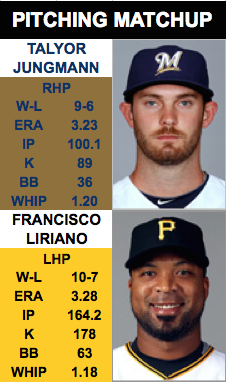 The Pittsburgh Pirates will look for another series win in this afternoon's contest against the Milwaukee Brewers. After dropping the first game by a 6-4 score in 13 innings, the Pirates came back to win 6-3 and 10-2.
In this afternoon's game, Francisco Liriano will face Taylor Jungmann.
Liriano is 6-6 with a 4.26 ERA in 15 career games [14 starts] against the Brewers. He is 0-2 with a 4.85 ERA in two starts this year. In his last start, Liriano got a win against the Cincinnati Reds allowing no runs on three hits in six innings of work.
Jungmann is 3-0 with a 1.35 ERA against the Pirates. He lost in his last start to the Miami Marlins allowed six runs on seven hits in 3.2 innings of work. It was his second-shortest start of the season.
Harrison gets timing back: It is no secret that returning from injury is one thing, but regaining your offensive and defensive timing is another.
This holds true for Josh Harrison who missed 38 games following left thumb surgery.
Harrison picked up four hits and reached base five times, the first time both have happened since June 15 against the Chicago White Sox.
"I'm just becoming more comfortable with my swing as far as my thumb and certain things that irritate and don't irritate it," Harrison said. "I feel like I have been through enough in the amount of at-bats up here for me to get comfortable and get my swing off on certain pitches where I may have felt tentative earlier. Just having my body in the right position to swing at good pitches and letting my swing to be free instead of forced and block certain things out."
This homestand, Harrison is batting .538 with seven hits in 13 total at-bats.
"He's shown the ability to get things done and sometimes you've got to believe in things you're not thinking," said manager Clint Hurdle. "You give players an opportunity and try and have more patience than anybody else. Josh is going to work hard, prepare and put everything he has on the field. Tonight was a very good night at the plate and it was fun to watch."

Seventh inning stretch: Michael Morse may have a tougher role than anyone on the team as it changes every day. Not that he minds.
"I just try to contribute as much as possible, in any way and any role possible," said Morse. "That's the best thing about winning ball clubs, every day your role could change. You just have to prepare and keep playing your game."
Morse has seen time as a starter, pinch-hitter and defensive replacement since he was traded to the Pirates.
In last night's game he hit a pinch-hit grand slam, becoming the second player in the last 20 seasons whose first home run with the Pirates was a pinch-hit grand slam. The other was Jason Michaels on June 2, 2008.
"It just tells me what I'm doing is working," Morse said. "As bench guys, we kind of help each other out, so it's definitely a team effort."
Morse has enjoyed his time with the Pirates and is hitting .328 since the All-Star Break.
"It takes an honest evaluation of the situation you are in," said Hurdle. "He's had situations where he's more of a player and he understands his role as a player. He shows up every day ready for whatever we ask of him to do. He's a selfless guy, he's been all over the place and I think he's in a good place. He's going to have a good day every day. That's what the really good bench players do."
Bottom of the ninth: Clint Hurdle has had what he calls his Giant Eagle conversations. Fans will come up with him and express their feelings about the team.
Of course, those views have dramatically changed since Hurdle first started his managerial tenure with the team.
"Five years ago it was apathetic, it was all about 82," Hurdle said. "Just finish .500. The bar has been moved, the expectations have changed, that's a sign of success."
Starling Marte once again will be out of the starting lineup due to gastroenteritis. Hurdle did however offer that he may be an option on the bench… The Pirates have won 12 of Liriano's past 13 starts including each of the last nine at PNC Park… The Pirates have produced at least one extra-base hit in 73 consecutive games, a streak which dates back to June 21. This is the longest streak since the 2007 team accomplished the feat for 97 straight games.
Photo credit: Jared Wickerham/Getty Images