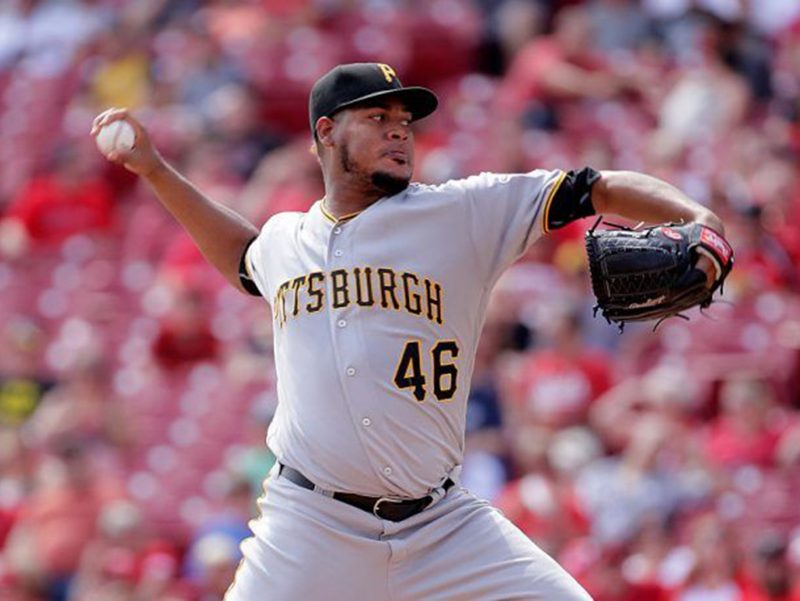 Last season with the Pirates, Nova went 5-2 with a 3.06 ERA. (Photo by Getty Images)
Merry Christmas, Pittsburgh Pirates fans.
Per FanRag Sports' Robert Murray, the Pirates have signed free-agent RHP Ivan Nova to a three-year, $26 million contract — pending a physical. The deal reportedly also includes a $2 million signing bonus.
Sources: #Pirates signing Ivan Nova to three-year, $26 million deal. $2 signing bonus.

— Robert Murray (@RobertMurrayFRS) December 22, 2016
Nova came to Pittsburgh over the summer in a trade with the New York Yankees for Pirates prospects outfielder Tito Polo and LHP Stephen Tarpley. Combined, Nova went 12-8 with a 4.17 ERA and struck out 127 in 162 innings.
After struggling some in New York, Nova seemingly turned his season around in the Steel City. Solely with the Pirates, in 64.2 innings, Nova was 5-2 with a 3.06 ERA and 52 strikeouts and gave up just four home runs. But the 29-year-old was stellar at PNC Park, going 3-1 with a 2.45 ERA and giving up only two walks in 40 1/3 innings.
In November, Nova's agent, Greg Genske, said Nova was receiving offers in the three-year/$36 million range, and the pitcher was reportedly looking for a deal in the five-year/$70 million before hitting the free agent market. But at the end of the 2016 season, Nova made it clear he'd like to stay in Pittsburgh, so he could have potentially turned down more money to stay.
Per MLB's Adam Berry, Nova said, "I don't want to leave this clubhouse, to be honest. … If there's something I can do to stay here, it's what I will do."
Nova had Tommy John surgery in 2014 and appeared to struggle to regain his form before looking like his 2013 self — when he pitched a 3.10 ERA in 140 innings — with the Pirates.
With the signing, Pittsburgh likely has the first three slots in its rotation slotted with Gerrit Cole, Jameson Taillon and Nova. But the Pirates remain in the hunt to sign Chicago White Sox pitcher José Quintana.
Source: #Pirates still trying to acquire #WhiteSox's Quintana even after Nova deal. That pursuit was first reported by @Buster_ESPN.

— Ken Rosenthal (@Ken_Rosenthal) December 22, 2016