Dan Marino, Tony Dorsett, Tyler Boyd, Steven Adams, Larry Fitzgerald DeJuan Blair … Allen Lachowicz? When you think of notable Pitt athletes, Lachowicz isn't the first to come to mind. Drafted by the Texas Rangers with the 24th pick in the 1981 MLB Draft, Lachowicz is the last Pitt baseball player to be selected in the first round of baseball's draft.
If all goes well, that could change Thursday with Pitt pitcher T.J. Zeuch.
Zeuch, a 6-foot 7-inch 225-pound, 20-year-old junior right-hander out of Mason, Ohio, has been linked to numerous teams in the first round of the draft, from the Houston Astros, to the New York Mets — and even to the Pittsburgh Pirates.
"It gives me a lot of extra excitement," Zeuch said about potentially being the first Pitt player drafted in the first round since 1981. "I didn't know that there was another [first rounder] until I saw an article. When I heard the buzz, it kind of gave me the thought that I could turn this program around a little bit. There's a lot of talent around here. There's a stigma around Pitt that, if you go there, you won't get drafted because it's not Virginia, Vandy or Maine. It's from high school kids because they see where guys get drafted."
But Zeuch tried to change that stigma one game at a time during his time with the Panthers.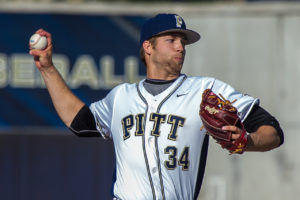 In his first year, he posted a 2-6 record (which is nothing to write home about), but he did have a 2.75 ERA and struck out 41 batters in 55.2 innings while allowing just 17 walks. He only improved from there, as his sophomore season was his breakout year — he struck out 90 hitters and walked just 25 in 88.1 innings pitched, pitching to a 3.87 ERA.
"I started hearing 'first five rounds' probably at the end of my sophomore year. I went to Cape Cod that summer, and it went to top-3," Zeuch said. "All of these advisors were telling me the same thing. That's where I heard that buzz starting."
But it was showdowns with ACC powerhouse Virginia over the past two years that really opened scouts' eyes to Zeuch's dominance on the field. In 2015, he outdueled then-No. 1 Virginia's Nathan Kirby (an all-american) in a 1-0 win, throwing 8.0 innings, striking out eight, while allowing only four hits, no runs and no walks …
"I think that opened eyes last year with Kirby. That got my name out there with people," Zeuch said. "He was supposed to be a real high first-rounder. All the scouts were there for him, but they saw this sophomore against him (and were) wondering who this kid was.
"I guess I should thank him a little for helping me get my name out there. Same with Connor Jones this year. It wasn't the best start in the world, but it was a quality start. That helped solidify my image with guys or with some teams. After Virginia, it turned out that I was expected to go in the first round. That excited me a lot to see myself built up that way. It's a nice reward for having pitched well. I was kind of lucky, too. A 6-7 righty isn't a common thing."
Pitt almost didn't land Zeuch; he was drafted out of high school by the Kansas City Royals in the 33rd round of the draft after posting a 0.62 ERA his senior year, a league record.
"It was a 95 percent I was going to college. The offer from KC was life-changing amount of money at the time, but I was only 17, and I wasn't that good," Zeuch admitted. "I wasn't ready to face professional hitters. I was more of a thrower in high school, as I threw in the 90s. In college, you can't get away with that, especially in pro ball, too.
He mulled over the decision and talked about it with his dad (who has been a big part of Zeuch's pitching career and was his pitching coach when he was younger), and they decided college was the better route because it would help Zeuch mature as both a pitcher and a person.
"I'm becoming more independent, too," he said. "It allows me to ease into the adjustment."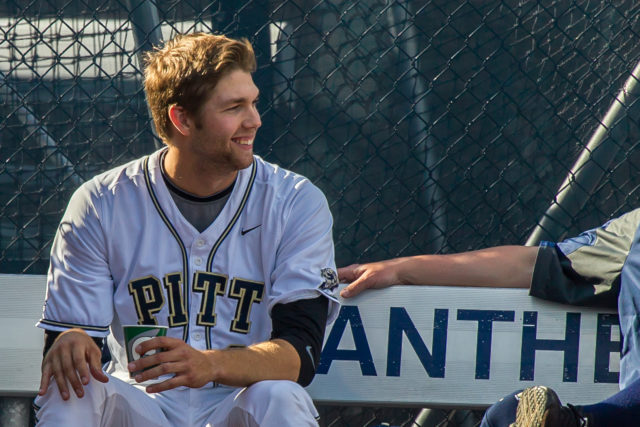 Zeuch got off to a slow start during the 2016 season after a groin injury forced him to start later than usual, but he said it was fine now during a phone interview. The groin won't be the holdup for Zeuch come draft day — it will be whether or not the four-pitch pitcher is able to develop his changeup.
His repertoire currently features a two-seam fastball that sits 93-95 mph with late movement, a swing-and-miss slider that hovers in the high-80s, a 12-6 curve that he uses as a third pitch and a changeup that sits mid-80s.
Like the scouts, Zeuch knows the development of that fourth pitch is key to his success moving forward.
"I think I've progressed a lot. I was inconsistent with it, and I couldn't throw it for strikes. It was a hanger that looked like a BP fastball to guys," Zeuch said of his changeup. "Better late than never. It's not phenomenal, but I can get some swing and misses. … I can take nine or 10 mph off it. It's a big weapon for me. Going forward, that changeup is a necessary pitch for a starter. They work on it a ton with pitchers, and that's something I have to work on a ton if I want to make it at the major league level. It's a weapon to keep the guys off balance."
Along with his changeup, Zeuch worked on fine-tuning his mechanics during his last year at Pitt and on keeping hitters off balance by throwing off-speed pitches in less predictable counts.
"This year, I worked on getting more consistency with my slider and curve. It's easy to bury one in a 1-2 or 0-2 count. But I'm trying to throw it when I'm behind guys," the 20-year-old said. "It gives me another weapon that they have to look for all the time. Being able to throw it for strikes more allows you to get those strikes. Sometimes I'll throw a slider that will back up on me that will float up there. Same with the curve. I'm just working hard to keep my mechanics the same on every pitch."
At the time of the interview, Zeuch was looking toward the ACC Tournament, hoping that his Panthers would qualify, which provided a distraction from the draft. Now, a day away from the biggest moment of his baseball life, what does Zeuch have planned?
"I don't have anything real special planned," he said. "I'll have family and friends come to the house for the first night. I'll be surrounded by loved ones for that night."