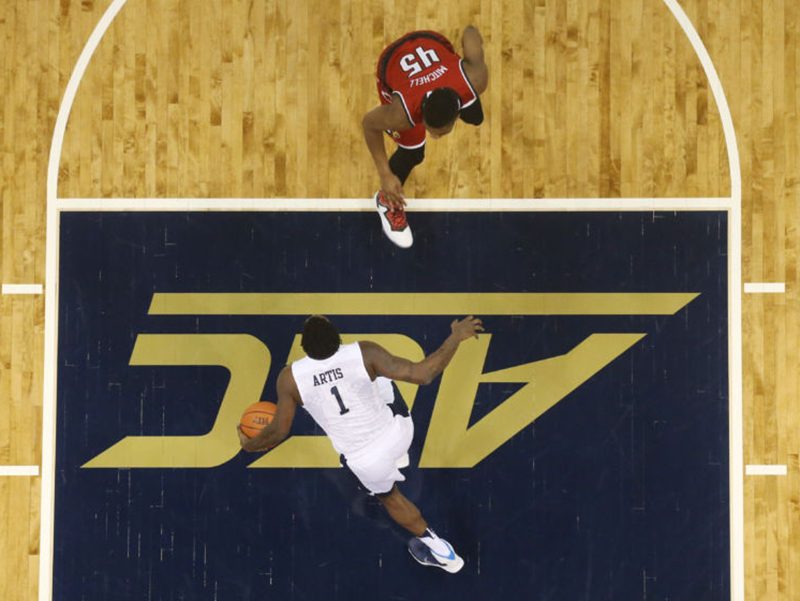 (Photo by: Charles LeClaire/USA TODAY Sports)
If the Pittsburgh Panthers had any glimmer of hope for making the NCAA Tournament before their game against the Georgia Tech Yellow Jackets, it's now officially gone.
Against Georgia Tech on Tuesday, the Panthers lost their third game in a row, 61-52. Meanwhile, the Yellow Jackets managed to snap their two-game losing streak. The win was important for the Yellow Jackets, who have a glimmer of a hope of making the NCAA Tournament.
"I believe (with) eight wins in the ACC, how do you not be in the NCAA Tournament?" said head coach Josh Pastner. "Eights wins? Holy Toledo, this is the best league (in the nation). Look at our wins. We should automatically be in the NCAA Tournament. I said that on the TV, and I've really got to keep winning. And I want to keep winning, obviously, but eight wins in this league should be an automatic berth the way I look at it. And I'm not biased."
Panthers head coach Kevin Stallings was left to lament a mediocre season, even with one game left on Pitt's schedule.
"It's a little bit of a familiar script for us," Stallings said. "We can play most people competitively and then get to the end, and we don't execute well enough to get the job done. That's on both ends; it's not just offensively, it's defensively, too. Not a good enough effort, especially down the stretch."
For the Panthers, who have an ACC conference record of 4-13 and an overall record of 15-15, senior forward Michael Young led the group in scoring, providing 16 points. He was joined in double-digit scoring by Cameron Johnson (13) and Jamel Artis (12). Sheldon Jeter led the team in rebounds with seven, while Artis led the team in assists with four.
After the game, Stallings even proclaimed his hope that Georgia Tech, with its ACC conference record of 8-9, would make the tournament.
"I hope so," Stallings said. "I don't want to speculate, but I hope so. They've had a heck of a good year."
Against the Panthers, the Yellow Jackets were led in scoring by Ben Lammers, who scored 20 points. Georgia Tech also had Josh Okogie reach double-digit points, scoring 14 points. Okogie also led the team in rebounds with seven, while Josh Heath and Quinton Stephens tied for the most assists with five each.
It was the Yellow Jackets' senior day, and they celebrated Heath, Stephens, Corey Heyward and Rand Rowland. After the game, Pastner talked about his senior group.
"I'm just so proud of those seniors," Pastner said. "I have such appreciation and gratitude, which is genuinely sincere from my gut, for our young men, for those seniors, for how much they've embraced me. I can't say enough about them. I'm really happy we were able to get that win on that senior day for them."
What's Next?
The Panthers will look to close out their season with a win against the University of Virginia Cavaliers (20-9) on Saturday at the John Paul Jones Arena in Charlottesville, Virginia. Tip-off is scheduled for noon EST.