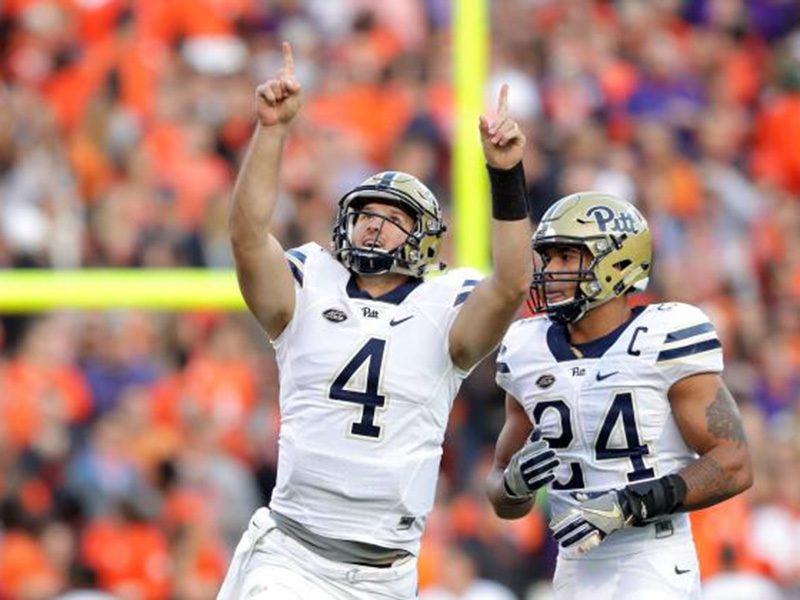 (Photo by: Streeter Lecka/Getty Images)
When the kicker has the last name of "Blewitt," you'd be forgiven for not having much faith in him to hit a long, game-winning field goal with time expiring, especially after he missed an extra point in Saturday's game.
But, Saturday, Pitt's Chris Blewitt didn't blow it when it mattered most, nailing a booming 48-yard field goal with six seconds left to give the Panthers (6-4, 3-3 ACC) the shocking 43-42 win over the No. 2 Clemson Tigers (9-1, 6-1) — perhaps the season's biggest upset.
"I had no doubt it was going to go through," said Pitt head coach Pat Narduzzi. "It was destiny."
Pitt Kicker Chris Blewitt hits a 48 YD FG to upset #2 Clemson, 43-42! Playoff says BYE BYE to Clemson! #pittvsclem
pic.twitter.com/BRaSmKGECK

— CollegeFootball News (@College_FBNews) November 13, 2016
The Clemson Tigers came into the game heavily favored, but the Panthers capitalized on turnovers (Clemson quarterback DeShaun Watson threw three interceptions), and Pitt's offense kept chugging along. While the two teams traded scores and remained close for most of the game, the Panthers trailed for much of it by just a single point because of Blewitt's missed PAT in the middle of the second quarter.
The game's outcome stunned all 81,048 fans at Memorial Stadium — both Pitt and Clemson faithful alike. The Tigers had won 21 straight home games in "Death Valley," as it's affectionately known — the longest streak in the FBS — and had won 46 games in a row against unranked opponents. (Only Alabama has more, with 64).
Pitt's win is even more stunning when looking at Clemson's numbers on offense. Heisman-contender Watson was 52 of 70 for 580 yards — an ACC record — with three touchdowns. And the Tigers racked up 630 yards of total offense.
Yes, you read that right: 630 yards.
But Watson couldn't capitalize when it mattered, allowing a potential two-score lead in the fourth quarter to slip away when he threw a head-scratching pass near the goal-line that was intercepted by linebacker Saleem Brightwell and returned for 70 yards. Pitt scored a few plays later to make it 42-40. (The Panthers' 2-point conversion attempt was unsuccessful.)
A Clemson defense that hadn't allowed more than 36 points all season (it gave up 36 to the then-No. 3 Louisville Cardinals) didn't have much of an answer for the Panthers' offense, either. On 20 attempts, running back James Conner took the ball for 132 yards and a touchdown. It was Conner's second-highest rushing total of the season.
Pitt quarterback Nathan Peterman, despite completing less than 60 percent of his passes, found targets for five touchdowns (tight end Scott Orndoff and fullback George Aston twice each and Conner once) while throwing no interceptions.
"This is forever," Conner said. "We'll remember this one forever."
The Panthers' defense, despite giving up those 630 yards, came up big. While the secondary — a problem area this whole season — was torched, Pitt did just enough to stay in the game.
Perhaps no play was more important than a 4th-and-1 late in the fourth quarter. Up 42-40, Clemson needed just one yard to put the game away; a first down would essentially spell "game over." But linebacker Matt Galambos stuffed running back Wayne Gallman, and Pitt got the ball back with less than a minute to play.
That's when Peterman kept the ball himself for nine yards, found Orndoff for 21 yards and found Orndoff again for four yards before two incomplete passes brought out the field goal unit.
Straight through the uprights.
Game over.
Pitt is better than its 6-4 record likely indicates. Three of the Panthers' four losses came by a combined 11 points — and the losses came to some pretty good teams (the 8-2 Oklahoma State Cowboys, the 7-3 UNC Tar Heels and the then-No. 25 Virginia Tech Mountaineers). Pitt did lose a lopsided game to the University of Miami Hurricanes, 51-28, but the Panthers beat the now-No. 10 Penn State Nittany Lions 42-39.
The win, Pitt's first over a top-5 team since 2007, means the Panthers are bowl-eligible.
When you take down the No. 2 squad in the nation to become bowl eligible. https://t.co/cbXS5yddI6

— SportsCenter (@SportsCenter) November 13, 2016
Image credit: Rainier Ehrhardt/AP Photo