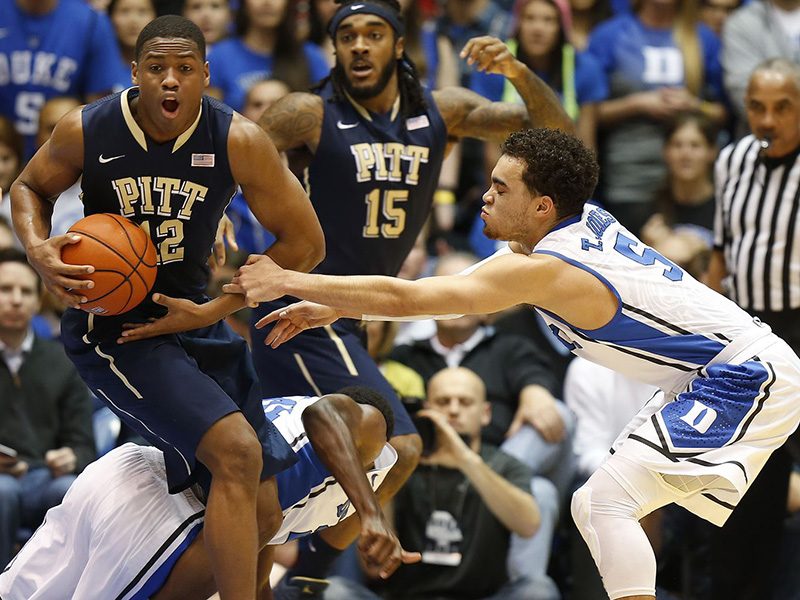 (Photo by: Ellen Ozier/AP)
The Pittsburgh Panthers had to be wary when going up against the No. 21 Duke Blue Devils on Saturday night.
The first reason? The return of legendary coach Mike Krzyzewski, who returned after missing four weeks because of back surgery.
The second?
The infamous tripping antics of Duke junior guard Grayson Allen.
Allen, indeed, was called for a tripping foul in the second half of the game on Pitt senior forward Jamel Artis.
However, even with the tripping, the Blue Devils claimed the 72-64 win over the Panthers. Pitt has now lost its last eight games in a row.
"I am disappointed for my players," said head coach Kevin Stallings after the game. "I thought they competed really hard and really well. Duke's shot-making, in the end, was kind of the difference. They made shots, and we could not."
Leading the Panthers in scoring was senior Michael Young, who had 24 points. He was joined by only one fellow double-digit scorer in Artis, who scored 17 points. Only two players — Damon Wilson and Jonathan Milligan — didn't score for Pitt. Both came off the bench for a combined 10 minutes.
Artis led the team in a different category, grabbing nine rebounds to attempt counterattacks. He also led the team in assists with four.
On the Duke side of things, Allen led the team with 21 points, and he was followed in the double-digit scoring category by Amile Jefferson (15), Jayson Tatum (12) and Luke Kennard (10). Jefferson led the team in rebounds, grabbing nine, while Allen led the team in assists, providing six. Only one player from Duke's bench, Marques Bolden, didn't score.
After the game, Krzyzewski praised Young and Artis, while the head coach also talked about the competitive nature of the game.
"Well, we won a really good basketball game today," Krzyzewski said. "Pitt is good, and I especially love those two kids, Jamel Artis and Michael Young. A long time ago, we used to have a league of them, when no one went early, we had a league of those, they're older and they're really good players. Then they're very well-coached. So we felt we beat a really good basketball team today."
After the game, neither side commented on Allen's tripping incident.
What's Next?
Pitt will attempt to snap its losing streak against the Boston College Eagles on Wednesday. The game will be held at the Silvio O. Conte Forum, and tip off is scheduled for 7 p.m. EST