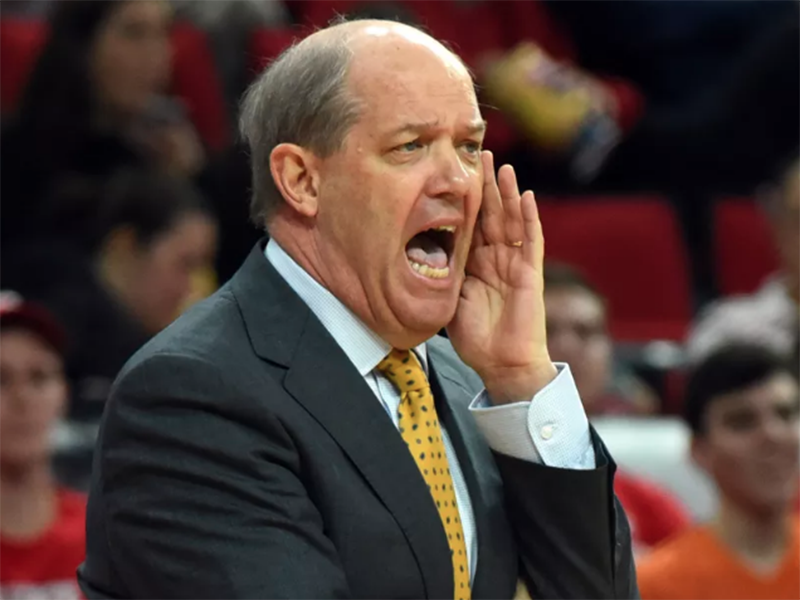 Is Pitt head coach Kevin Stallings' time in Pittsburgh over? (Photo by: Rob Kinnan/USA TODAY Sports)
The Pitt Panthers men's basketball team is riding a seven-game losing streak. The Panthers' 1-8 ACC record is the worst in the conference. And their 12-8 record (with losses to schools like Duquesne, SMU and NC State) is embarrassing.
So what does this mean for Pitt head coach Kevin Stallings?
Recently, calls about Stallings' leadership have emerged. In Pitt's Jan. 24 loss to the No. 13 University of Louisville Cardinals— a 106-51 loss — reporters asked Stallings if he was losing the loyalty of the players in the locker room.
"I sure hope not," Stallings responded. "I would say there is a guy or two on the bench whose mind is out the door because they aren't playing how much they want to play. I don't think I lost those guys that are starting the game. They see the need that you have to play as hard as you can to win in this league.Seniors, it can be a tough deal when things don't go how everyone wants them to go."
Since the Louisville loss, Pitt's play has improved. Sure, the Panthers are still losing their games, but they are, at least, keeping them close. The Panthers fell to the Clemson University Tigers on Jan. 24, 67-60, and fell to the No. 12 UNC Tar Heels by two points — 80-78 — on Tuesday.
However, in basketball (or in any sport), close isn't good enough.
Stallings knows that.
He's been a professional head coach since 1993, during which he has 461 wins and 285 losses.
But Stallings isn't going to stick around in Pittsburgh because of what he did previously. He's going to be kept around because of what he does with this team, the 2016-17 Pitt Panthers men's basketball team. And right now, that team isn't doing well. And the Panthers' current record isn't going to help make the team's case for an NCAA tournament March Madness bid, which, if the Panthers were to miss the tourney, would be a rarity for Pitt.
Stallings obviously isn't going to say that he's losing the locker room, because that's what any head coach would do. And his players have remained mum on the subject, neither defending him or disagreeing with him.
However, after the Clemson loss, senior forward Jamel Artis did respond to a question about the comfort level the players have with Stallings:
"We are very comfortable with him," Artis said. "He's a great coach."
While in keeping with team message, Artis' comments weren't exactly effusive.
It's clear that something needs to change for Pitt. If the Panthers don't make the the 68-team selection for the NCAA tournament, there's no doubt that Stallings will be fired. And he probably should be. The Panthers have a history of appearing in the tournament; whether or not they do well in it is always the question mark.
Right now, Pitt isn't a good place. And when a team struggles, it's on the head coach to fix that.
However, first thing's first: the Panthers need to snap their win streak this Saturday, February 4, against the No. 21 Duke Blue Devils. Tip-off is scheduled for 1 p.m. EST, and the game will air on CBS.