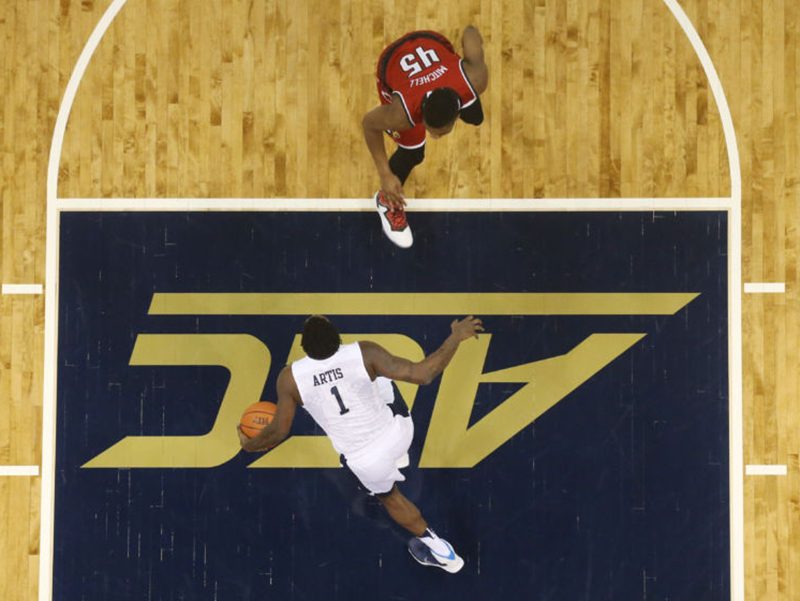 (Photo by: Charles LeClaire/USA TODAY Sports)
Pitt Panthers head coach Kevin Stallings wouldn't comment on his ejection during the first half of the Panthers' 106-51 loss to the No. 13 University of Louisville, but he was vocal about the crushing defeat.
"That's about as disappointing of a performance that I possibly could imagine," Stallings said in his postgame press conference. "A lot of things I could say, that I'd like to say, but that was embarrassing, unacceptable, and it's my responsibility to have them prepared to play better, harder and smarter. Ultimately, at the end of the day, it's my responsibility."
The Panthers struggled to put up points against Cardinals, and the inability to do so sealed Pitt's fifth straight loss. The last time these two teams met, on Jan. 11, the game was much closer, as the Panthers lost 85-80 in Kentucky. Tonight at the Petersen Events Center, the loss went down as the second-worst in Pitt's 111-year history.
Senior forward Michael Young led Panthers with 12 points and was the team's only double-digit scorer. Redshirt junior center Rozelle Nix led the team in rebounds with seven, while freshman guard Justice Kithcart and redshirt junior guard Jonathan Milligan led the team in assists with two each.
On Louisville, Donovan Mitchell scored 29 points to lead the team. Ryan McMahon scored 15 points, while the Cardinals had three other double-digit scorers: Anas Mahmoud (14), Deng Adel (10) and Tony Hicks (10). Jaylen Johnson led the team in rebounds with 11, while McMahon also led the team in assists, with five.
After the game, Louisville head coach Rick Pitino applauded his team's efforts but didn't want to boast.
"Well, this was one of those nights — I've experienced a lot them in professional basketball — where everything goes right for one team and everything goes wrong for another team," Pitino said. "It doesn't happen often, but it happened tonight. Sometimes with adversity comes good things."
Pitino mentioned he thought, coming into the game, that it was going to be tough and said he was shocked by how large the difference in the score was.
"We just played a great game," Pitino said. "We had 48 rebounds, 24 assists, shot 58 percent for the game and had nine turnovers. We just played brilliant basketball."
Around Pitt's locker room, the mood was somber. But Stallings, who is in his first year as Pitt's head coach after former head coach Jamie Dixon went down south to TCU, doesn't feel like he's losing the locker room.
"I would say there is a guy or two on the bench whose mind is out the door because they aren't playing how much they want to play," Stallings said. "I don't think I lost those guys that are starting the game. They see the need that you have to play as hard as you can to win in this league. We should have beat Notre Dame, we did beat Virginia. We've had some good moments. It's not like we were picked in the top third of the league or anything. … It can be a tough deal when things don't go how everyone wants them to go."
What's Next?
The Panthers (12-8) have a chance for redemption against Clemson University (11-8) on Saturday, January 28, at the Petersen Events Center.
Tip off is scheduled for 12 p.m. EST.