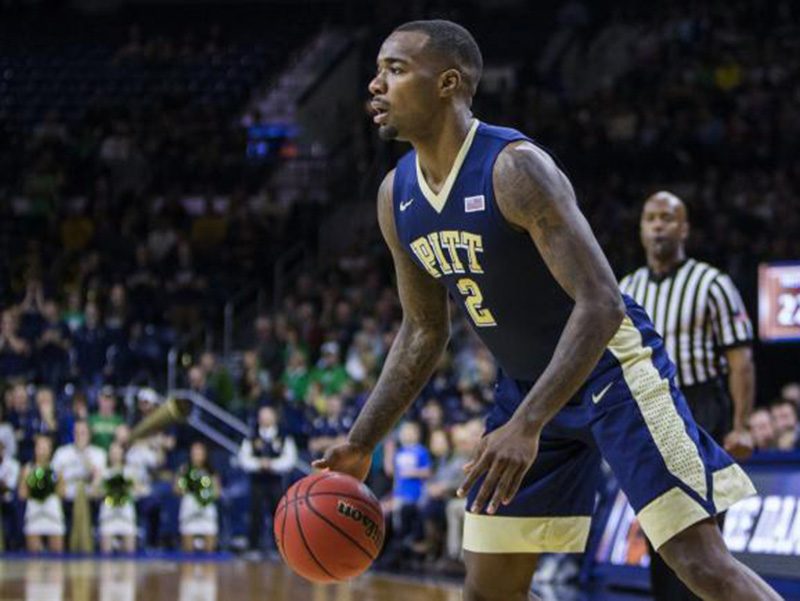 (Photo by Robert Franklin/AP)
Just one game after Jamel Artis put up a career-high 43-points against Louisville, Artis led the team again in points on Saturday — he just didn't have nearly as many. Artis only put up 15 points in the Pitt Panthers' blowout 72-46 loss to the University of Miami Hurricanes.
Pitt senior forward Michael Young didn't know if he would be able to play because he has been dealing with an injury to his right eye. However, he wore a mask to protect his eye and led the team in assists (3). The Panthers were, however, without Ryan Luther, who is dealing with right foot injury.
"I certainly tip my cap to Mike Young because he shouldn't even have been playing," said head coach Kevin Stallings. "We didn't know he was going to play until about 10:30 this morning. He got hit in the eye the other night inadvertently against Louisville during the second half and couldn't see out of the eye until late last night."
Stallings noted that Young's eye is broken, calling it "a fracture in his orbital bone, near his sinus." Stallings said Young will wear a different mask for future games but that he needs to be fitted for it.
Leading the team in rebounds with five was senior Sheldon Jeter. Guard Chris Jones was the only other player to score double-digit points, contributing 10.
"I am concerned," Stallings said. "Today we felt like it was a day that we needed to win, but I'm not going to throw anybody under the bus. They think that they did the best they could under the circumstances. We need to get better. We have some holes. We have had those holes all season long."
Stallings and Jones both agreed that turnovers were what killed the team.
"We missed some shots that we normally make, but the turnovers killed us," Jones said.
Davon Reed led the Hurricanes with 18 points, and he was followed closely by Bruce Brown (with 17 points) and Ja'Quan Newton (14). Miami senior forward Kamari Murphy led the team with eight rebounds, while Reed and Newton led the team in assists, providing five each.
Even more special was that it was Hurricanes head coach Jim Larranaga's 600th win. Larranaga has been Miami's head coach since 2011.
"I'm proud of my team's performance today," Larranaga said. "Their focus, their energy, the great job they did defensively and the way they shared the ball. We had 17 assists. We really want to get 16 assists every game, and this was one of the games where we were able to do that. We still have way too many turnovers, and we have to improve that aspect of our offense."
What's Next?
The Panthers (12-6) will travel down south to face North Carolina State (12-5) on Tuesday, January 17. Tip-off is scheduled for 7 p.m. EST.