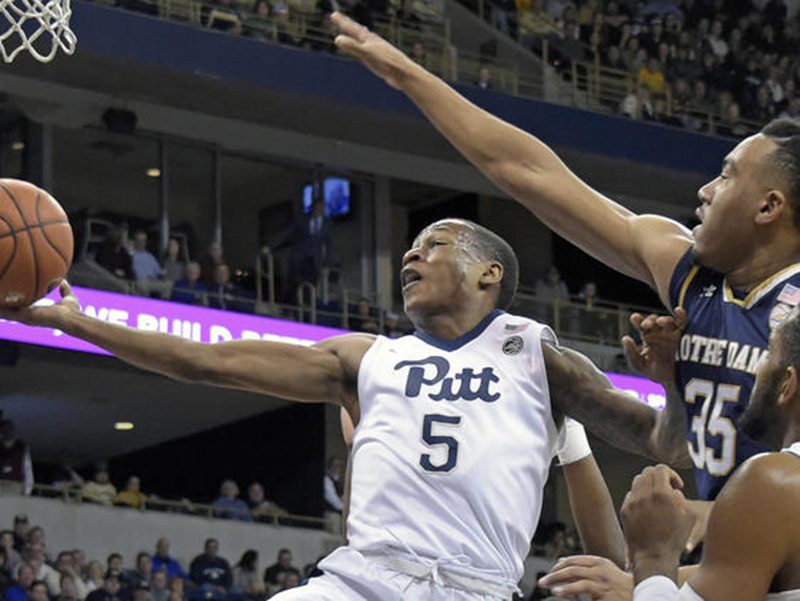 Pittsburgh guard Justice Kithcart goes up for a shot against Notre Dame forward Bonzie Colson. (Photo by: Fred Vuich/AP)
The Pitt Panthers men's basketball team didn't end 2016 on a high note. On New Year's Eve, the Panthers fell to the No. 24 Notre Dame Fighting Irish in overtime, 78-77.
The loss halts Pitt's five-game win streak and gives the team a 11-3 record.
However, Panthers head coach Kevin Stallings didn't see the loss as a total disappointment, calling it a "great college basketball game."
"Unfortunately, they made one more play than we did," Stallings said. "I think that we could point to a number of things that hurt us, but I think as much as anything was all of the layups that we missed in the second half. We just kept getting to the rim, and the ball would hang on the rim and fall off. That's what enabled them to get an eight-point lead. We felt like we got great shots but just didn't have a great shooting day."
Leading the Panthers in points was Jamel Artis and Michael Young, who both scored 25 points. Just a few days earlier, against Marshall, the two tied for 30 points to again lead Pitt in scoring. Sheldon Jeter led the Panthers in rebounds (13), while Young also led the team in assists (5).
After the game, Young talked about the team's disappointment in the locker room.
"We wanted to win so bad, and we fought hard," Young said. "We were right there. It is a tough way for us to lose. I felt like we had the game in our hands, and we let it go. We don't want to lose, but it hurts even more when we pretty much had the game."
On the other side of the ball, junior forward Bonzie Colson led the Fighting Irish with 21 points. Notre Dame also had three other double-digit scorers in Matt Farrell (16), Steve Vasturia (15) and Martinas Geben (10). Colson also led the team with 14 rebounds, and Vasturia led the team with five assists.
After the game, Notre Dame head coach Mike Brey reiterated Stallings' comments about it being a "great college game."
"I'm really proud of our group, and I'm very impressed with Pitt," Brey said. "They're really good. I'm proud of our fight and our ability to find a way to escape and win. I thought our guys off the bench gave us a great lift in a big road game."
What's Next?
The Panthers will host the Virginia University Cavaliers at the Petersen Events Center on Wednesday, January 4. Tip-off is scheduled for 9 p.m. EST.