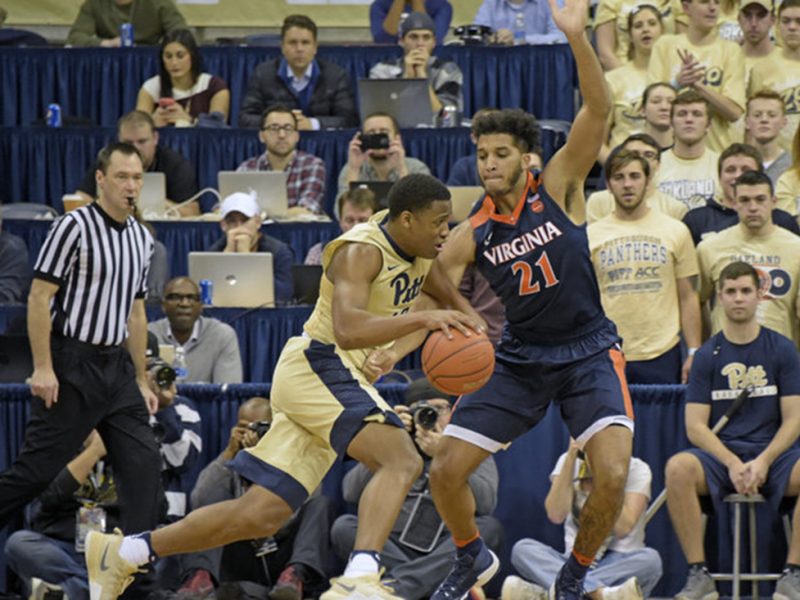 (Photo by: Fred Vuich/AP)
"Well if you like college basketball, that was a great college basketball game," said Pitt Panthers head coach Kevin Stallings after Wednesday's  88-76 overtime win over the No. 11 Virginia Cavaliers.
"We feel fortunate to have won it," Stallings said. "I'm really proud of my team. I'm proud of the way that they played. I'm proud of the way that they competed."
It's the second game in a row where the Panthers took a ranked team to overtime (the team lost to the No. 24 Notre Dame Fighting Irish on Saturday before losing 78-77), and it's the second game in a row that Pitt's head coach has raved about how good of a college basketball team his Panthers played.
In Wednesday's game, all eyes were on Ryan Luther, who came off the bench to score eight points — he also had a massive block on Virginia's Mamadi Diakite that helped provide the Panthers with some momentum.
"I tried to be aggressive and get on the boards," Luther said after the game. "There was a period where we weren't getting too many offensive rebounds. That is something we have been stressing the past couple of days. I tried to wedge myself in there, and I got a lucky bounce and was able to take it in.
"As for the block, I think it was Chris Jones and I. We didn't communicate as well as we wanted to on the switch. I wanted to get back and get the foul or the block. I was able to get a hand on the ball."
Leading the Panthers in points was Jamel Artis, who scored 24. Michael Young followed behind with 19 points, while Sheldon Jeter and Cameron Johnson had 16 points each. Jeter and Johnson also tied for a team-high eight rebounds, while Young led Pitt with five assists.
Artis and Young, both seniors, had never beaten Virginia before. Stallings said that helped drive the team — and him — to want to beat the Cavaliers.
"This one has extra meaning because I found last night that these seniors had never beaten Virginia in their careers, and that was something that they wanted to do," Stallings said.
For Virginia, London Perrantes led the team in scoring with 16 points, and he made the three-point shot to send the game into overtime.
"It was a big shot from Perrantes," Artis said. "We probably could have defended him a little bit harder and not let him shoot the three. We should have made him a drive a little bit, but that was a big shot he made."
Virginia was led in assists by both Perrantes and Kyle Guy, who each had three. Devon Hall led with nine rebounds, and three players — Jarred Reuter, Darius Thompson and Marial Shayok — came off the Virginia bench to score 10 or more points.
"Pitt plays seven guys," said Virginia head coach Tony Bennett. "I didn't play as many tonight. I thought, 'OK, now let's play and let's make them earn it.' On the first two (three-pointers), we just had those breakdowns, and you're not going to be perfect, but I just thought we would make them earn it a little more.
"It was one of those games where we were hoping they miss shots, and that's a bad feeling."
What's Next?
The Panthers (12-3) will travel north to face Syracuse University (9-6) on Saturday, Jan. 7. The game will be aired at 12 p.m. EST on ESFC.