Saturday afternoon at Heinz Field will mark a day of firsts.
It will be the first game of the 2015 season for both the Youngstown State Penguins and the Pitt Panthers. It will also be the first game for new Penguins head coach Bo Pelini, who took the job after being fired from Nebraska.
It also marks the debut of new Pitt head coach Pat Narduzzi, who since accepting the job has instilled a lot of energy and hope into the Panthers program.
One of these coaches will get their seasons off to a high note, while the other will have some work to do.
FCS No. 14 ranked YSU is returning to the site of one of its biggest regular-season victories in school history. In the 2012 season opener, the Penguins knocked off Pitt 31-17 on a rainy night that was the program's first win over a Big Five conference program.
That was the debut for then first-time Pitt head coach Paul Chryst.
Needless to say Narduzzi is hoping for better results.
Who has the advantage?
Let's take a look.
When: Saturday, September 4
Where: Heinz Field, Pittsburgh, PA
Time: 1:00pm EST
Watch: ESPN3
Spread: N/A
Series History:
Series Began: 2005
Series Overall: Pitt leads 2-1
At Pittsburgh: Pitt leads 2-1
At YSU: N/A
At Neutral Sites: N/A
Last Meeting: Sept. 1, 2012 (YSU 31, Pitt 17)
Current Series Win Streak: YSU (one)
Largest Pitt Margin of Victory: 41 points (41-0, 2005)
Largest YSU Margin of Victory: 14 points (31-17, 2012)
Keys for Pitt: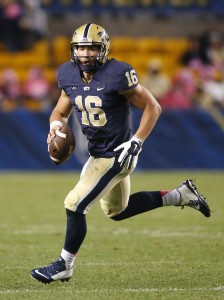 1. The Conner Show- The Panthers need to pound junior running back James Conner. It's not rocket science. Conner could be a Heisman contender in 2015 and without Tyler Boyd, who is out serving a one-game suspension, I would expect to see a lot of No. 24.
2. Voytik shows progress- Junior quarterback Chad Voytik is entering his second season as a starter and he improved a ton by the end of last season. In his final five games of the season, Voytik's adjusted quarterback rating of 88.1 was sixth-best in the country, ahead of Bryce Petty of Baylor and Cody Kessler of USC and nearly matching Oregon quarterback Marcus Mariota.
Pitt can win with Voytik at the helm. He needs to show he is making solid progress from year one as a starter to year two. That means making plays with his legs and his arm. He won't have Boyd to rely on in this one, so that means spreading the ball around.
"He's been doing a real nice job," said Pitt offensive coordinator Jim Chaney. "He has been progressing nicely. I'm pleased with where he is at right now. He is growing up as a football player."
3. Big plays from the defense- Pitt should be able to score points against pretty much anyone on their schedule. But can they stop anyone?
Since Narduzzi took over everyone has been wanting to see how much he can change the Pitt defense. It will look like Michigan State's defense, but does Narduzzi have the horses to get those type of results?
Defensive coordinator Josh Conklin likes where his defense is at. Saturday they get to go out there and start to show improvements. Emotions will be running high, not only because it is Opening Day, but also because it is the first game for the coaching staff. You don't want to have to see Pitt playing on pins and needles in the fourth quarter. The defense can put a stop to that by making big plays early and often.
Keys for Youngstown State:
1. Lean on experience– This Youngstown State team has the luxury on being able to lean on a few guys who have big game experience as Pelini landed a few FBS transfers in former Nebraska defensive end Avery Moss, Nebraska safety LeRoy Alexander and Michigan State safety Jalyn Powell.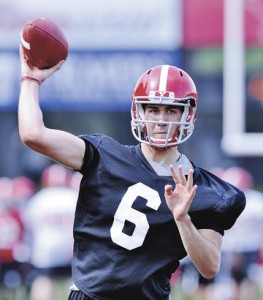 Having talent like that on the sidelines can go a long way to keeping the Penguins team calm if it is a close game. Pelini has talent. In addition to adding some transfers, YSU returns eight starters on offense and seven on defense. They won't be overwhelmed by playing a Power 5 conference team.
2. Keep it close- Pelini inherits a team that's strong in the trenches and experienced in the offensive backfield, with QB Hunter Wells and RB Martin Ruiz. Pitt's defensive roster is ordinary at best. The Penguins also return four starters on the offensive line, so they should expect to have success.
Throw in the fact that they should be improved defensively under Pelini and the recipe for YSU should be to keep it close entering the fourth quarter. If it is anyone's game late, we very well could see another upset.
3. Test the Pitt secondary- The Panthers gave up so many big plays in 2014, that if I am Pelini I am testing the Pitt secondary until they prove that they can stop the pass, especially the deep one. The YSU offensive line should be able to do a decent enough job of protecting Wells, so YSU should be able to mix things up offensively.
YSU has one of the top FCS running-back duos in juniors Martin Ruiz and Jody Webb. Last year, the pair combined for 2,035 yards rushing and 19 touchdowns. But keep an eye out for Penguins WR Andrew Williams, who had a breakout year last season for the Penguins.
Williams caught 54 passes for 976 yards and six touchdowns, which was the best season for a YSU receiver since 1999. Youngstown State needs to make him a big part of their game plan.
Prediction: We won't be seeing a repeat of 2012. YSU is talented and should be plenty of fired up for Pelini's first game, but Pitt has the better talent. At the end of the day there will be just too much Conner for the Penguins to stop. The Narduzzi era opens with a win. Pitt 31, Youngstown State 20
Photo Credit: