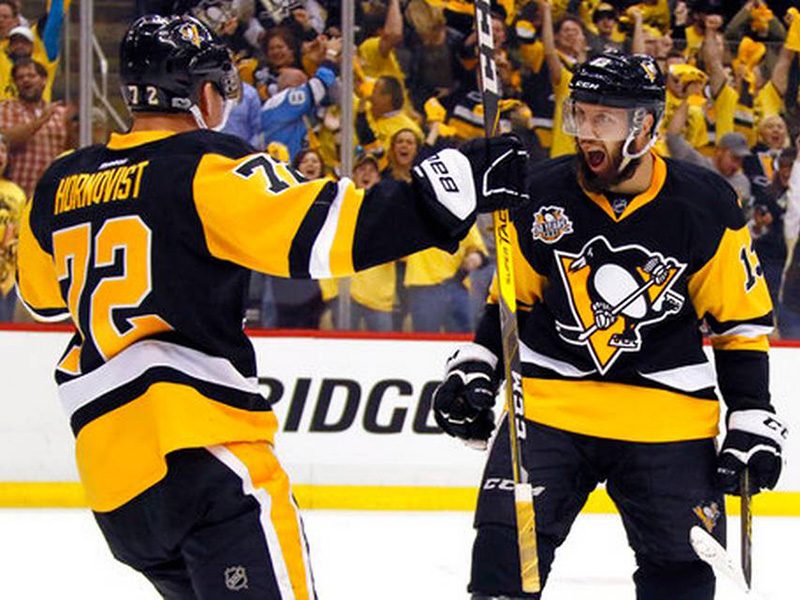 Nick Bonino (13) celebrates his second-period goal with Patric Hornqvist (72). (Photo by: Gene J. Puskar/AP)
The Pittsburgh Penguins didn't even make it onto the ice for the puck drop in Game 1 before the injury bug that has hurt the team all season struck once again. With about eight minutes left to go in warmups, expected starting goaltender Matt Murray left the ice with a presumed lower body injury and wasn't even fit to dress for the game.
But, luckily for Pittsburgh, the team has one heck of a backup goalie: two-time Stanley Cup champion Marc-Andre Fleury.
And Wednesday night, Fleury was exceptional in the Penguins' 3-1 victory over the Columbus Blue Jackets, making 31 saves on 32 shots.
"I just tried to approach it as a regular game," said Fleury, who made his 101st playoff game start to tie Tom Barrasso for the most by a Pittsburgh goalie. "It was fun. It's been a while. I was a little nervous in the beginning, maybe from not expecting (to start). They guys did a great job in front of me, too, all game long, blocking shots and taking rebounds away. At the end, it was a great feeling."
Stepping in and stepping up. What a night for Marc-Andre Fleury. pic.twitter.com/ffrvSt17cQ

— Pittsburgh Penguins (@penguins) April 13, 2017
Being the backup can't be easy for Fleury, who looked like he was on the trading block this season. But, right now, general manager Jim Rutherford looks like a very, very smart man for keeping the Flower in Pittsburgh.
Wednesday, Fleury was especially crucial in a first period that saw Columbus take 16 shots and get no points on the board.
"He's a world-class goalie who's been there, done that," defenseman Trevor Daley said of Fleury. "You couldn't ask for a better guy in that situation. The reason why we call him 'Dude' is that he's the coolest dude around."
The Penguins helped Fleury out by getting on the board first when Bryan Rust found the back of the net a little over a minute into the second period when Evgeni Malkin crossed the blue line before finding Phil Kessel, who kicked the puck to Rust.
Bryan Rust has 4 goals in his last 5 playoff games at PPG Paints Arena. This one is probably our favorite, though. pic.twitter.com/zr4H21cQ6w

— Pittsburgh Penguins (@penguins) April 13, 2017
Kessel then got one of his own to make it 2-0, Pittsburgh, on the power play. And Nick Bonino finished the team's scoring when he camped in front of the net, stuck with the puck and buried it.
From: @NickBonino
To: the fans

Net-front presents. 😉 pic.twitter.com/JtdyCykx4Y

— Pittsburgh Penguins (@penguins) April 13, 2017
The Blue Jackets' Matt Calvert scored 12:41 into the third period, but, by then, it was too late.
What a difference a period makes
For almost the entirety of the first period, the Blue Jackets looked like easily the better of the two teams. They had 16 shots on goal to the Penguins' three, and Columbus' aggressive and physical style of play had Pittsburgh looking dazed and out-of-sorts.
But whatever Penguins head coach Mike Sullivan said to his players after the first period got them jazzed and raring to go to start the second period.
Pittsburgh stormed out of the gates with that early goal from Rust — and, after that, nothing was the same. All three of the Penguins' goals came in the second period, and the team out-shot Columbus 16-4 in the period.
"I still think we were OK after the first goal," said Blue Jackets head coach John Tortorella. "It was their first chance of the game. After the second one, I thought we lost ourselves for a little bit. They surged, and we kind of hung on there."
The Penguins have relied on their speed to win games (and Stanley Cups), and it just wasn't showcased at the start of the game, especially because Columbus was taking the game to the boards and the referees seemed content to let the two teams play without whistles. But something in the second period just clicked for Pittsburgh.
"I think we didn't play a good first 20 minutes," Malkin said. "After, we played our game. I mean, we used our speed. … We scored the first goal, and, after, we felt so much better."
This Malkin guy is pretty good at hockey, huh?
Before Wednesday night, Evgeni Malkin hadn't set foot on the ice for a game since March 15 (that's the final 13 games of the regular season, if you're counting) with an upper-body injury (shoulder?), but he made quite the statement in his return. The second-line center assisted on both Rust and Kessel's goals (assists Nos. 82 and 83) to pass Jaromir Jagr for third on the Penguins' all-time list.
Coming into the game, it was clear Sidney Crosby was going to have a heck of a time matching up against Brandon Dubinsky, so having Malkin back and playing so well spells all kinds of trouble for the Blue Jackets. The one-two punch of Crosby and Malkin is the league's most dangerous and wreaks havoc on opposing coaches' game plans.
Playoff Phil "the Thrill" Kessel makes a grand return
Kessel is pretty darn good in the regular season, but he just seems to love the postseason — after Wednesday's goal, he now has 45 points in 47 playoff games.
Beautiful placement by Phil Kessel. We love that guy. pic.twitter.com/8bya9u7q9s

— Pittsburgh Penguins (@penguins) April 13, 2017
It'll be interesting to see what having Kessel skate on Malkin's line means for both players. Kessel went through a bit of a slump toward the end of the season, so having him play alongside one of the league's best might just be the spark he needs.
Malkin said playing with Kessel is "fun," adding, "He's an amazing player. He's a playoffs guy. He wants to win every game and score every game."
You've been warned, Columbus.
Wait, back up, what happened to Murray?
After the game, head coach Sullivan promised there'd be more information about Murray's injury come Thursday after he was re-evaluated.
Matt Murray injured in warm ups #Pens pic.twitter.com/Kj9615X7nK

— Marina Molnar (@mkmolnar) April 12, 2017
But even before the game, there was some speculation surround Murray's health; backup goalie Tristan Jarry, who got his first career NHL start in Pittsburgh's final game of the regular season, wasn't sent back down to Wilkes-Barre/Scranton after the game. Sullivan even had to confirm Murray's start, saying the 22-year-old netminder was "fine" and "ready to go" for Game 1.
Whoops.
But all's well that ends well because Fleury was spectacular in a backup role that can't be easy for a guy who would be the starter on plenty of other teams. Murray took over the starting role in last year's Stanley Cup playoffs, where he posted a 15-6 playoff record, a 2.08 goals-against average and a .923 save percentage.
Right now, however, it looks like the Penguins are going to have to rely on both Murray and Fleury if they want to defend their Stanley Cup.
"The fact that we have (Fleury) and Matt, I think, gives us a comfort level because we know they're both No. 1 goalies," Sullivan said. "I said to these guys all along, 'I need both of you.' It's just the way the game is. … We've used both all year long."
Up next
Game 2 of the first-round playoff series between the Penguins and the Blue Jackets will take place Friday night at 7 p.m. ET.