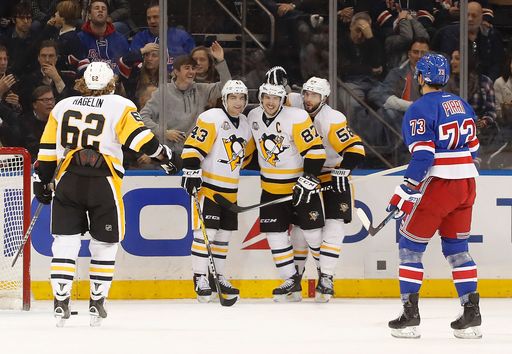 Just a few nights after the Pittsburgh Penguins (12-5-3) lost 5-2 at home to the New York Rangers (14-6-1), Pittsburgh roared back on Wednesday night. Not only was the Penguins' offense running smoothly, they did a great job of limiting the Rangers to only 17 shots in Pittsburgh's 6-1 win.
At one point, Pittsburgh held New York without a shot for full 23 minutes and 59 seconds.
Wednesday night's six goals was a season-best for the team. Five of the six goals came in the second period, two of which came off the stick of captain Sidney Crosby.
Netminder Matt Murray has made a habit this year of fanning out fires, and he did so Wednesday night — the Penguins had been in a funk lately, losing four of their last six. Murray, who has been head coach Mike Sullivan's biggest assests, picked up his sixth win on the season.
Following Pittsburgh's last game against New York, Conor Sheary — who scored his fourth goal on the season — said, "It's not so much what they're doing, it's what we're doing."
By all accounts, Sheary and the rest of the team adjusted well to what they'd seen on tape. The bigget difference was really Pittsburgh's defense; the forecheck and blue line positioning looked much better, and the score showed it.
Still The Champions
Wednesday night's game was truly a tale of two teams that looked completely different from their earlier meeting. While holding the Rangers to very few shots (only allowing two in the third period), Pittsburgh able to tally 38 shots on net.
Henrik Lundqvist, one of the league's best goalies, was chased out of net and was replaced by Antti Raanta after Lundqvist allowed Crosby's second goal. Raanta looked better in net, but he still allowed a pair of goals that turned the game into a blowout.
Pittsburgh's win was not only big after its recent skid, but it also sent a message to the rest of the league that the Penguins are still the champions.
Murray's Dominance
With tonight's performance, Murray has continued his dominance over the Rangers in his short career — Murray is just 22 years old. When facing New York in last year's playoffs, Murray turned in a standout performance that kept the Penguins churning to the next round.
This time around, the biggest difference was the effort from the players around him. In his career against the Rangers, Murray is 4-0-0, has a 1.25 goals against average and has a .953 save percentage.
Like a sponge, Murray has been able to read plays early and get to his spot in the net — something that has elevated his performance this season.
Only time will tell who will be the odd man out come trade deadline or expansion draft — the Penguins still have veteran goaltender Marc-Andre Fleury on the roster — but Murray is making his case very strongly.
Looking Ahead
The Penguins go on the road to play the Minnesota Wild on Friday at 4:00 p.m. EST.
Image credit: Julie Jacobson/AP