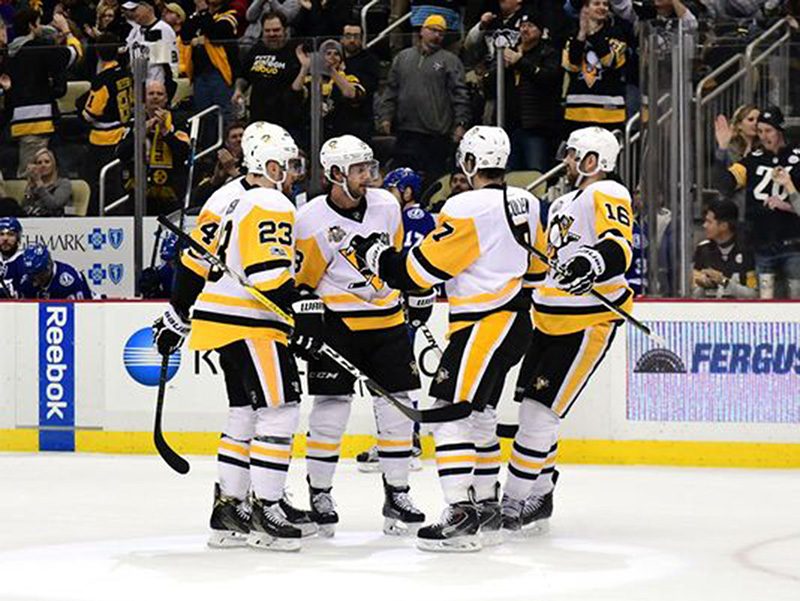 (Photo by: Matt Kincaid/Getty Images)
After a long week since their last game, the Pittsburgh Penguins (26-8-5) won their fifth straight game after beating the Tampa Bay Lightning (19-19-4) 6-2 on Sunday evening at PPG Paints arena.
Following a scoreless first period, the Lightning got on the board first when Jonathan Drouin scored. However, his goal was answered by Conor Sheary and Eric Fehr in the same period to give the Penguins a 2-1 lead heading into the final period of play.
Two quick goals in the third period — one by Chris Kunitz, the other by Scott Wilson — gave Pittsburgh a solid 4-1 lead.
Tampa Bay's Vladislav Namestnikov answered on a power play, but that was as far as Tampa Bay would get in their comeback attempt; Phil Kessel and Kris Letang both scored to put Pittsburgh even further ahead and bring the Penguins another victory.
Marc-Andre Fleury got the start in net Sunday night and was nothing short of spectacular. While he did allow a pair of goals, his overall performance against the Lightning was a major reason why Pittsburgh won in front of their home crowd.
Though the Penguins were down a man on four occasions, both Fleury and his defense did a good job of protecting the puck and net ensuring that Tampa Bay couldn't make a game of it.
Plenty of Rest
Having a week off looked like it greatly benefited a team that may have needed it. Fleury's 28 save performance is his fifth straight win, and he has now won seven of his past eight decisions.
The Fleury that fans have witnessed on the ice over the last month looks like might be the Fleury of old. Not to say the netminder wasn't playing well, but there was a time this season when it seemed like he couldn't catch a break.
With both his offense and defense playing well in front of him, Fleury is better able to make the aggressive plays that made him such a legendary figure in Pittsburgh. Not only that, but with competition becoming for the starting goaltender job more fierce between him and Matt Murray, expect to see them playing at their best as the season continues to roll along.
New Year, Same Results
Well, if there were any New Year's resolutions for Penguins head coach Mike Sullivan it would've been that his team continues to play at a high level.
Managing to prevent back-to-back losses and adding another win streak on the season, Pittsburgh hasn't missed a step. Although the Penguins still trail the Columbus Blue Jackets by a point for the division lead, the continued dominance by players not named Sidney Crosby or Evgeni Malkin has been this team's most impressive aspect.
If contributors like Kunitz, Sheary and Wilson continue to back up the team's superstars, the Penguins will only continue to string wins together and will enter the second half of the season on a high note.
Looking Ahead
Pittsburgh has a few more days off until Wednesday, when the Penguins will take on the Washington Capitals at the Verizon Center at 8:00 p.m. EST.