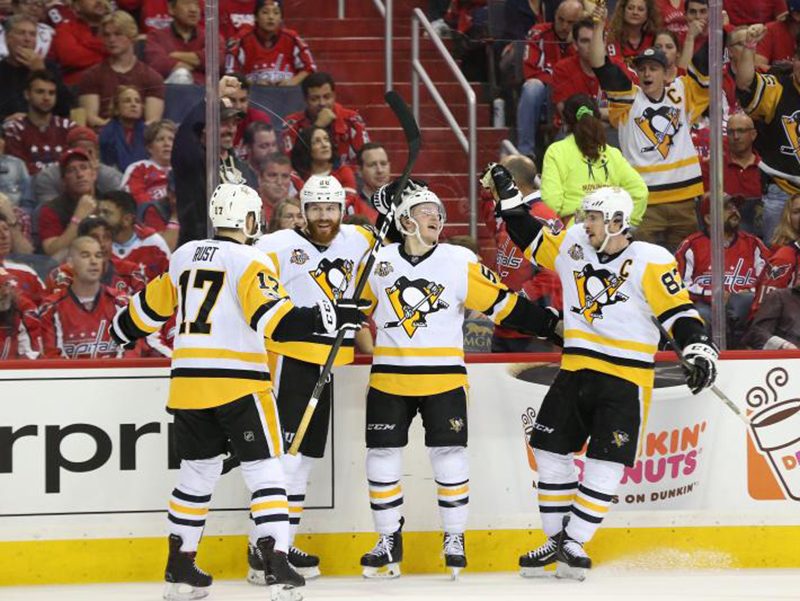 (Photo by: Geoff Burke/USA TODAY Sports)
So far, so good.
Saturday night, the Pittsburgh Penguins' stars came out and shined in the team's 6-2 victory over the Washington Capitals at the Verizon Center.
The Penguins got goals from Phil Kessel (2), Jake Guentzel (2), Evgeni Malkin and Matt Cullen to take a commanding 2-0 series lead over the Capitals heading to Pittsburgh for Monday's Game 3. Teams that have won the first two games on the road in a best-of-seven series are 69-18 all time.
Pittsburgh got off to a very rocky — and extremely slow — start, but the game was scoreless when the horn sounded at the end of the first period. The Penguins got on the board first with a short-handed goal from Cullen, but the game was quickly tied up by Washington's Matt Niskanen. Kessel and Guentzel then found the back of the net to give Pittsburgh a comfortable lead, which was only augmented when Kessel scored again.
Almost four minutes into the third period, Washington's Nicklas Backstrom scored to make the game more interesting at 4-2, but then Malkin got on the stat sheet with a goal that was originally called no-good before being successfully challenged and overturned. In the game's waning seconds, Guentzel's empty netter was the game's final goal.
The second and third period showcased just exactly why the Penguins are the defending Stanley Cup champions.
"They're a privilege to coach, this group," said Penguins head coach Mike Sullivan. "They play hard for one another, and I think that's what makes our team what it is. I believe we have a unique chemistry. It's fun to be a part of it."
Penguins get off to slow start — again
The Capitals came out of the gate with guns blazing, and they attacked relentlessly. Pittsburgh faced a barrage of shots and was absolutely dominated in the first period. Washington had 35 shot attempts to the Penguins' eight through the first 20 minutes.
"We certainly would like to have better starts. We've been talking about that for a couple of weeks," Sullivan said. "But I think you have to give credit to our opponents, as well. You know, we're playing pretty good teams here."
Penguins netminder Marc-Andre Fleury was again spectacular and kept his team in the game, despite his defense playing sloppily in front of him, turning the puck over on a number of occasions. Because of his stellar play, the game was 0-0 after the first period.
"You come out of the period and the game's even, and I think we felt like we had an opportunity to grab one in the second," said Sidney Crosby.
After the first period, Sullivan told his team to be more competitive and play with more urgency because they had to start winning puck battles.
They did.
"We've got a gritty group," Sullivan said. "They're scrappy. It's a never-say-die attitude. It's not perfect by any stretch out there, and we're aware of that, we know that, but what I love about this group of players is that they respond the right way. And they've shown an ability to do that time and time again. This group finds ways to have success."
This isn't the first slow start Pittsburgh has had this postseason, and that's some cause for concern. But the Penguins respond well, and Fleury continues to keep things in check.
"We've got to find a way to put a whole game together," Crosby said.
Can Pittsburgh's offense get any better?
Phil Kessel, really, really likes the playoffs.
In the 2016 postseason, Kessel had a team-high in both points (22: 10G, 12A) and shots (95). Thus far in the 2017 playoffs, the winger already has 11 points with seven assists and four goals, two of which came Saturday night.
Kessel's first goal was one of the best so far in the playoffs, largely because of some unreal work from Crosby, who pushed the puck through his skates to his stick, drawing three Washington defenders before finding Kessel, who blasted a wrist shot past the left shoulder of Capitals netminder Braden Holtby and into the back of the net.
Sid's so fancy. You already know. pic.twitter.com/Jrm1vyqD0h

— Pittsburgh Penguins (@penguins) April 30, 2017

Part of Kessel's importance on this team is his versatility. When Carl Hornqvist left the game with an injury, the coaches starting moving Kessel around on different lines as needed.
"Phil is a difference-maker with his offensive instincts and his ability to make plays and shoot the puck, and I think it was evident with his game tonight," Sullivan said. "He's another one of those players where his best hockey seems to be when the stakes are high."
Sullivan also couldn't say enough after the game about Crosby, calling him the best "200-foot-player in the game." But Crosby's importance goes beyond what he does on the ice.
"His leadership with this team, both through his example and on a daily basis, and the influence he has on our young players and the rest of the group, I can't say enough for," Sullivan said. "And I've gained so much respect for him as a a person in the time that I've been coaching him, and that's something that I think you don't really gain an appreciation for a guy unless you get to see him on a daily basis. Everyone knows how good a player he is, I just think he's a terrific leader, as well."
🐐🐐 crossing on the @NBC broadcast. pic.twitter.com/E4gqD9wk1Z

— Pittsburgh Penguins (@penguins) April 30, 2017
Guentzel, whose first goal of the game came after Crosby laid out on the ice to block a shot before he chipped the puck to Guentzel, said it's hard to be surprised by all the amazing stuff Crosby does.
"Those are two phenomenal plays by a great player," Guentzel said of Crosby. "You don't expect anything less. You knew he was going to step up. He was the one guy that was going to step up for us."
Right now, the Penguins' offense is clicking. The top overall playoff scoring leaders? All Penguins: Malkin (13: 3G, 10A), Crosby (11: 4, 7), Kessel (11: 4, 7) and Guentzel (10: 7, 3).
Where Penguins' netminder has shined, Capitals'… hasn't
While Fleury is having a spectacular showing between the pipes, the netminder on the other side of the ice isn't. Washington's Braden Holtby allowed three goals on 14 shots on Saturday, meaning he's now allowed six goals on 35 shots this series.
Holtby, a 2017 Vezina Trophy finalist, was pulled before the start of the third period.
"It wasn't as we planned," Holtby said. "It's just, I don't know. … (It's) never where you want to be. But the playoffs are made of big moments. That third goal, that's a big moment. That's where your goalie needs to come up with a save, and I just didn't."
Holtby shook his head when asked whether he'd been told whether he'd start Game 3.
"I thought some of the goals, he wasn't as sharp as he can be for us," said Washington head coach Barry Trotz said. "He's a game-changer for us, and so when he didn't change the game, I just looked to change the mojo there a little bit, that's all."
Holtby's replacement, Philipp Grubauer gave up two goals on nine shots against.
Despite leading the league in fewest goals allowed per game in the regular season, the Capitals are now allowing the most goals per game of any team still left in the playoffs.
Quality > quantity
For the second game, Washington majorly out-shot the Penguins. But Pittsburgh has still won both games.
Yes, the Penguins did get a little lucky with several of the Capitals' shots clanking off the post, but Pittsburgh has made its shots count.
"When teams want to play an aggressive game against us, there's risk-reward," Sullivan said. "When we get high-quality opportunities, that's when we believe our quick-strike capability is at its best. And so we were able to take advantage of a few shots tonights that helped us win the game."
The Capitals have an aggressive and high-octane offense, but, for all their shot attempts, they're still down 2-0 in the series.
Up next
Monday, the series will come to Pittsburgh. The Penguins and Capitals will take to the ice at PPG Paints Arena at 7:30 p.m. for Game 3 of the series.