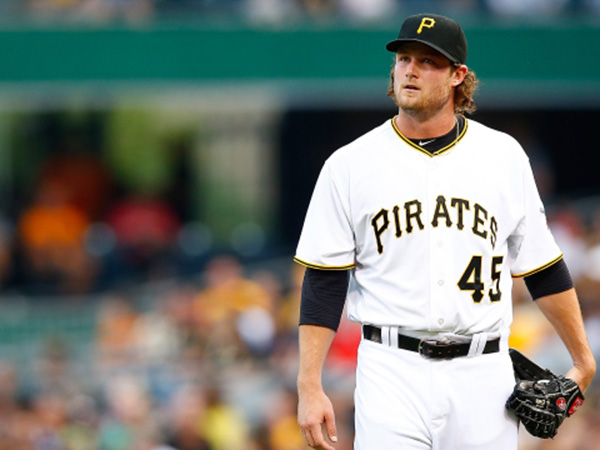 Gerrit Cole's strong Opening Day start Monday went off the rails in the fifth inning. (Photo by: Jared Wickerham/Getty Images)
In the first four innings of Monday's season opener against the Boston Red Sox, Pittsburgh Pirates starter Gerrit Cole gave up one hit and one walk on 50 pitches. But all that was derailed in one frame. In the fifth inning, Cole faced all nine of Boston's batters and gave up five runs on six hits.
Those five runs were all the Red Sox would need to take home the "W" on opening day at Fenway Park, beating the Pirates by a final score of 5-3.
That fifth inning started innocuously enough when Cole got Mitch Moreland to ground out and Xander Bogaerts to fly out to deep right on a ball Cole immediately thought was out of the park. But then, with two outs, Boston's Jackie Bradley Jr. tripled to deep right (the ball was slightly misplayed by new Pittsburgh right fielder Andrew McCutchen).
Then things spiraled.
Pablo Sandoval singled to score Bradley. Sandy León singled to move Sandoval to second. Dustin Pedroia singled to score Sandoval and move León to second. And then the dagger: rookie and top prospect Andrew Benintendi hit a 389-foot homer to deep right to give Boston its 5-0 lead.
Mookie Betts then reached on an infield single, but the inning was over when Hanley Ramírez popped out to second. The damage was done.
Gerrit Cole
Before first pitch, everyone waited on baited breath to see which Gerrit Cole made his appearance on the mound: would it be the 2016 Cole who had his worst major league career ever thanks, in part, to injuries and a sore arm, or would it be the 2015 Cole who finished fourth in Cy Young voting?
After Cole's performance Monday, it still isn't clear which version will be around this season.
Despite being rocked in that fifth inning, Cole looked like he was back to dominant form in the game's first four frames. Cole's fastball was nasty, hitting the high 90s on the speed gun consistently. His changeup had significant vertical movement and both his knuckleball and slider looked solid.
But then Bogaerts hit a deep ball with a loud crack of the bat, and Cole didn't even watch as Bogaerts ball landed safely in the glove of Andrew McCutchen, so sure was Cole that the ball was gone. That's when things spiraled. Cole has a reputation of occasionally letting his emotions get the better of him, and Monday did nothing to dispel that notion.
The Pirates are relying on Cole to lead a rotation that was shaky last year. Pittsburgh needs its No. 1 starter to be the ace everyone knows he can be.
Only time will tell if he will be.
Seventh-inning rally falls short
In his first six innings, reigning AL Cy Young winner Rick Porcello gave up three hits and no runs while striking out five.
But then things took a turn in the seventh inning when David Freese led off the inning with an infield single. Francisco Cervelli doubled to move Freese to third, and Josh Harrison singled to left to send Freese home and put Cervelli on third.
Porcello was then pulled in favor of Matt Barnes, but Jordy Mercer kept the inning going when he singled to center to plate Cervelli and push Harrison to second. On a wild pitch, both Harrison and Mercer moved up a bag, which paid off when Starling Marte hit a sac fly to bring Harrison home.
But then the inning ended when McCutchen struck out swinging.
New-look lineup
With the American League's designated hitter rule, Monday's lineup wasn't exactly what Pirates fans can expect to see this season. Instead of Gregory Polanco in left field, it was Adam Frazier who got the starting nod, while Polanco acted as Pittsburgh's DH.
But, other than that, Pittsburgh's lineup appears to be set.
Josh Bell had a pretty solid game at first base, and David Freese looked happy to be back in his more natural third baseman role. Harrison (at second base) and Mercer (at shortstop) rounded out the infield.
The batting order will be clearer when the Pirates return to the National League and the DH is gone.
What's Next
Game Two of the Pirates three-game series against the Red Sox will take place Wednesday at 7:10 p.m. ET.