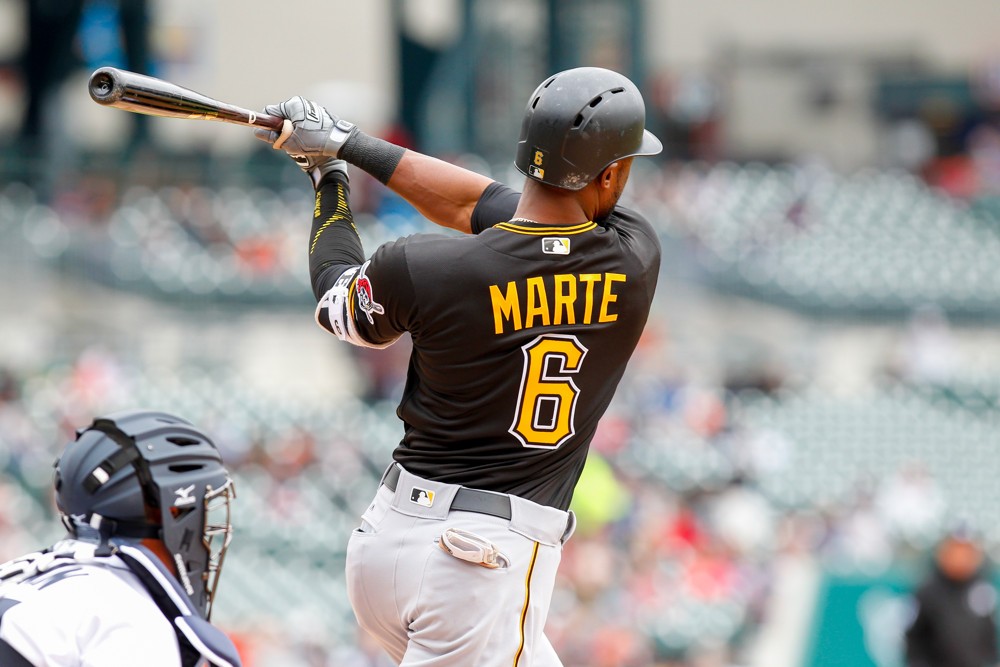 Get out the brooms, because the Pittsburgh Pirates just swept the Atlanta Braves.
Sunday at PNC Park, the Pirates beat the Braves 6-5 in 10 innings after winning 6-4 on Saturday and 5-4 on Friday.
Pittsburgh starting pitcher Gerrit Cole (6.55 ERA, 1.64 WHIP) turned in a pretty mediocre second start of the season, giving up three runs on eight hits in six innings. Two of those runs came as a result of home runs — Dansby Swanson launched a 390-foot one-run homer in the first inning and Freddie Freeman hit a 380-solo shot in the fifth.
Julio Tehran was on the mound for Atlanta and showed some strong stuff. In seven innings, the righty gave up six hits, and the two runs that scored off him were both unearned.
In the fourth inning, Starling Marte singled to shallow right and moved to second on Freeman's fielding error. Josh Bell then doubled, scoring Marte. Jordy Mercer then followed that up with a single, and Bell scored.
Even the Pirates' eighth-inning run was unearned — with Arodys Vizcaíno on the mound for Atlanta, Adam Frazier singled to move Bell (who had been hit by a pitch) to second. Then, Marte singled (again), and Harrison moved to third, where he was given the stop sign. But a fielding error by left fielder Jace Peterson meant Harrison crossed home.
With the late momentum, Pittsburgh got things going again in the ninth inning against closer Jim Johnson. Gregory Polanco singled to lead off the inning and moved to second on a passed ball. Bell walked, as did David Freese one batter later. Then Francisco Cervelli hit into a fielder's choice, but some good base running by Freese meant the Braves couldn't turn the double play. (The play was reviewed, but the call on the field stood.)
To extra innings we would go.
Atlanta managed to get a run off Pittsburgh reliever Felipe Rivero, but it didn't matter because, in the bottom of the 10th inning, Adam Frazier doubled, and, on the first pitch he saw, Marte hit the snot out of the ball (415 feet) for the walk-off win.
"I didn't try to do too much, just put the ball in play," Marte said.
It's always a partay with Marte
In five at-bats Sunday, Marte had four hits, two runs and two RBIs.
Yeah, it was a good day for Pittsburgh's center fielder.
It's very, very (very) early in the year, but right now, Marte is batting .381. He went 7-12 in this series against Atlanta (he was 1-3 Saturday and 2-4 Friday) batting in the both the second spot in the lineup and in the leadoff slot.
Last season, Marte had only nine home runs — but he still had .456 slugging percentage (a career high). In his six-year career, the 28-year-old has 59 homers (including Sunday's); his best year was 2015, when he hit 19 home runs.
Adam Frazier steps up to the plate
Marte wasn't the only guy who got it done at the plate Sunday. Adam Frazier (who today moved from third base to second base back to third) went 3-5 with a run and a double. In fact, it was Frazier who got on base in the 10th inning to give Pittsburgh the 6-5 final.
Frazier played 66 games with the Pirates last season, finishing the year with a .301 batting average, a .356 on-base percentage, a .411 slugging percentage and a .767 OPS. This season, the 24-year-old has only played in four games, but it's clear Pittsburgh manager Clint Hurdle needs to — and wants to — get Frazier's bat in the lineup.
When the Pirates played in Boston, Frazier appeared in left field in the first game (Polanco was the DH) and was the DH in the second game. He started Saturday's game at second base and started at third Sunday in place of David Freese, who took a hard ground ball to the chest in Saturday's game.
Up Next
The Pirates (3-2) will welcome the division-rival Cincinnati Reds (4-2) to PNC Park for a three-game series beginning Monday at 7:05 p.m. ET. Tyler Glasnow is set to take the mound for Pittsburgh in his first start of the season. The Reds will get a start from Brandon Finnegan, who won his lone start this year when he allowed just one hit in seven innings while striking out nine.