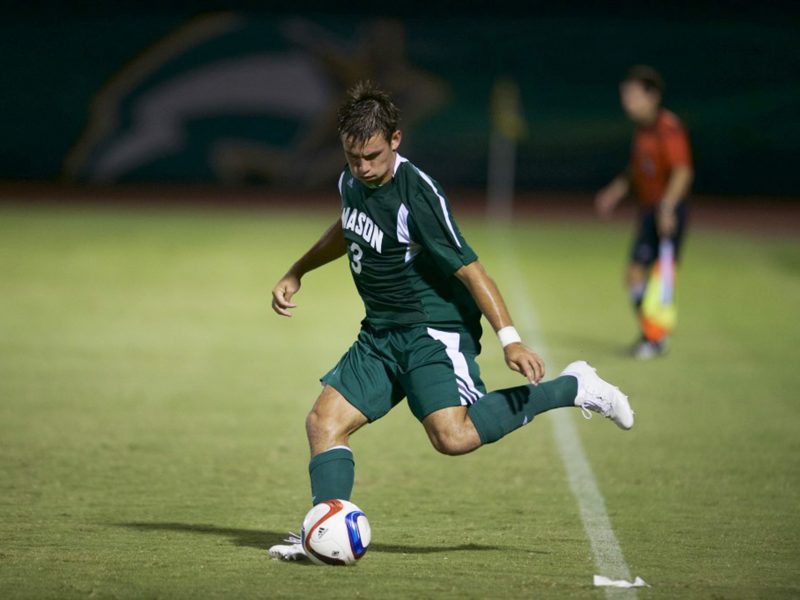 Washington played for George Mason from 2013-15, making 53 appearances. (Photo by Mason Athletics)
Taylor Washington is the epitome of the saying "faith, family and football."
Washington, a defender for the Pittsburgh Riverhounds, is an ever-smiling New Yorker. He grew up in the town of Somers with his mother Jane and father Marc.
His family has been by his side throughout his blossoming football career. They supported Washington all his life, from his days at FC Westchester US Soccer Development Academy Team to his current club.
"My family and I are extremely close," Washington said. "My mom and dad are my two best friends — I'm the first person to admit that. They've always been there for me, they've sacrificed for me, and they're the reason I still play this game."
His family was by his side when he made the commitment to attend Boston University in 2011, and also helped him transition to George Mason University. While Washington enjoyed his time in Boston, he had to pull out due to academics.
"I struggled a bit academically and was tested for learning disability," Washington said. "I was misdiagnosed the first semester after I had a 1.7 GPA. I came back and basically lived in study hall. I was tested again and diagnosed with dyslexia. My parents made the decision to withdraw me so I could succeed. But I learned about myself there and met some great teammates who are great guys."
Washington then spent the next three years at George Mason University, where he even won the Atlantic 10 Championship in Dayton, Ohio in 2013. During his time with the Patriots, Washington started 52 matches, scoring one goal and recording two assists. In school, Washington studies biology for two years before switching to elementary education.
"(That was the) best three years of my life so far," Washington said. "I mean, this has been great year so far. At George Mason I played for a great coach named Greg Andrulis, had great teammates, won an Atlantic Ten Championship there and was always in the Top 25. It was a great environment with good people on and off the field. My teammates and friends, I know I'll have them for life."
"I was able to succeed there and had a really good GPA, thank God. I know one day I'll go back and graduate, but until then I'll just keep doing what God has called me to do."
His faith has played a major role in his life. Washington is a man of strong faith, crediting God for his athletic ability and showing his praise for God on his social media accounts. He calls spreading his faith just part of his duty to God.
"This something I'm very passionate about and something I'm not afraid to talk about," Washington said. "I was completely saved by Christ and each and every day I realize that when I step on the field it's for him and not me. It's to glorify him for all the gifts he's given me, all the blessings. And when you play for something bigger than yourself, and that's God who died for you, it's what I've been called to do."
"Any way that I can talk about him on Twitter, Instagram or talk about Bible verses, it's doesn't compare to what he did, and does, for me every day," Washington said. "I'm just trying to do my part and follow Christ."
His faith — as well as simply his good nature — has also brought Washington to visit a nearby hospital. Washington, as well as Victor Souto, Trey Mitchell and other teammates, visit the kids and participate in activities with them.
"For me, it's the most beautiful part of the week because these kids are fighting, pushing through traumatic brain injuries," Washington said. "The stories that I heard of these young kids who are fighting and trying to get better are inspirational. These kids are you inspiration and to see a smile on their face makes it worthwhile."
"That's why I wanted to be a professional, honestly" Washington continued. "It's so beautiful, it's God's work. It's all glory be to God. Those kids change our lives. We go there and try to have a fun time, but they make us have the greatest times of our lives."
When he's not visiting the kids at the hospital, or venturing around Pittsburgh (Washington, Souto, Mitchell and many others frequently visit Salúd Juicery), Washington is putting in hard work at Highmark Stadium.
His road to signing with the Riverhounds occurred when head coach Dave Brandt contacted Brandt's college coach with interest. According to Washington, Brandt first sent an email and then the two connected over the phone. Even over the phone Washington knew that Brandt was a "guy with passion, a guy with a purpose and a guy with a plan."
"He has faith in his system, and we're really buying into it," Washington said of Brandt. "He's showing that it can work, and it's an honor and a privilege to play for him. He has so much passion that you know you have go out there and give your all. That's what he expects, and as a player that's what you want from your coach."
However, he's not just learning from Brandt and his coaches. He's also learning from the plentiful amount of veterans on the team, such as Kevin Kerr, Corey Hertzog, Michael Green and Danny Earls.
"To be honest, I've loved learning from the veteran guys and all of my teammates," Washington said. "The veteran guys are kind and help you get through things. Kevin has helped me with my crossings, Corey with my finishes and Danny just has a great soccer mind."
"All of those guys want to win, and as a young player, you want to win and be around those who want to win," Washington continued. "It's an ultimate blessing to know that 11 guys, the guys on the bench and the guys in the stands will do what they can to have us to win."
The system that Brandt put in place, and that the Riverhounds are following, does seem to be working. The Hounds are currently in third place in the USL's Eastern Conference, just behind the Charleston Battery and Tampa Bay Rowdies. The club has a record of 4-2-3. The last three matches resulted in wins for the Hounds, and clean sheets for Washington and the defense.
Throughout all of the wins, losses and draws, Washington has been a consistent starter for the Riverhounds defense, solidifying the left-back position.
"It's a blessing, for sure," Washington said. "I don't take it for granted. Here, we have really good teammates that support each other. Shane Campbell, Ritchie Duffie, Rich Balchan and even Jack Thompson, who can play in the back, I think we push each other every day in training. They're great players that I know that each and every day in training when I step on that field I know I have to do my best. And it's a great environment, and great competition."
The Riverhounds will continue their competition between themselves in practice, but during game-time the focus is on getting all three points. Washington and the Riverhounds will suit up against Louisville City FC on Saturday, with kick off occurring at 7 p.m., at Highmark Stadium. Tickets are still available for the match.