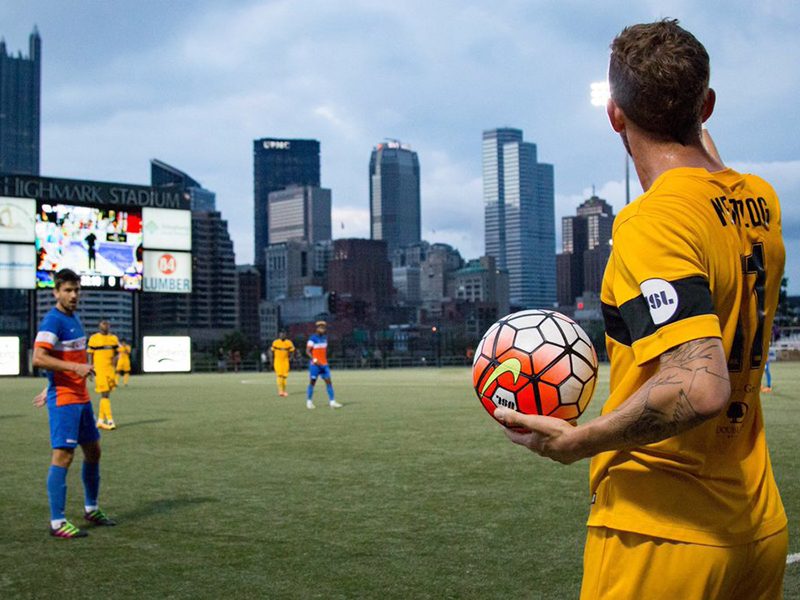 (Photo by: Pittsburgh Riverhounds)
Believe it or not, this isn't the first season that Pittsburgh Riverhounds midfielder Kevin Kerr has gone through a roster revamp.
This year, the Riverhounds have truly cleaned the house, bringing back only nine players, meaning 14 players are brand new. It's a similar case to last season, when only eight players returned. This season, plenty of the new players are just coming out of college.
The advice given to these new players from veterans Kerr and forward Corey Hertzog?
Listen.
"Just listen," Hertzog said. "Don't try to come in here and act like you know what's going on. I mean, the guys here have been all good. They come in, they listen and stay behind the leaders. Eventually, if they play well and are one of the players, then that's great."
Kerr, Hertzog and their other 21 teammates made their way to the pitch at Highmark Stadium on January 16 for the Riverhounds' first preseason practice. The team still has room to sign players; the USL allows 27 roster spots. But, for now, head coach Dave Brandt has 23 players, and he has leaders in Hertzog and Kerr.
"It's good to meet all the guys and get some chemistry building," Hertzog said. "This is a January camp, so we're getting started early. It's good to get back in here and get some touches with the boys."
Chemistry is what the team needs.
The Riverhounds had a dismal 2016 season, which saw them finish with a 6-17-7 record. The team finished second-to-last in the USL's Eastern Conference with 25 points, while FC Montreal was on their heels with 23 points.
After last season, Kerr took time away from soccer, but he's fully focused now on making sure a repeat of the 2016 season doesn't happen.
"(Last season) was a tough one, so I took some time away," Kerr said. "I'm fully motivated to make sure that never happens again."
This year, preseason is a little bit different for Pittsburgh. Last year, Mark Steffens was the head coach. However, Brandt replaced Steffens after nine matches. Brandt led the team to the finish of the season and was kept by Riverhounds owner Tuffy Shallenberger for the start of the 2017 season.
Brandt started the preseason training early, but he called it an "intentional" early start.
"I think we need extra understanding," Brandt said. "That comes from off the field concepts, what the team is about, certainly to tactical and on-the-field concepts and what we're about there. We need extra reps, so that we're ready.
"We need to be ready."
Kerr agreed.
"He knows what he wants," Kerr said about his head coach. "I haven't seen that change."
Hertzog said the same thing but added that Brandt is bringing the same intensity that he brought last season.
The Riverhounds will have to wait until the USL, which was granted Division 2 status by the U.S. Soccer Federation, releases its schedule — which is expected to be soon — before any preseason matches are determined.
Until then, it's more preseason training for Brandt, Kerr, Hertzog and the rest of the 2017 Pittsburgh Riverhounds.