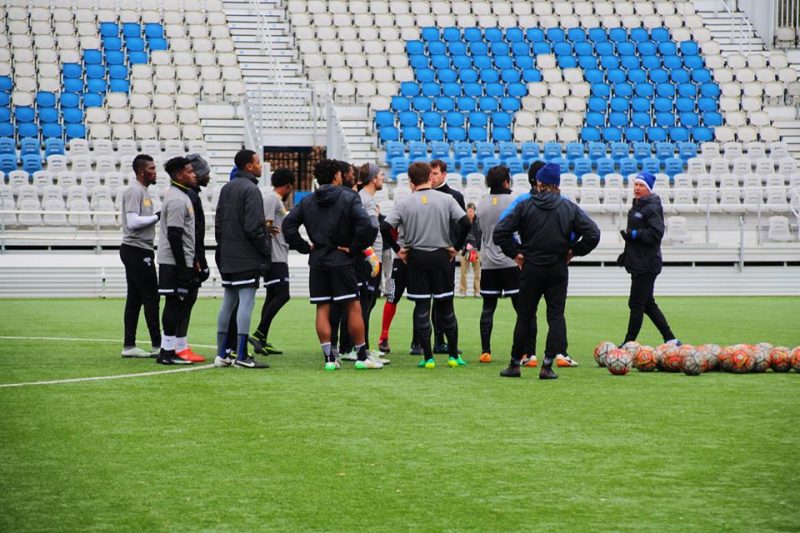 (Photo by: Rachael McKriger)
The Pittsburgh Riverhounds had a fairly easy start to preseason play.
Facing college teams, the Riverhounds won three matches and drew two. However, the squad got their first taste of USL opponent action in a friendly preseason match against the Rochester Rhinos, Pittsburgh's out-of-state rival.
If the match said anything about what the Riverhounds season will be like, it wasn't very "friendly."
The Riverhounds were handed a whopping 5-1 defeat at the hands of the Rhinos. Rochester, the home team, tacked on the first points of the game with a first half goal from Rayane Boukemia in the 32' minute and an early second-half goal by Jochen Graf in the 52' minute.
Pittsburgh got a point on the board when Nick Thompson scored in the 61' minute on a header of a free kick.
But the Rhinos responded late in the match, with Brandon Beresford scoring in the 93' minute and Bradley Kamdem Fewo adding another goal a minute later. Yet another goal was scored by Kenardo Forbes, but the official time of the goal wasn't listed.
The match was "non-traditional" with three different sections of playing time. There were two 40-minute intervals and one 30-minute interval.
Starting in goal for Pittsburgh was Keasel Broome, while Trey Mitchell took to the sidelines. Both are still competing for the starting goalkeeper job.
The Riverhounds were supposed to wrap up their preseason action against the Duquesne University men's soccer team, but the match was cancelled.
"After speaking with (Duquesne men's soccer head coach) Chase Brooks, we thought it the best course of action to cancel Sunday's match," said head coach Dave Brandt. "(Duquesne has) a match this Friday and with already a thin spring roster, the timing wasn't working for them. And for us, I think we're comfortable in switching around our schedule to make sure we are best prepared for the season opener next Saturday."
FanFest, which was originally scheduled for Sunday will still be held. Free to the public, FanFest will begin at noon.