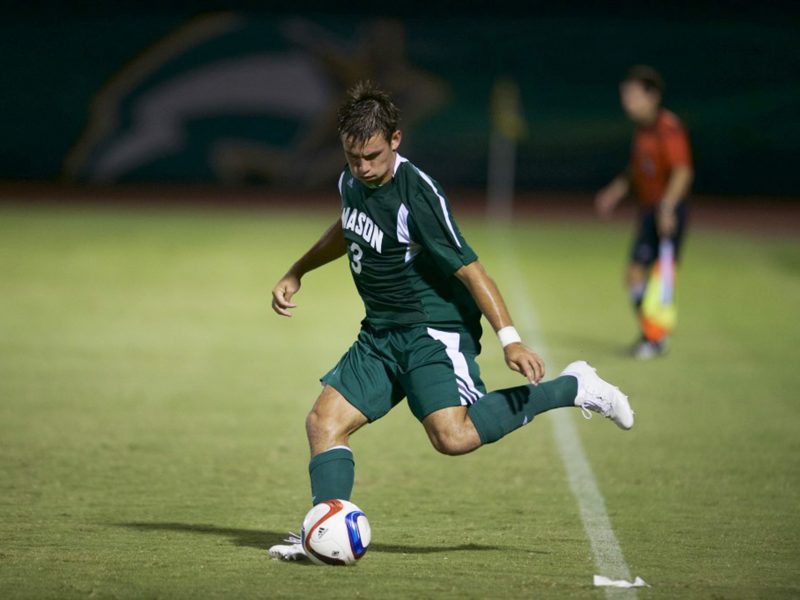 Washington played for George Mason from 2013-15, making 53 appearances. (Photo by Mason Athletics)
The Pittsburgh Riverhounds have swiped another player from an in-state rival: Taylor Washington, who played the 2016 season for the Bethlehem Steel FC. The Riverhounds signed the defender to a one-year contract with a club option for 2018.
This offseason, one of the first moves the Riverhounds made was signing goalkeeper Keasel Broome from another in-state rival, the Harrisburg City Islanders.
The 23-year-old Washington will join the team after his USL and USSF paperwork is approved. The New York native started his career with Worcester Hydra of the USL's Premier Development League. He made five appearances for Hydra in 2012.
From 2011-12, Washington attended Boston University, making 18 appearances for the Terriers before transferring to George Mason University. With the Patriots from 2013-15, Washington made 53 appearances. He notched a single goal during his time with both schools. While at George Mason in 2015, he played for D.C. United's U-23 team, where he made 13 appearances.
After college, Washington was drafted by the Philadelphia Union in the first round of the 2016 MLS SuperDraft. However, he didn't make a single appearance for the Union. Instead, the Union sent him to the Steel FC — the Union's MLS affiliate club (the Riverhounds' MLS affiliate is the Columbus Crew SC). With the Steel FC, Washington made 28 appearances.
Pittsburgh head coach Dave Brandt, who coached against the Steel FC three times in 2016, complimented Washington, and Brandt noted that he first noticed Washington during his college days with George Mason.
"Taylor is a player who I have really liked since his college days at George Mason and playing against him there (with the U.S. Naval Academy)," Brandt said. "In the three games we played Bethlehem Steel this year, Taylor played just about every minute of left-back, so he's just a player that I have liked for quite a long time, and I'm thrilled to have him as part of our back four this year."
Washington is now the 17th Riverhound under contract for 2017. He joins Ryan Adeleye, Bryan Arguez, Kay Banjo, Broome, Shane Campbell, Ritchie Duffie, Danny Earls, Devaughn Elliott, Corey Hertzog, Kenroy Howell, Jamal Jack, Kevin Kerr, John Manga, Jack Thompson, Nick Thompson and Chevaughn Walsh on the roster.
The Riverhounds season will start around the end of March or in early April.