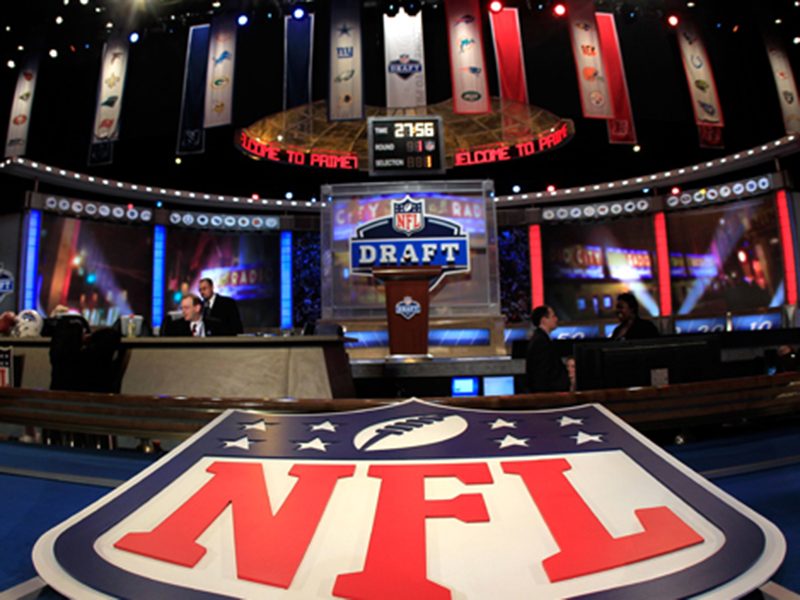 (Photo by Chris Trotman/Getty)
The NFL Draft is quickly approaching, and while fans of the Pittsburgh Steelers continue to mourn the passing of chairman Dan Rooney, the front office is hard at work figuring out who to take in the 2017 NFL Draft.
The Steelers have eight picks in this year's draft, which will be held in Philadelphia, Penn.
After losing players like linebacker Lawrence Timmons and wide receiver Markus Wheaton to free agency, the Steelers won't be entirely focused on a defensive draft — like they normally are; expect Pittsburgh to take an even mixture of offensive and defensive players.
As with every NFL Draft, mock drafts are the norm — despite the fact that they're almost impossible to get right.
Here's who we think the Steelers will take with their first six picks.
First Round — No. 30 overall: Zach Cunningham, OLB, Vanderbilt
Losing Timmons hurts, and Pittsburgh will need a replacement soon. Jarvis Jones isn't going to fill the role, and Bud Dupree has dealt with injuries. Vince Williams has the potential, but has only shown flashes. So the Steelers need to look for the best available talent.
Cunningham doesn't have your average James-Harrison-linebacker-physique; he's slim at only 212 pounds, but he's extremely muscular. In his junior season at Vanderbilt, he played in 13 games where he made 125 total tackles. In addition, he recorded two forced fumbles.
While he didn't record a sack in his junior season, Cunningham did record 4.5 sacks his sophomore year.
At the NFL Combine, Cunningham ran a 4.67 second 40-yard dash and had a 35.0 vertical jump. He also recorded a 125.0 inch broad jump and a 15-rep bench press.
Second Round — No. 62 overall: ArDarius Stewart, WR, Alabama
The Steelers helped helped fill the hole Wheaton's departure left by signing Justin Hunter, but if anything was made clear last season, it's that the more wide receivers, the better.
Due to injuries, and a year-long suspension for Martavis Bryant, Pittsburgh had a lot of trouble in the wide receiver department. Cobi Hamilton and Eli Rogers stepped up, but neither was especially consistent. It'll help that Bryant has been reinstated, but it's unclear what kind of player he'll be when he's back.
Partnered with the offensive mind of Crimson Tide head coach Nick Saban and freshman quarterback Jalen Hurts, Stewart played 12 games in his junior year at Alabama where he caught 54 passes for 864 yards. His eight touchdowns helped the Crimson Tide make another run at the CFB title game, where the team eventually fell to Clemson.
If there's one statistic that would bring down Stewart's second-round draft hopes, it's that he's never had an over-1,000 reception season. Despite that, he would also be good on Pittsburgh's special teams — he had a 40-yard dash time of 4.49 seconds at the Combine. Stewart also had a 34.0 vertical jump and a 124.0 broad jump.
Third Round —No. 94 overall: Cameron Sutton, CB, Tennessee
Pittsburgh worked on shoring up its secondary last season, but the Steelers seem to always need help at the cornerback position. Drafting Sutton could be a huge boon for Keith Butler's defense.
In his senior season at Tennessee, Sutton only appeared in seven games (due to a fractured ankle). But the 5-foot-11 cornerback recorded 23 total tackles his senior year and grabbed one interception. He also had four pass deflections in 2016.
According to NFL Draft expert Lance Zierlein, Sutton could also be used on punt returns. Zierlein did note that Sutton's size could present problems.
"Sutton flashed outstanding ball production his first two seasons but saw his per-game production drop since," Zierlein wrote. "Could be forced inside due to a lack of size on next level."
Third Round —No. 105 overall: Nathan Peterman, QB, Pittsburgh
I've got a feeling that Pittsburgh has liked liked what it has seen from Peterman; the local boy has been playing at Heinz Field for two seasons. And, let's face it, the Steelers need to work on finding a legitimate backup for Ben Roethlisberger, who keeps threatening retirement.
In his senior season in a Panthers jersey, Peterman appeared in all 13 games, throwing for 2,855 yards on 185 completed passes with 27 touchdowns and seven interceptions — all for a quarterback rating of 163.4.
At the Combine, Peterman, who visited with the Steelers recently, ran a 4.82 second 40-yard dash and had a 31.0-inch vertical jump and a 110.0-inch broad jump.
Peterman has a pro-style game that fits Pittsburgh's system.
But Steelers fans shouldn't get their hopes up. Last year, plenty of fans hoped Pittsburgh would draft Pitt wide receiver Tyler Boyd, but he was taken by the Cincinnati Bengals. How fitting.
Fourth Round —No. 135 overall: Nazair Jones, DT, North Carolina
Pittsburgh general manager Kevin Colbert loves drafting defensive linemen. Or is that head coach Mike Tomlin? Either way, every year the Steelers seemingly take their chances on a defensive lineman.
And they should do so again this year. Jones is leaving UNC after his junior season, where he played in 12 games, recording 70 total tackles and 2.5 sacks. In addition, he forced one fumble and had three pass deflections.
At the Combine, Jones, who is 6-foot-5, ran a 5.11 second 40-yard dash. Needless to say, his speed needs to be worked on, but his broad jump was an impressive 101.0 inches. As for his vertical jump, he tabbed 24.5 inches.
According to an unnamed NFC Scout on Jones' profile, the Tar Heel could be a threat in the professional game.
"He's a strong guy, and I think he might become a better player in the pros than people might think," the scout said. "He's not going to make a bunch of plays, but I like his physicality."
Fifth Round — No. 173 overall: Ben Braden, OG, Michigan
Every once of my Yinzer soul wanted to put Pitt running back James Conner in this spot, but if the Steelers get Peterman, there's (probably) no way Conner will fall this late for the Black and Gold. However, adding another offensive guard is always good for Pittsburgh.
Braden has spent the past three years in a Wolverine jersey. He's got a big body but has work to do to keep up with talented defensive linemen lining up across from him — as Zierlein said.
"Gritty guard with plenty of tough guy in him but lacking necessary flexibility and athleticism to operate at a consistent level against more talented competition," Zierlein wrote. "Could get a late-round nibble, but will always have his hands full if matched up against an athletic defender across from him."