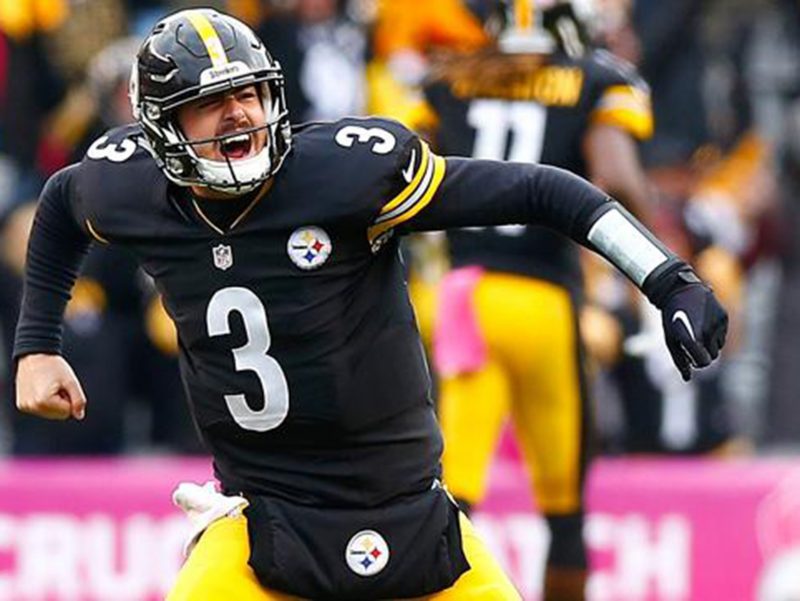 (Photo by: Jared Wickerham/Getty Images)
The Pittsburgh Steelers aren't letting backup quarterback Landry Jones test the free market.
In the first day of NFL free agency, the Steelers re-signed Jones, one of two Pittsburgh signings on the first day of the frenzy. The Steelers also re-signed tight end David Johnson.
Jones has been with the Steelers since he was drafted in the 2013 NFL Draft in the fourth round. He didn't appear in any regular season games in his first two seasons, but he appeared in 15 games over the last two seasons.
In his 15 appearances, Jones has thrown for 1,071 yards on 85 completed passes. Jones has thrown for seven touchdowns but has also thrown six interceptions. He has been sacked a total of six times and has rushed the ball 11 times, not gaining any positive yardage.
For Jones, it wasn't a tough decision to stay in Pittsburgh, due to the familiarity.
"It was really just wanting to be back here," Jones said, according to the Steelers' official website. "It wasn't a tough decision. This place is familiar to me, and I am thankful I have an opportunity again to have a job and have a spot to come back to. It was the best decision for me and (my wife) Whitney and our family. If all things were equal, I wasn't going to go anywhere. That was where my mindset was."
"He has a very good understanding of our offense," head coach Mike Tomlin said of Jones during the season. "He is a good communicator. It's part of the functions of being a backup quarterback, the talking of schematics and the seeing of what is on the field and the communicating of such. He has grown in a lot of ways in that area in the last several years."
Jones' deal is for two years and is worth $4.4 million, according to the NFL Network.
"It's a huge weight off of my shoulders," Jones said of his deal. "It was something that was constantly in the back of my mind since we left after the Patriots game. Just to have it done is a huge weight off of my shoulders."
Johnson, too, has spent a lot of time in the Steel City; he was drafted by Pittsburgh in the 2009 NFL Draft in the seventh round. However, Johnson spent two seasons (2014 and 2015) with the San Diego Chargers. The Steelers brought him back this past season, where he primarily served as a backup to Jesse James, Ladarius Green and Xavier Grimble.
In 2016, Johnson appeared in 16 games, starting five. He caught seven passes for 80 yards but didn't record a single touchdown.
"I always considered myself a Steeler," Johnson said. "I never wanted to leave. I hope I can finish my career here. It's a special place. It's always been like home to me, being with the coaches, the guys, the organization. It's a great place to be. The only place I want to play."
"We have a strong group," Johnson said of the tight ends. "We all have our own different strengths. I think we displayed that well as a group last year and helped team win games."