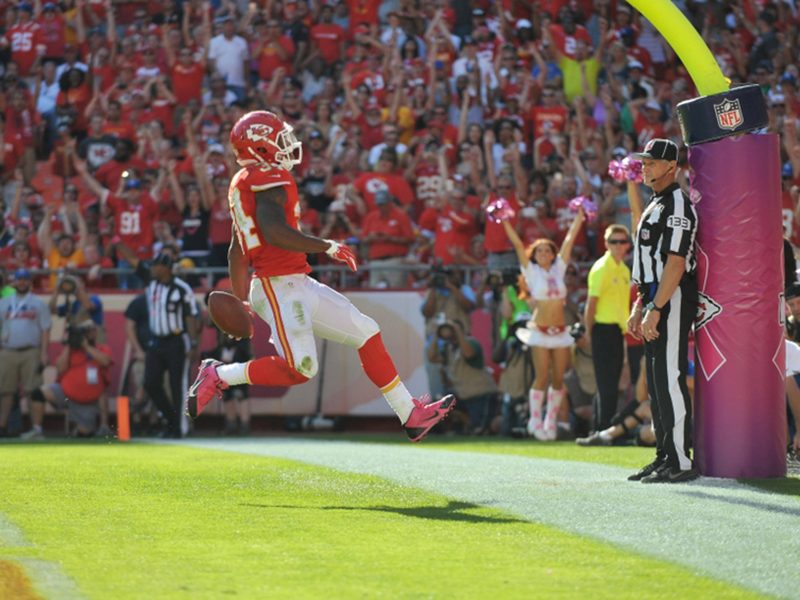 The Steelers signed former Chiefs running back Knile Davis to a one-year deal. (Photo by: Denny Medley/USA TODAY Sports)
The Pittsburgh Steelers may have found their replacement for wide receiver Markus Wheaton: former Tennessee Titans and Buffalo Bills wide receiver Justin Hunter, who the Steelers signed to a one-year deal.
Pittsburgh also announced the team signed running back Knile Davis to a one-year contract, as well.
Hunter was drafted by the Titans in the second round of the 2013 NFL Draft with the No. 34 overall pick. He hit the free agency market in 2016, where he signed with the Bills.
In four NFL seasons, Hunter has made 48 appearances with 1,305 total receiving yards, has caught 78 passes and has scored 12 touchdowns.
The Steelers announced Hunter visited with the team on Monday at the UPMC Rooney Sports Complex.
Hunter appears to be an on-the-surface replacement for Wheaton, who signed with the Chicago Bears during free agency. (Wheaton missed most of the 2016-17 season with a shoulder injury.) Hunter will join a wide receiver group made up of Antonio Brown, Martavis Bryant (returning from a year-long suspension), Eli Rogers, Cobi Hamilton, Demarcus Ayers and Sammie Coates.
The addition of Davis to the running back corps should help Le'Veon Bell. It'll also help out Antonio Brown in the return game.
Davis was originally drafted by the Kansas City Chiefs in the third round of the 2013 NFL Draft, with the 96th overall pick. In 2016, he made two appearances with the Green Bay Packers before heading back down south to Kansas City.
In his career, he's made 57 appearances, rushing for 805 yards on 250 carries. Primarily the second-string running back to the Chief's Jamal Charles, Davis only scored 11 touchdowns. He's fumbled the ball four times in his career, with three of those fumbles coming in 2014.
In the air, Davis caught 34 passes for 271 yards with one receiving touchdown and two fumbled receptions.
Davis is also a kickoff returner and has scored two touchdowns, with his most famous coming off a 108-yard return in the 2015 AFC Wildcard game against the Houston Texans. He has 1,960 yards on 73 returns.