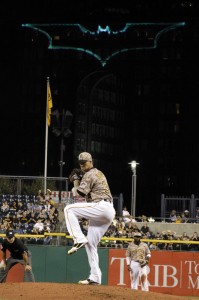 A.J. Burnett has thrown a no-hitter, has won a World Series ring and by all accounts has had an established major league career, however a moment from Wednesday's Pittsburgh Pirates game caught his eye.
The downtown Pittsburgh buildings were prepared for A.J. Burnett's return as three separate Batman signals were lit up on downtown buildings from a bank of lasers stationed near the riverwalk in PNC Park.
"That's by far the coolest thing that's happened to me in my career," Burnett said. "I would have liked to have had a "W" by my name but the people, the city, everyone behind that, thank you. That's incredible."
Out since making a start July 30, Burnett returned home and had a no-decision in a 6-4 13-inning loss to the Brewers.
Burnett used his fastball early and often in his start and poor location proved to be his undoing in the first inning.
"I was just throwing balls down the middle," said Burnett. "There's no first inning jitters, none of that crap. I was throwing balls down the middle and they did what big league hitters were supposed to do to them."
Burnett did settle down and found the strike zone using the corners more. His lone takeaway was that he finished his start strong. All told, he threw 64 pitches, 38 of which were for strikes.
Some may view Burnett's leash as short, however this was his first start back from injury and there was a runner in scoring position at the time and Hurdle elected to get a player into the game to maximize a scoring opportunity.
Burnett told reporters following Thursday's game that he would throw a bullpen session in the next couple of days. He is expected to start Wednesday against the Chicago Cubs.
He said it: "On behalf of the City of Pittsburgh I would like to thank DC Comics and Warner Bros. Entertainment for permission to project the Bat Signal during tonight's Pirates game as we welcome the team back to Pittsburgh and A.J. Burnett back to the mound. A special thank you is owed to Legendary Pictures CEO Thomas Tull for sponsoring the Bat Signal projection. Let's Go Bucs." – Pittsburgh mayor Bill Peduto
Photo credit: MLB.com (main), USA Today (inset)