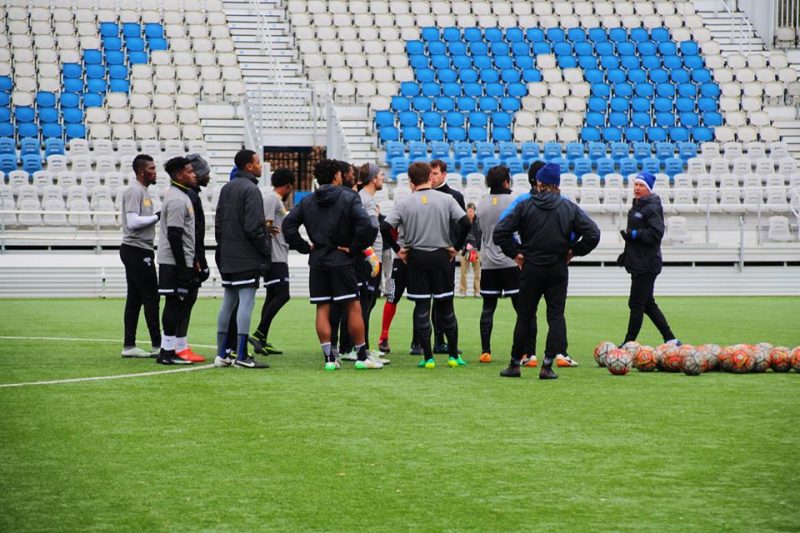 (Photo by: Rachael McKriger)
The Pittsburgh Riverhounds hosted their first preseason match at Highmark Stadium on Saturday and made a statement on the pitch, defeating the University of Akron 3-0.
Although fans may be used to seeing new faces on the roster, the match featured two players who returned from last season, much to the fans' surprise. The Riverhounds brought back Marshall Hollingsworth and Ben Swanson. The midfielders are on loan from the Columbus Crew SC, Pittsburgh's MLS affiliate club. Both were on the squad last season, but Swanson had to leave earlier in the season due to an injury.
Both players were productive in their return back to Highmark Stadium; Hollingsworth scored for the Riverhounds in the 53' minute off an assist from Corey Hertzog. Last season, Hollingsworth finished out the year as a right back, but he starred in the midfield.
The Riverhounds' two other goals were scored by Hertzog, with his first coming in the 55' minute (which was assisted by Kay Banjo), and his second coming in the 67' minute off a penalty kick.
Starting the game in goal for the Riverhounds was Trey Mitchell, while Keasel Broome got the nod to start the second half.
The team originally had a match planned for Sunday against Duquesne University, but it had to be rescheduled to March 19. Now, Pittsburgh's next preseason match will be March 4 against the University of Pittsburgh at Ambrose Urbanic Field. The match is scheduled to begin at 1 p.m. EST and is open to the public.