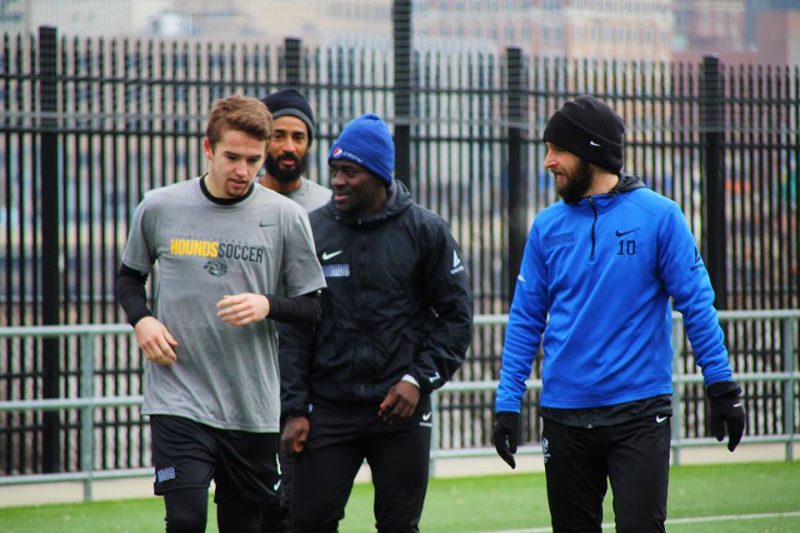 (Photo by: Rachael McKriger)
The Pittsburgh Riverhounds continue to ride a positive wave of preseason momentum heading into the 2017 season.
The Riverhounds faced the University of Pittsburgh men's soccer team on Saturday, and the Riverhounds won the match, 3-1, at Ambrose Urbanic Field. The Riverhounds were the first to get on the board, when Kevin Kerr scored in the 30' minute off an assist from John Manga.
Pitt quickly responded and got on the board when Colin Brezniak, assisted by Marcony Pimentel, chipped in a goal in the 33' minute.
However, the second half was owned by the Riverhounds, with goals coming from Corey Hertzog in the 64' minute and Kay Banjo in the 86' minute to seal the deal. Hertzog's goal was unassisted, while Banjo's goal was assisted by Hertzog.
Starting the match in goal for the Riverhounds was Keasel Broome, who played the entire game.
Trialist Gale Agbossoumonde made an appearance, replacing Jamal Jack as a substitute.
Before the match, the Riverhounds announced that Marshall Hollingsworth and Ben Swanson aren't the only two Columbus Crew SC players coming to the team on loan; also making his way back to Pittsburgh is Cristian Martinez, who spent the second half of the 2016 season with the Riverhounds.
According to both clubs, all three players are on loan on a "game-to-game" basis. Last season, Hollingsworth led the three in appearances with 24, while Martinez made eight appearances and Swanson made five (Swanson returned to Columbus in late July with a shoulder injury).
Swanson and Hollingsworth made another Riverhounds appearance Sunday against the University of Charleston — a draw.
The Riverhounds will return to preseason action on March 13 against the Rochester Rhinos in New York. The match will kick off at 3 p.m. EST.