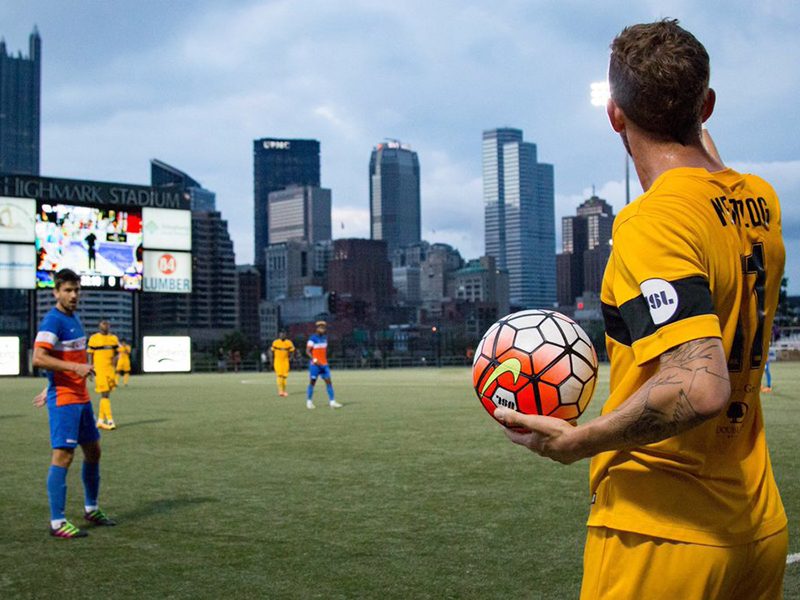 (Photo by: Pittsburgh Riverhounds)
The Pittsburgh Riverhounds opened their season last weekend against the reigning USL champions, the New York Red Bulls II, with a draw.
This week, however, they weren't as lucky with the final score.
Saturday at Highmark Stadium, the Riverhounds fell to FC Cincinnati, a new rival club, by a 1-0 final score.
Pittsburgh had a bit of a conundrum when Gale Agbossoumonde was shown a red card in the 42' minute. Agbossoumonde, who joined the team right before the start of the season, was shown a yellow card in the 32' minute. Ten minutes later, he received his second yellow, an automatic red card. After the match, head coach Dave Brandt said he thought Agbossoumonde's red card was a result of him joining the team late.
"It's difficult because Gale's coming from behind because he joined us late in preseason," Brandt said. "I actually, in some ways, didn't anticipate playing him tonight. It just felt as the result of last week he wasn't quite ready. That being said, with the week of training Gale did, how some of the other center backs did, I felt it was the best choice, and I was really pleased with his effort. I thought it was quite good."
The Riverhounds had another yellow card shown to Taylor Washington in the 85' minute. Meanwhile, FC Cincinnati had yellow cards shown to Kadeem Dacres (45'+) and Victor Mansaray (85').
The first half was scoreless, but that all changed with FC Cincinnati's 55' minute goal, which was put in the back of the net by Djiby Fall. The goal was assisted by Andrew Wiedeman. After the match, Riverhounds midfielder Victor Souto, who was named Co-Player of the Match alongside goalkeeper Trey Mitchell, said being a man down against FC Cincinnati cost them the match.
"Before the red card I think we were playing well," Souto said. "After the red card, playing a man down against a good team like Cincinnati is very difficult. They took advantage of our man down, and we're running around trying to get back in the game, but it was very difficult."
Mitchell got the start in goal over Keasel Broome, who started the season opener. After the match, Mitchell said he thought defender Jamal Jack did a good job on the goal.
"I think our line was solid," Mitchell said. "Jamal was in an OK position, and I think it wasn't a terrible spot or anything like that. I don't think Jamal made a big error or anything like that. I think it was just a great ball over his head — and if it's getting over Jamal's head, that means it's a hell of a ball."
Mitchell also said he was excited to get the start in net.
"The first half, I felt pretty comfortable," he said. "I didn't feel too nervy. That was actually my professional debut. For three years waiting to play, you get a little hungry to start off, right off the bat."
The Riverhounds (0-1-1) will travel to face the Charleston Battery on Saturday at the MUSC Heath Stadium in South Carolina. The match will begin at 7 p.m. ET. Pittsburgh will then return to Highmark Stadium on Wednesday, April 12, to face St. Louis FC at 7 p.m. ET.