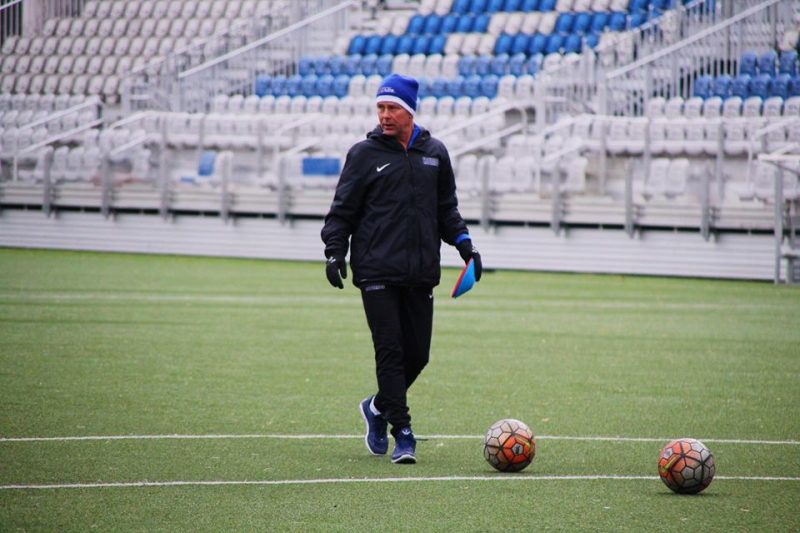 (Photo by: Rachael McKriger)
Fans waited — and tailgated — outside Highmark Stadium on Saturday until the gates opened at 4 p.m. It was the Pittsburgh Riverhounds' season opener, and the eyes of children gleamed as they looked at they players like they were their heroes.
The stands quickly filled up to watch the Riverhounds, led by head coach Dave Brandt, take on the New York Red Bulls II, the defending USL champions. The Riverhounds had a dismal season last year, but they kicked off their 2017 campaign with a point, as the team drew with the Red Bulls II in a 3-3 tie.
Pittsburgh defender Rich Balchan accurately described the match as a "rollercoaster." The Red Bulls tacked the first point on the scoresheet with a goal from Florian Valot in the 6' minute. However, the Riverhounds responded with a stellar goal from forward Corey Hertzog, who flicked the ball over a defender and put it past New York goalkeeper Rafael Diaz, in the 9' minute.
The Red Bulls II then took the lead back in the 16' minute after a goal by Vincent Bezecourt. But Pittsburgh wasn't about to head into the locker room with a deficit, and captain Kevin Kerr scored in the 39' minute. Kerr's goal was assisted by Marshall Hollingsworth, who is on loan from the Columbus Crew SC for his second season (as is Ben Swanson).
The match slowed down after halftime, but New York managed to add another goal from Bezecourt in the 76' minute off a penalty kick. The kick came after a foul by defender Ryan Adeleye. The Riverhounds, once again, responded with a goal from Hertzog in the 81' minute. Hertzog was awarded a penalty kick but missed his attempt. However, he was there for his own rebound, and he put it past Diaz.
After the match, Brandt noted he thought the Riverhounds had many more scoring opportunities but was happy to take home a point.
"I thought Jack (Thompson) should have had two," Brandt said. "First, second, third minute it's on his left foot, his hips open to the back post, somebody laid it off for him perfectly — that's a goal. And then there was a head ball point-blank. But Corey (Hertzog) had chances. Kay Banjo, you only saw a few minutes of, is a really dangerous forward. I do think there are some things to build on."
Despite the missed chances, Brandt took notice of the positives in the match, calling Hertzog's first goal "unbelievable."
"I thought it was a great effort and then, for whatever it's worth, the photo moment — he picked up the ball boy and celebrated with the ball boy, as well," Brandt said with a smile. "I don't know who caught that and who didn't. I thought Corey's goal was a great goal."
Hertzog elaborated on his celebration, noting he coaches that ball boy for the Riverhounds Academy.
"I coach him every Monday, Wednesday, Friday, so he told me he was going to be there," Hertzog said. "I told him if I score down there, I'll pick you up. First goal was good. Took a touch around the defender. I think he thought I was playing it back to Taylor (Washington). I took advantage of that tight finish. The second goal was pretty lucky. I need to finish that PK in the regular game, but the rebound came back, and I just wanted to get it on target."
The Riverhounds had plenty of yellow cards distributed. Stephen Okai was shown the first yellow card in the 48' minute and was followed by Hollingsworth (59'), Hertzog (75'), Victor Souto (77') and Adeleye (87'). The Red Bulls II had no yellow cards shown to any of their players.
The Riverhounds (0-1-0) will return to Highmark Stadium on April 1 when they'll play host to FC Cincinnati (0-0-1), who fell to the Charleston Battery on Saturday. The match will begin at 5 p.m. ET, and tickets are still available.