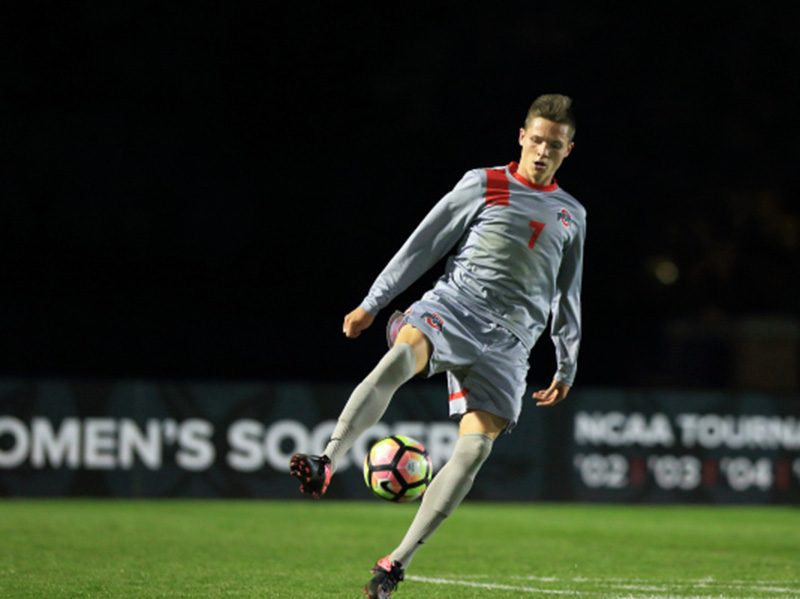 Riverhounds head coach Dave Brandt called midfielder Ben Fitzpatrick a "top talent." (Photo by: OhioStateBuckeyes.com)
The Pittsburgh Riverhounds have added more depth to their midfield, signing two recent college graduates, Ben Fitzpatrick and Victor Souto, to their roster, the team announced Thursday.
Both deals are for one year but have a club option for 2018. The two contracts will be approved, pending USL and USSF approval.
The announcement comes a day after the team announced the re-signing of veteran midfielder/defender Mike Green.
Fitzpatrick has been on the pitch at Highmark Stadium before when the Riverhounds hosted the Ohio State Buckeyes — where Fitzpatrick spent his senior season — in a preseason match. In 2016 with the Buckeyes, Fitzpatrick appeared in 18 matches, starting 14.
He spent the first three years of his college career at Urbana University, where he made 50 appearances. Throughout his four collegiate seasons, he scored 15 goals and tallied 11 assists.
In addition, Fitzpatrick also spent time in the USL's Premier Development League, playing 18 times for the Michigan Bucks. With the Bucks, he scored 10 goals and had three assists. He was on the Bucks team that won the PDL Championship in 2016.
Pittsburgh head coach Dave Brandt called Fitzpatrick one of the "top guys" at Ohio State.
"I was able to catch Ben at multiple combines over the past couple months and, on each occasion, I thought he was really good," Brandt said. "I think he's an under-the-radar, smart player that we like a lot with an ability to attack with good speed and good pace."
The team's other signing, Souto, played all four years of his collegiate soccer at the University of Akron. During his time with the Zips, the Brazilian-born midfielder made 66 appearances — all of which were starts. He finished his career at Akron with nine goals and three assists. Brandt called Souto a top talent, as well.
"Victor is a top Division I college soccer talent," Brandt said. "He's a talented holding midfielder that we're really excited to have join the club for this season."
Pittsburgh now has 20 players signed to its roster for the coming 2017 season. A majority of the players — specifically, 12 out of 20 — didn't wear a Riverhounds jersey last season.
Pittsburgh's season won't begin until Spring 2017.