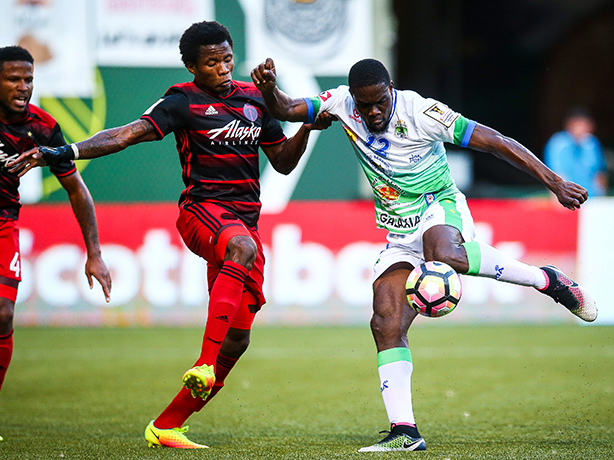 (Photo by Mexsport)
The Pittsburgh Riverhounds now have 14 players to their roster heading into the 2017 season after Monday's signing of Kenroy Howell.
Howell, who is from Manchester, Jamaica, will be joining the team after his approval from the USL and USSF goes through. His deal with the Riverhounds is for one-year with a club option for the 2018 season.
Howell most recently saw action in as a midfielder for C.D. Dragón of the Primera División in El Salvador. His movement to C.D. Dragón came after his Jamaican club, Waterhouse, sent him to El Salvador on loan.
With C.D. Dragón, Howell made 16 appearances. He even featured in the CONCACAF Champions League match against the Portland Timbers. In the match, which occurred in August, C.D. Dragón's lone goal was scored by Howell. But, even with Howell's goal, the team was defeated by the Timbers, 2-1.
"Kenroy came across our radar in watching the Champions League," said Pittsburgh head coach Dave Brandt. "In the two matches we watched of Dragón playing Portland Timbers, he was fantastic — close to a full 90 minutes both home and away against a very good Timbers team. … He's a left-footed attacking player that can play as a forward, can play as a winger and we just think has a lot of talent and ability to make a great addition to this club."
Howell appeared with Waterhouse for three seasons. In those three seasons, he notched 15 goals, with 10 goals coming in the 2015-16 season.
Howell now joins Ryan Adeleye, Kay Banjo, Keasel Broome, Shane Campbell, Ritchie Duffie, Danny Earls, Devaughn Elliott, Corey Hertzog, Kevin Kerr, John Manga, Jack Thompson, Nick Thompson and Chevaughn Walsh on the Riverhounds roster. Walsh is also from Jamaica.