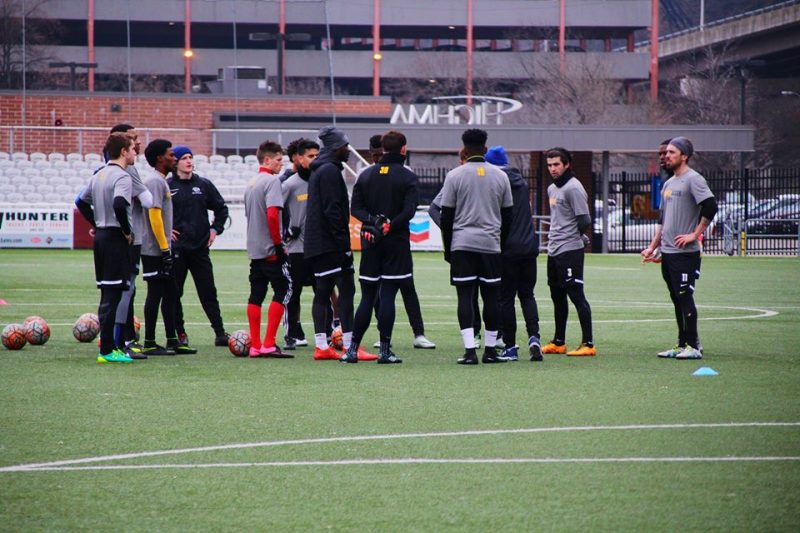 (Photo by Rachael McKriger)
A day after drawing in their first preseason match of the 2017 season, the Pittsburgh Riverhounds recorded their first win.
Sunday, the team took on the Duke University men's soccer team, and Pittsburgh won the match, 2-0. Tallying goals for the club were captain Kevin Kerr in the 53' minute and veteran midfielder Stephen Okai in the 55' minute.
Starting the match for the Riverhounds in goal was Keasel Broome. Against North Carolina FC, Trey Mitchell earned the start and Broome played the second half, but against the Blue Devils, the roles were reversed.
For the second match in a row, Kerr moved to play forward, partnering up with John Manga in the second half. In the first half, Corey Hertzog and Kay Banjo held down the forward slots.
Against North Carolina FC, the Riverhounds had three players on trial — Guy Ballo, Dan Bedoya and Hayden Partain — play in a Riverhounds shirt. Sunday, Pittsburgh had a fourth trialist debut: Brad Ruhaak, a defender from the University of Akron.
The Riverhounds will return to preseason practice once they made the trip home from North Carolina. Saturday, Pittsburgh will play host to the University of Akron at Highmark Stadium at 1 p.m. EST. Then, Sunday, the Riverhounds will face Duquesne University at the Allegheny Health Network Sports Complex at 8 a.m. EST. Both matches are free to attend.