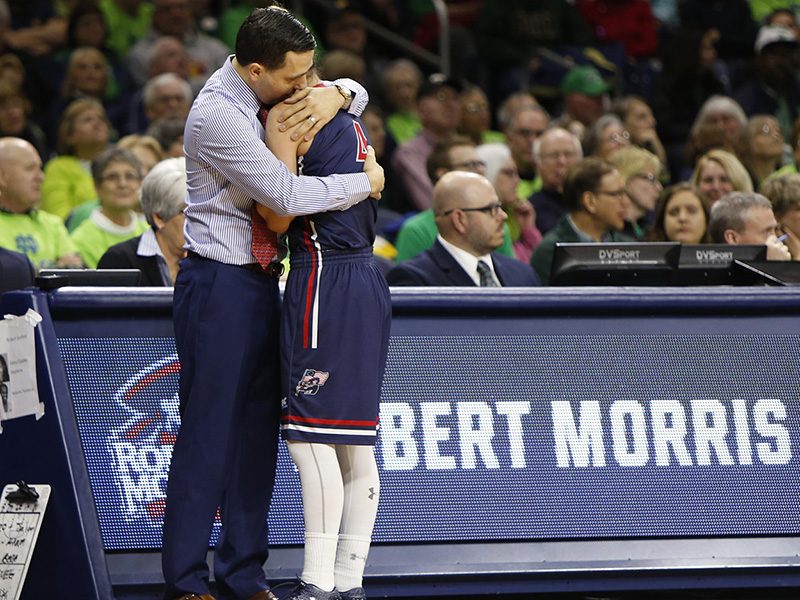 (Photo by: RMUColonials.com)
The Robert Morris University's women's basketball team didn't last long in the women's NCAA Tournament.
The No. 16 seed Colonials were defeated in the tournament by the No. 1 seed Notre Dame University Fighting Irish by a final score of 79-49.
RMU was led in scoring by senior guard Anna Niki Stamolamprou, who hails from Greece. Stamolamprou scored 19 points in the Colonials' first-round loss.
After the game, RMU head coach Charlie Buscaglia, in his first year as head coach, proclaimed that, despite the loss, he was proud of his team.
"I'm so proud of this group," Buscaglia said."We knew who we were going into tonight, and that goes deeper than basketball. The legacy of the senior class is special, and I know they will be successful in all that they do."
Fellow senior Rebeca Navarro started and provided seven points. Stamolamprou led the team in assists, providing three, while freshman Nneka Ezeigbo led the team in rebounds, grabbing six.
Despite the loss, Navarro was happy with the team's preparations heading into the tough matchup against Notre Dame.
"We prepared the same (heading into tonight's game) and stuck to our routines," said Navarro. "We were able to fight through until the end."
Notre Dame was led in scoring by sophomores Arike Ogunbowale and Marina Mabrey, each of whom contributed 15 points. Fellow double-digit scorers were senior Lindsay Allen, who contributed 14 points and junior Brianna Turner, who scored 13 points. Ogunbowale and Turner both tied for the most rebounds, grabbing 10, while Allen led the team in assists, providing six.
Notre Dame will continue on in the tournament and faces Purdue University next.
While the Colonials' first season under Buscaglia is officially over, the team's three seniors will leave with their heads held high and with good memories of the Colonials program.
"I'm going to miss my teammates and this coaching staff," Stamolamprou said. "Coming to Robert Morris was the best decision in my life."