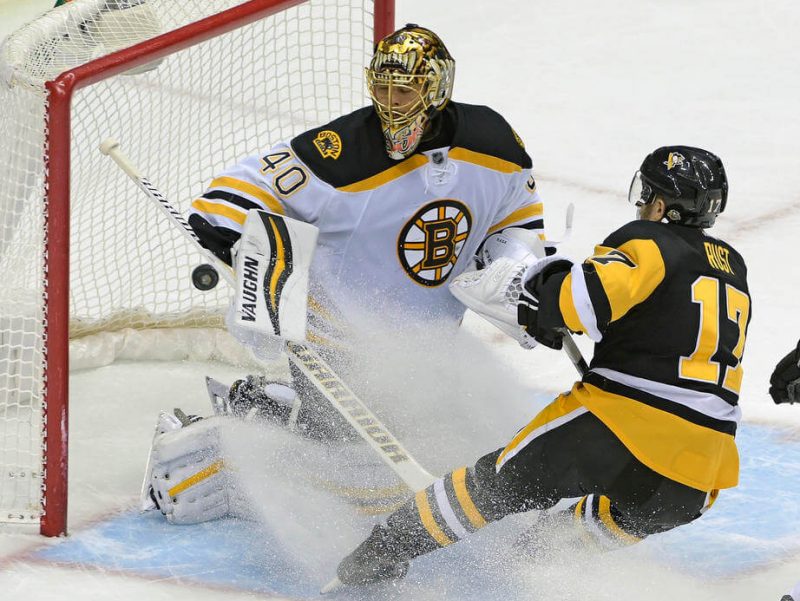 Bryan Rust (17) scores in overtime as Bruins goaltender Tukka Rask can only watch. (Photo by AP Photo)
Over the last seven games, the Pittsburgh Penguins (20-7-3) have been winning — and they've been doing so in a number of different ways. Whether it's been a blowout or a come-from-behind win, Pittsburgh has easily been one of the hottest teams on ice. And the Penguins remained on their hot streak in Wednesday night's 4-3 overtime win over the Boston Bruins (16-13-2).
Pittsburgh's offense was just too much for the Bruins in the three-on-three overtime period. The Penguins put the game away when a pass from Pittsburgh defenseman Justin Schultz from behind his own net banked off a wall to Evgeni Malkin. From there, Malkin pushed the puck just past the defense and found Bryan Rust's stick. He redirected just over the right shoulder of Boston netminder Tuukka Rask, giving Pittsburgh the "W."
Wednesday's game wasn't just another example of how well the Penguins adjust to adversity — it was also an example of how they thrive off of the challenge. In the game, when Pittsburgh played with a sense of urgency, fans saw some of the team's best hockey.
Both goalies had a very good game, but, Wednesday night, Matt Murray was able to edge out his opponent. While Murray did allow a late goal that allowed Boston to send the game into overtime, it wasn't entirely his fault (there was some friendly fire that prevented him from coming back from outside the net.)
Still, a win is a win, and the Penguins have extended their win streak to seven. It didn't seem too long ago that Pittsburgh struggled to string wins together, but now it seems as though they can't get enough of them.
Have Yourself a Night, Justin Schultz!
Schultz didn't just have a big hand with three points (1 G, 2 A) in the win over Boston, but he has become one of Pittsburgh's biggest contributors over the last few weeks. In just the last five games, Schultz has eight points (3 G, 5 A) — and, yes, this is a defensemen we're talking about.
While there were glimpses of this kind of production last season when the Penguins acquired Schultz from the Edmonton Oilers, this season the 26-year-old defensemen has really come into his own. On the season, Schultz has 14 points and a plus/minus of +16, which is tied for the team high.
Schultz has been productive offensively, and, so far this season, he has only six penalty minutes. That's a great sign because it means that when he's on the ice he stays disciplined and that he doesn't play especially emotionally.
Looking back at the trade (Schultz for a Pittsburgh third-round pick in 2016), Schultz was a complete steal, especially if he continues to play at this high level for the rest of the season.
Overtime Shenanigans
For those who watched, overtime didn't begin in the Penguins favor. Boston did a good job of controlling the puck, and it was able to get two shots on goal, one of them coming after two Penguins nearly collided.
Murray stood strong, and before the crowd knew it, Pittsburgh was rushing down the ice to score the game-winner. This win is yet another statement, this time against a team that has given the Penguins a run for their money in the past.
Without Rask's superb goaltending, this could've easily been a different game, but Pittsburgh's resilience is something that should scare the rest of the league. It seems as though no matter how much a team scores — especially in recent games — the Penguins aren't out of it until the final buzzer sounds.
Looking Ahead
The Penguins will look for their eighth-straight win on Friday when they host the Los Angeles Kings at PPG Paints Arena at 7:00 p.m. EST.