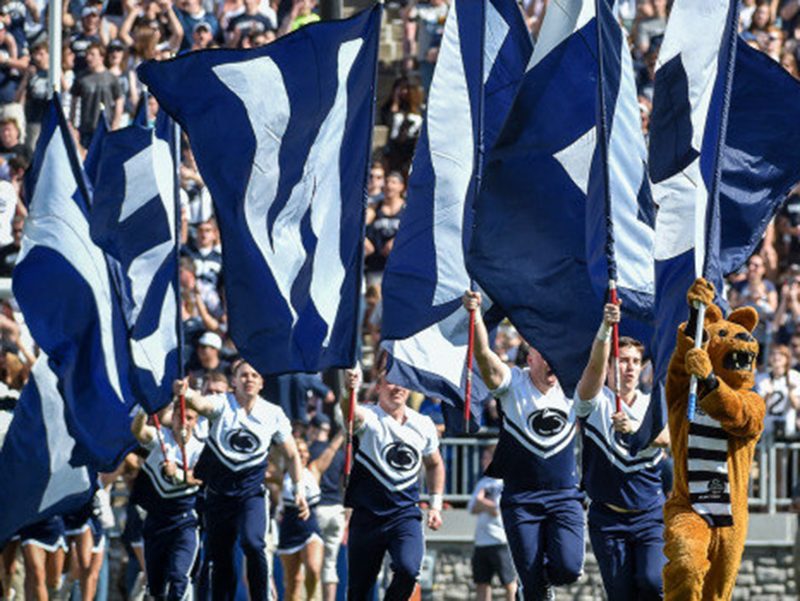 (Photo by Mark Selders/GoPSUSports.com)
Spring football game can be genuinely boring. For us media members, it's often tough to find something to write about following the game — unless, of course, something dramatic or drastic happens.
This year's edition of the Penn State Blue-White game featured an opportunity for media members to take part in an on-field punt catching competition at halftime. Yours truly signed up for the opportunity in hopes of, well… enjoying the experience.
As soon as Nittany Lions head coach James Franklin announced Wednesday following practice there would be a competition featuring the media, I jumped at the opportunity. I thought it'd be an awesome chance to see how much of my limited football talent was still there eight years after playing high school football.
Following the announcement of participants Friday afternoon, I felt both nervousness and excitement as the game grew closer. Knowing friends, family, co-workers and former coaches would be in the stands added to the feelings I was going through prior to competing.
At the six-minute mark of the second quarter, the 16 media members who elected to put pride and deadlines on the line were summoned to head to the field.
Getting ready for the half time punt return contest pic.twitter.com/byzpQEHHHv

— Jarrod Prugar (@jprugar26) April 22, 2017
An estimated 71,000 fans were in attendance to take in Blue-White festivities Saturday afternoon. As you can see in the tweet above, the amount of people in the stadium when you get to the field level is an intimidating experience for someone who hasn't been on a field in an athletic capacity in years.
It's loud on the field, a bit breezy, too, but it was time for the competition to start. I had the unfortunate draw of going first. As I stretched, making sure I didn't blow a quad, hammy, or achilles, it was time to show the 71,000 people I could not embarrass myself and catch a punt.
Daniel Pasquariello had the honor and pleasure (or something like that) of punting to me. For those who haven't attempted to field a punt in a large stadium, it's not an easy thing to do. You really don't get to see the trajectory of the football until it's at the apex of its flight. I didn't see the ball until it reached the upper bowl of the stadium, at which point I began my sprint to the ball in hopes of competition glory.
As the ball flew through the air, I realized early I wasn't going to come anywhere near the ball. Still, the fans deserved my 100 percent effort from myself. My sprint began at the 10-yard line and ended, in my head, at about the 50-yard line, but, realistically, at about the 30-yard line. I came up about five yards short of advancing to the next round. (Thanks, Daniel…!)
While my five minutes of fame and playing on the grass at Beaver Stadium only lasted about 15 seconds, it was an incredible experience. Being able to take part in a competition with 71,000 fans looking on was exhilarating and nerve-wracking all in one.
But the competition and subsequent end of the competition meant more to me than just being able to take part — it was something much more personal than that. You see, my father was one of the electricians who helped wire and construct the addition of the south end-zone in 2001.
My father passed away in 2012.
Competing in a competition with other media members in a facility where my father played a part in building and wiring was an opportunity of a lifetime. And while I came nowhere close to catching my punt, having the opportunity to hear my name called among 71,000 fans and media members is something I'll never forget. Being able to compete in a stadium that my father helped construct and wire was the opportunity of a lifetime.