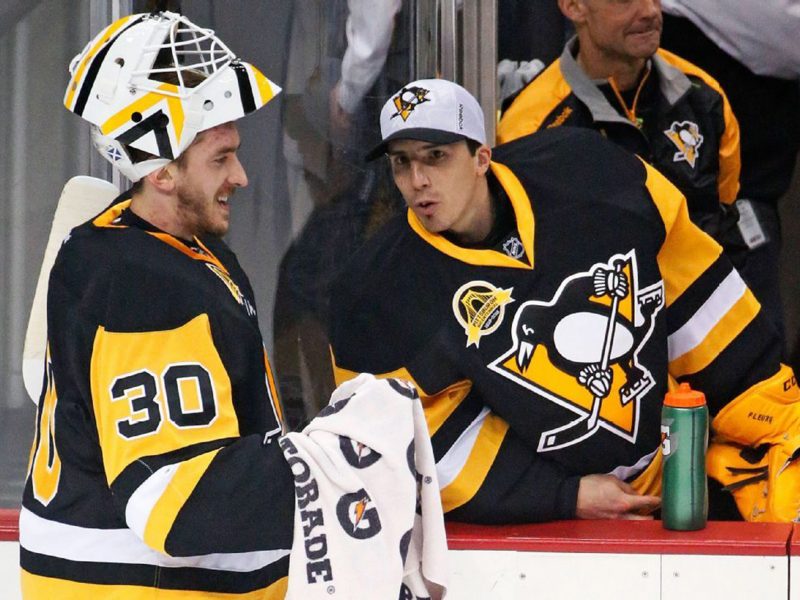 (Photo by Gene J. Puskar/AP Photo)
Heading into the season, the biggest question was whether Marc-Andre Fleury or Matt Murray would be the Pittsburgh Penguins' starting goaltender. With three options on the table — trade Fleury, trade Murray or trade neither — general manager Jim Rutherford had a very difficult decision to make.
Over the summer, the market for goaltenders — especially experienced and proven ones — was slightly above average. A handful of teams hadn't found a reliable and talented golaie yet, which meant trading either Murray or Fleury was a very real possibility.
But no moves were made, and the three options (trade Fleury, trade Murray, trade neither) are still on the table.
All the trade talks seem to center around the 32-year-old Fleury, meaning the team intended to keep the 22-year-old Murray. Both were starting goaltenders in Stanley Cup finals (Fleury in 2009 and Murray in 2016.)
Before the season started, the Dallas Stars looked to be one of the best landing spots for Fleury. But the Stars have significantly underperformed this season, hurting the chances of Fleury accepting a trade due to his no-trade clause.
The Calgary Flames are another team who could be on the list as far as potential spots for Fleury. This is more of an unrealistic situation because, let's face it, the Flames are not a very good team — at least for now. What could attract Fleury to Calgary is that the Flames' biggest issue seems to be their goaltending. An improvement at that position could have a drastic difference for the team once the young talent matures.
While almost any team would want a young, high-potential goalie like Murray, the asking price would likely be out of reach for most — if not all — teams. And though the possibility of him being traded exists, it's a slim one; the three-year extension Murray signed in October is a major indication that Rutherford has no plans to shop one of his priceless assets.
It's highly unlikely Murray will trade in his black and gold uniform any time soon. Had he not performed so well in the playoffs, acting as a catalyst for a Penguins championship, it could be a different story. But Murray has been every bit good as advertised and then some.
The final option — trading neither — now appears to be the most realistic and the smartest decision if the Penguins want to get back to the Stanley Cup Finals. Not too many teams have the luxury of having two sensational goalies, and Pittsburgh needs to take advantage of that.
Pittsburgh has done that this season, alternating playing time between Murray and Fleury. That means both goaltenders stay relatively well-rested and have a better chance of staying healthy down the stretch.
Considering that the market has become more limited in what teams are willing to give up for a top tier goalie has dwindled, the return for a Fleury or Murray trade wouldn't be ideal.
The general thought is that if either goalie leaves via expansion draft this offseason, the Penguins would be better off getting something — anything — with a trade.
But let's say Rutherford decides to trade one of the netminders. First, a trade would shake up the great chemistry this team has. And second, who would be the Penguins' backup goalie? Tristan Jarry has been considered another up-and-coming goaltender in Pittsburgh's system, but with his age (21) and inexperience, now may not be the time to give him consistent pro ice time.
At the end of the day, trading Fleury or Murray creates more questions and uncertainty than it solves.
Management should keep both netminders to give Pittsburgh its best chance to repeat as Stanley Cup Champions.