Steelers wide receiver Antonio Brown was recently nominated for the 2016 ESPY Award for Best NFL Player — and he's a pretty deserving recipient.
In 2015, Brown was tied for the league-lead in receptions (136) and was second in receiving yards (1,834) — and he did all that without quarterback Ben Roethlisberger for all or part of five games of the season. And, through six seasons, the star wideout has more catches (526) than any other NFL wide receiver in that same period.
He's also only just the third Steelers receiver to have 6,500 receiving yards. The other two? Pittsburgh greats Heinz Ward and John Stallworth.
Not sure who to vote for at the @ESPYS? Can we make a suggestion?

VOTE: https://t.co/teIhxRtmQ7https://t.co/blKiWCHStX

— Pittsburgh Steelers (@steelers) June 26, 2016
Here's the problem: Brown is nominated alongside a pretty stacked field. Carolina Panthers quarterback Cam Newton was the 2015 MVP and led his team to a 15-1 record and the Super Bowl. You might have heard of Houston Texans defensive end J.J. Watt, who is perennially the NFL's best defensive player. Julio Jones, the Atlanta Falcons wide receiver who tied Brown in receptions and who beat Brown in receiving yards (1,871). Oh, and then there's the guy who plays quarterback for the New England Patriots.
With so many other great players up for the award, Brown might have a tough time taking home the trophy.
But, there are several trophies he should take home — even though they might not necessarily be ESPY-approved.
Best Smile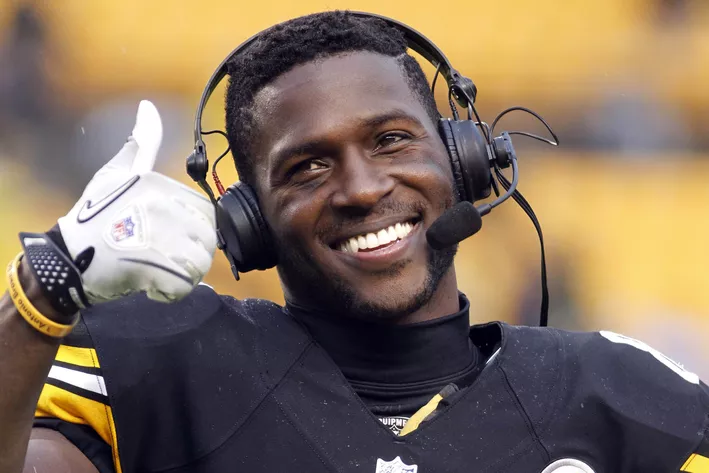 Look at those perfect pearly whites. Just look at 'em. Brown's big smile brings to mind another great Steelers receiver.
Best Dance Moves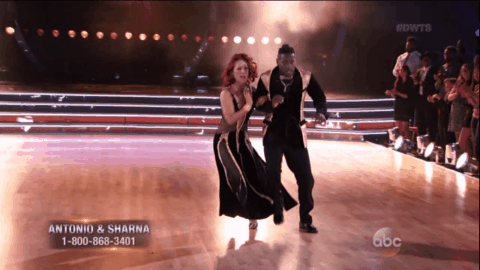 Brown went on Dancing with the Stars and showed he could shake it with the best of them. The receiver was nice and light on his feet — putting the "quick" in "quickstep." And, who knows, maybe all this dance training will help his footwork on the football field.
Best Celebration Dance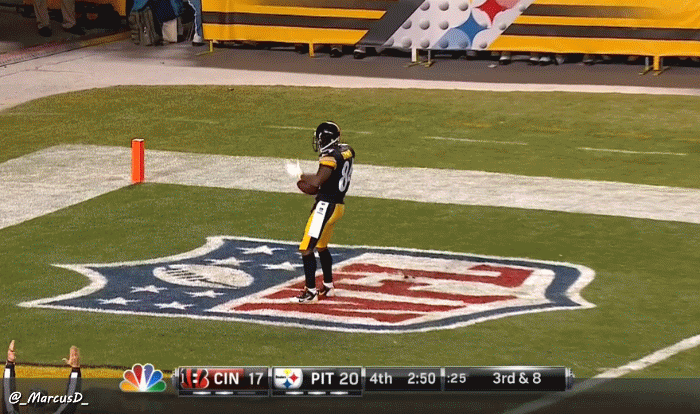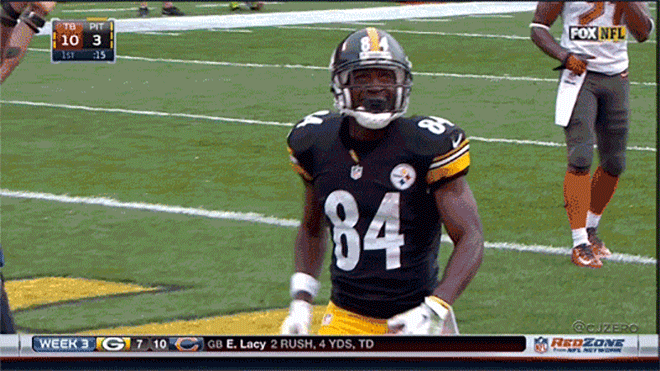 Even before he was a star on Dancing with the Stars, Brown showed he had some moves — even if he looks a bit like your crazy uncle on the dance floor.
Best (Worst?) Hair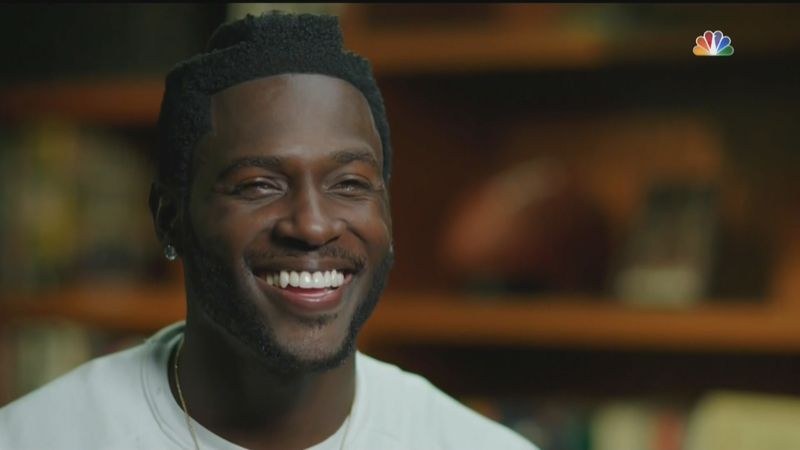 It looks a bit like Brown got his hair inspiration from a lego person, but, hey, if you're into that sort of thing… At least he wears a helmet.
Best Flip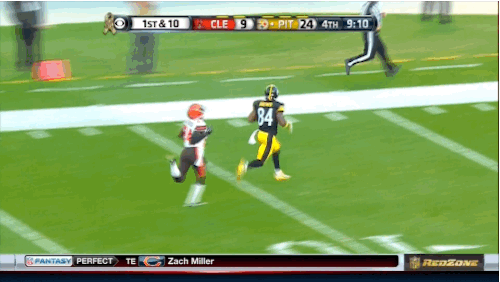 Nailed it! Just look at the way he sticks the landing. Judges? 10.0.
Best Catch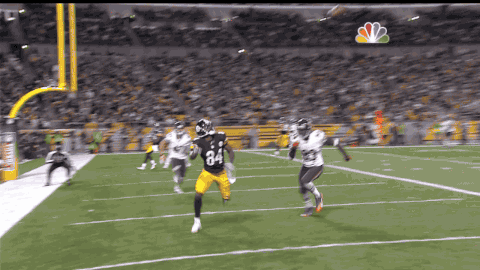 Now that's a beauty. And not only does he bring the catch in, he manages to stay in bounds, miraculously getting his knees down in time.
Best Throw (from a non-starting quarterback)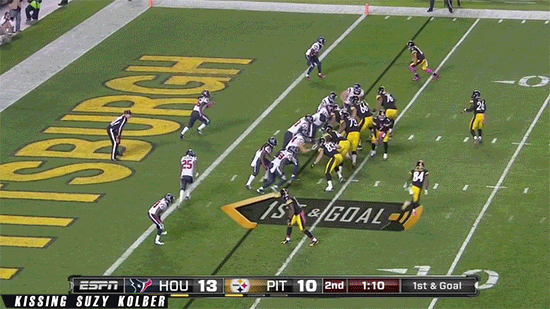 While he won't be taking the starting job from Roethlisberger any time soon, Brown reminded people he was a high school quarterback with this tight spiral and true aim.
Best Worst Hurdle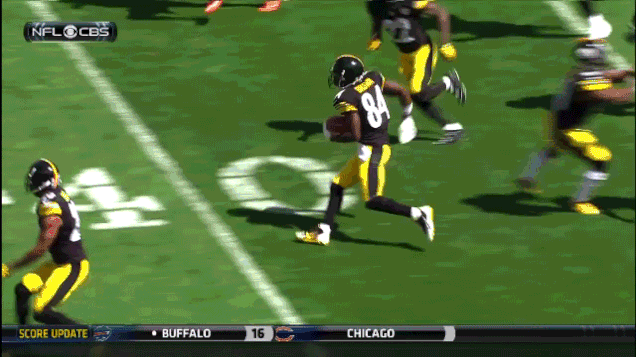 Ouch. It's still unclear Cleveland Browns punter Spencer Lanning has recovered from this.
Best Fail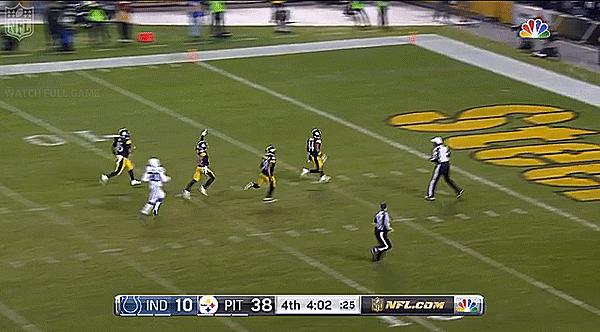 There aren't even words to explain what happened here. It's a punt return celebration gone very, very wrong. But we're thankful he did it because we get to watch this GIF over and over (and over) again.
Featured image credit: Justin K. Aller