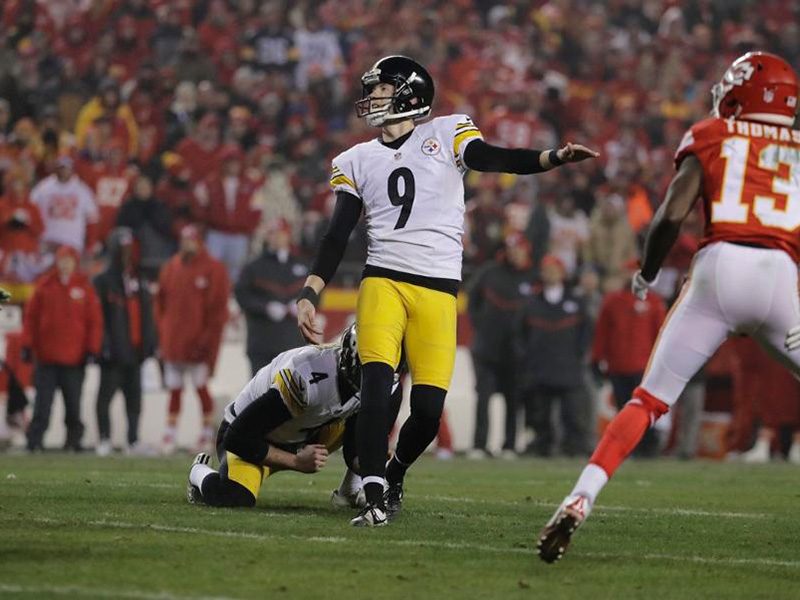 With his 6-for-6 night, Chris Boswell set a record for most field goals in a playoff game. (Photo by: Pittsburgh Steelers)
Le'Veon Bell had 170 yards. Antonio Brown had 108. Ben Roethlisberger had 224.
And yet the Pittsburgh Steelers somehow only beat the Kansas City Chiefs 18-16 in the divisional round of the AFC playoffs to advance to the AFC Championship game where the New England Patriots await.
Instead of one of the three regular Killer B's — Bell, Brown and Big Ben — there was an addition to the group Sunday night: kicker Chris Boswell, who was a perfect 6-6 on his field goal attempts (a postseason record) and was the entirety of Pittsburgh's points.
"I don't think I even belong in that picture," a self-deprecating Boswell told NBC's Michelle Tafoya when asked if his performance means he's now a "Killer B."
On a night where the game's start time was pushed back due to an ice storm in Kansas City, come game time, the only ice found on the field at Arrowhead Stadium was that which was running through Boswell's veins.
Boswell's clutch performance — field goals from 22, 38, 36, 45, 43 and 43 yards — wasn't as flashy as the ways in which Pittsburgh typically puts points on the board. But it did the job.
Pittsburgh marched down the field seven times and found itself stalled in the red zone — Every. Single. Time. In the red zone, Roethlisberger was 1-for-7 for 1 yard with one interception; he was also sacked once. This inability to put touchdowns on the board undercut the Steelers' night of subtle dominance.
But, in the end, Pittsburgh's red zone struggles didn't matter because of the team's brilliant defense.
The Steelers, led by a stellar linebacking corps, held the Chiefs to just 62 rushing yards and 172 passing yards. And Kansas City quarterback Alex Smith was 20-for-34 for 172 yards. As a whole, that linebacking group — made up of James Harrison, Lawrence Timmons, Bud Dupree and Ryan Shazier — was a fearsome quartet to behold. Opposing offenses: Beware.
The 38-year-old Harrison, who continues to put men 15 years younger than him to shame, recorded five solo tackles and was the lone man who brought down Smith. Timmons had just an assisted tackle, but he brought plenty of pressure that made Smith jumpy in the pocket.
However, it was the young duo of Shazier and Dupree that was particularly ferocious.
Shazier recorded five solo tackles and had Pittsburgh's lone interception — which came off a Dupree defended pass. Shazier's speed makes him a threat everywhere on the field, and he did a phenomenal job of covering sideline to sideline. And, after Sunday, Dupree will be the star of Smith's nightmares.
Steelers head coach Mike Tomlin was Belichick-ian in his game plan, taking away the Chiefs' best players: tight end Travis Kelce (five receptions for 77 yards) and wide receiver Tyreek Hill (four receptions for 27 yards). It forced Smith and his head coach, Andy Reid, to be creative, and the duo couldn't figure its way around a Pittsburgh defense that has improved tenfold since the middle of the season.
Still, despite the way in which the Steelers imposed their will on both offense and defense, Kansas City seemed to figure a few things out at halftime. The game then got a little too close for comfort when Kansas City running back Spencer Ware scored a 1-yard touchdown (the Chiefs' second touchdown of the game) with 2:43 left on the clock to make it an 18-16 game. Cue the drama. On the ensuing two-point conversion attempt, Smith looked like he found wide receiver Jeremy Maclin to tie the game up at 18. The Chiefs players celebrated on the field, and the stadium rattled. Overtime, here we come.
But hold on just one second.
A flag was down on the play.
Left tackle Eric Fisher was called for an obvious hold of Harrison, negating the conversion. Kansas City was then marched back 10 yards, and its next play — a pass attempt — was broken up by safety Sean Davis.
All Pittsburgh had to do was get a single first down to run out the clock. And the Steelers did just that after some gutsy play-calling from offensive coordinator Todd Haley, who passed it twice inside his team's own 12-yard line. On 3rd and 3, Roethlisberger connected with Brown for a seven-yard pass to send Chiefs fans streaming for the parking lot.
It was a tighter game than it likely should have been, but a win's a win.
With the victory, the Steelers advance to the 16th AFC Championship game in team history — the team's sixth such game since 2000 and just the first appearance since the 2010 season.