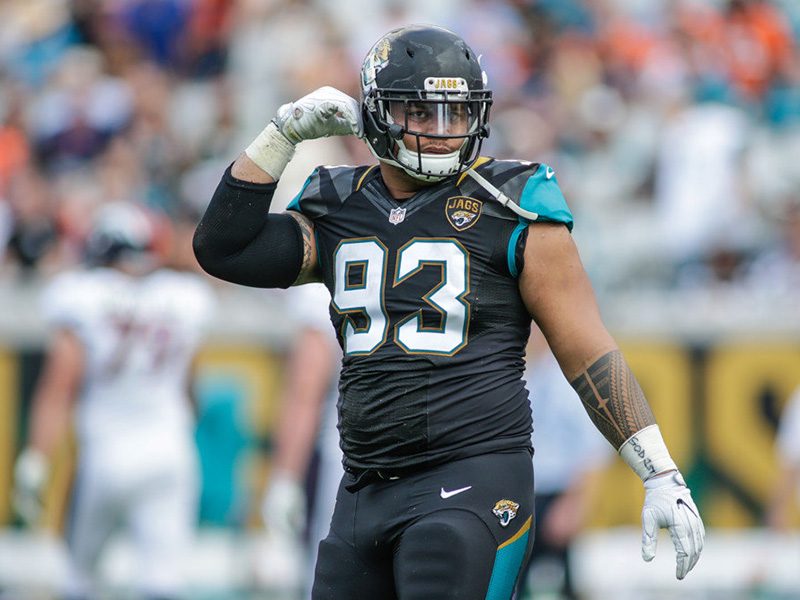 Former top-10 pick Tyson Alualu is ready for a fresh start in Pittsburgh. (Photo by: David Rosenblum/Icon Sportswire)
The Pittsburgh Steelers continue to quietly make signings in free agency. Now, they've added depth to their defense with signings of cornerback Coty Sensabaugh and defensive end Tyson Alualu.
Sensabaugh signed a one-year contract with Pittsburgh. The cornerback was originally drafted by the Tennessee Titans in the fourth round of the 2012 NFL Draft, and he stayed in Tennessee until 2015 when he signed with the Los Angeles Rams for the 2016 season. However, Sensabaugh only appeared three times for the Rams before signing with the New York Giants.
In his career, Sensabaugh has made 72 regular-season appearances and has made 194 tackles. He has just two interceptions and one sack, but he's recorded 23 pass deflections. In 2015, he scored a touchdown off a pick-six.
"I wanted to be part of a family here," Sensabaugh said. "The Steelers organization is top-notch. It's a family atmosphere. I was talking to everybody that has been in the building. I have been a part of a couple of other organizations, and this is one of the top-notch organizations. When you walk around the building and see how things are run, you see why the Steelers are in it year-in and year-out."
Sensabaugh is also excited to play in front of the fans at Heinz Field.
"I have played here a couple of years, and the fans are ridiculous," Sensabaugh continued. "I am excited to play for them. I came here to help the team get two games better. This team made it to the AFC Championship last year and, hopefully, we can get over the hump this year. That's the goal.
"I would just say God works things out for certain reasons and we don't understand them when we go through them," he said. "But after it's all said and done, it all makes sense. And I'm happy I went through what I went through in L.A. It made me a better person and a better man. I feel like I'm a better person from it, and I'm just excited to be with the Steelers now."
The Steelers also announced the signing of defensive lineman Alualu to a two-year contract. Alualu was drafted by the Jacksonville Jaguars in the first round of the 2010 NFL Draft with the 10th overall pick. He spent his entire career in Jacksonville before leaving this free agency.
In 110 regular-season appearances with the Jaguars, Alualu made 258 total tackles and recorded 17.5 sacks. In addition, he made six pass deflections, forced two fumbles and recovered three fumbles.
"As soon as you walk in the building you get a sense from talking to the people, it's real genuine," Alualu said. "Just a place that loves to win, so I would love to be a part of that. Just excited about this opportunity.
"I don't think I could have left without signing a deal here, just wanting to be a part of something special," Alualu continued. "I am thankful to the Rooneys, Coach (Mike) Tomlin, Mr. (Kevin) Colbert. Taking a chance with me and giving me the opportunity to be a part of something special. I am thankful to be here. I had some tough years in Jacksonville. I just wanted a good change. I am excited to be here."
Pittsburgh's organized team activities (OTAs) will begin April 18 at the UPMC Rooney Sports Complex.