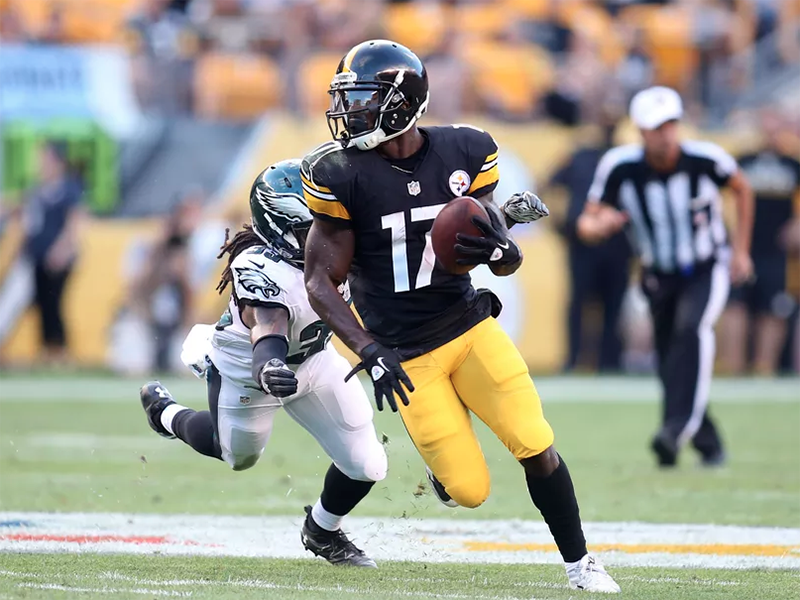 (Photo by: Charles LeClaire/USA TODAY Sports)
The Pittsburgh Steelers thought they were in a deep hole when last year's No. 2 wide receiver Martavis Bryant was suspended for the season due to marijuana use. Add in Markus Wheaton's season-ending shoulder injury, and the Steelers looked like they were in serious trouble at the receiver position.
That is, until Eli Rogers, Cobi Hamilton and Demarcus Ayers made themselves known.
Ayers is the youngest of the three (he's 22) and is in his first NFL season as a seventh-round pick out of Houston University. Rogers, 24, was a undrafted free agent out of Louisville before signing a deal with Pittsburgh in 2015. Hamilton, 26, has bounced around the league after being taken in the sixth round of the 2013 draft by the Cincinnati Bengals; he was signed by the Steelers in August 2016.
Rogers, who started the first game of the season after Wheaton's injury, is the most recognizable name because he's third on the Steelers' receiving list this season with 48 catches for 594 yards (all in the regular-season). He also has three receiving touchdowns this season. Meanwhile, Hamilton has two touchdowns but had caught only 17 passes for 234 yards. Ayers has only recently played in two games, but he recorded a touchdown.
While those numbers look low, the Steelers would not be in the position they are (in the second round of the playoffs with Super Bowl hopes) without the three receivers — especially Rogers.
Rogers has been a stalwart on Pittsburgh's offense, starting eight out of 13 regular-season games. Hamilton isn't far behind Rogers, starting eight out of 11 regular-season games.
The three receivers do have a big advantage a lot of younger wideouts on other teams don't: Ben Roethlisberger is throwing them the ball.
This season, while Antonio Brown has had a phenomenal season (as usual), he's often double-covered — or even sometimes triple-covered. That means Pittsburgh's top receiving talent has a harder time getting open for Roethlisberger. That's why the play of Rogers, Hamilton and Ayers is so important. As they've improved, teams have to devote more thought and more manpower to covering them, giving Brown more space to do what he does best: get important yardage and score touchdowns.
Hamilton and Rogers are assets on special teams, too. Rogers shares punt return duties with Antonio Brown, while Hamilton has split kickoff returns with Sammie Coates, Fitzgerald Toussaint, Justin Gilbert and Brown.
The last time the Steelers played the Chiefs, Pittsburgh looked dominant in a 43-14 win. However, Rogers, Hamilton and Ayers didn't see any action in that game. This time, all three are available, and they'll likely provide a spark to Pittsburgh's offense — as they've done for most of the season.
This time out, Pittsburgh's receivers will face a Kansas City secondary made up of Eric Berry, Ron Parker, Eric Murray, Phillip Gaines and Marcus Peters — a Chiefs secondary that has given up 4,120 yards in the air (the 18th pass defense in the league). Those five players, a mixture of safeties and cornerbacks, have recorded six interceptions; Berry has four of those interceptions.
The Steelers have one of the most dominant offenses in the league with many key pieces to the puzzle. Le'Veon Bell, arguably the NFL's top running back, is dominant on the ground, and alongside Bell, "Big Ben" Roethlisberger and Brown make up the Killer B's. But Rogers, Hamilton and Ayers aren't to be ignored.
If the Steelers want to successfully make the trip to Super Bowl LI in Houston, Rogers, Ayers and Hamilton will need to step up and be a viable option for Roethlisberger, helping Brown get free.
The Steelers will take on the Chiefs at 8:20 p.m. EST at Arrowhead Stadium. The game will be broadcast on NBC. The winner will face the New England Patriots in the AFC Championship Game.