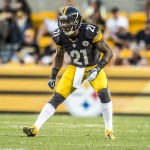 The Pittsburgh Steelers have locked down another free agent player. The team announced on Monday that they signed safety Robert Golden to a three-year contract.
Jason La Canfora of NFL Network reported that the deal is worth $5 million for three years. Golden, who also serves as a prominent member of special teams, will make roughly $1.6 million per year.
Golden's career started five years ago when the Steelers picked him up as an undrafted free agent. As of then, he's appeared in 63 games, making three starts. His physicality came in handy on special teams and he stepped up to the plate this year. In 2015, Golden was named a special teams captain for the second year in a row. He appeared in all 16 regular-season games.
In the 2015 season, Golden set personal career high numbers. He had 40 tackles and made his first career interception against the Cincinnati Bengals in Week 14. Golden also made his first NFL start against the Kansas City Chiefs in Week 7.
Golden now joins Mike Mitchell, who in under contract until 2019, Shamarko Thomas, who is under contract until the end of the season, and Da'Mon Cromartie-Smith, who is under contract until 2017 as signed safeties. Will Allen still has yet to be signed to a new contract.